Subscription
Shipping Address
Order Date

This subscription's skin care system will get replaced.

${ address.name }




${ address.products }

${ displaySubscriptionName(address) }




${ displayProducts(address) }

${ displayAddress(address) }
${ formatDate(address.scheduleDate) }

${ address.name ? address.name : displaySubscriptionName(address)}
${ address.products }
${ displayProducts(address) }
Shipping Address
${ displayAddress(address) }
Delivery Date
${ formatDate(address.scheduleDate) }
This subscription's skin care system will get replaced.
How to Apply Eye Cream: A Step-by-Step Guide
Applying eye cream can help reduce puffiness, under-eye bags and fine lines and wrinkles. Learn how to apply eye cream properly to achieve maximum handsome!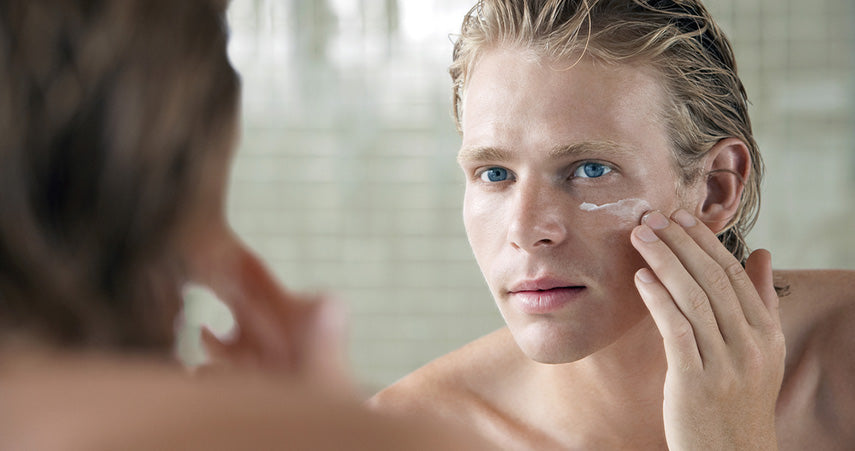 Whether you want to take care of dark circles under the eyes or stop the progression of wrinkles around the eyes, an eye cream can be a real face-saver. A powerful men's eye cream can banish puffiness and bags while tightening the skin to give you a more youthful, handsome face.
With more men seeing the many benefits of eye creams, now is a good time to demystify the process. If you've ever wondered where it should fit into your skin care regimen and the best way to apply eye cream, this guide is for you.
Here are three things every guy should know about eye cream:
The skin around the eyes is extremely sensitive, so be careful with how you apply eye cream.
When it comes to eye creams for men, a little goes a long way.
Applying eye cream around the orbital bone can help reduce the appearance of crow's feet.
Why Every Guy Should Use Eye Cream
If you're not completely convinced that you need an eye cream in the first place, we'll give you the facts. Fact number one is that you aren't getting any younger.
As we age, the skin around the eyes is one of the first places that wrinkles appear. For men who are trying to remain competitive at work, appearing older can have dire consequences for their careers.
This isn't conjecture, either. According to a 2012 study published in the Journal of the European Academy of Dermatology and Venereology, men with more even skin tones were perceived as younger, healthier and more attractive (see claim: "…more even distributions led to perception of younger age and greater health and attractiveness.") As men feel the pressure of working with younger colleagues, many are turning to eye creams and firming serums to restore their youthful appearance.
Fact number two is that all those years of unprotected sun exposure and poor sleeping habits are starting to show on your face. While you can't do anything about your past, you can take steps to reduce the appearance of your fine lines and wrinkles by using a daily eye cream for men.
Step #1:  Wash Your Face
Most eye creams can and should be applied once in the morning and once at night. Before you apply your eye cream, always wash your face with a gentle facial cleanser.
Washing your face clear of dirt and grime will allow your eye cream to penetrate deeper into the skin, increasing its efficacy. To further boost the eye cream's efficiency, use a fragrance-free face scrub no more than twice per week to remove dead skin cells and oil buildup from your pores.
If you're using a facial firming serum for men, you can also apply this evenly to your face before applying the night cream. Serums are generally more concentrated and can irritate the skin around the eyes, which is why you want an eye cream specifically for the sensitive skin near your eyes.
Step #2: Dispense the Right Amount onto Your Ring Finger
Every eye cream is different, so be sure to read the instructions for how much you should be using in a single application. With most high-quality eye creams, keep in mind that a little goes a long way.
For Tiege Hanley's AM/PM Eye Cream for men, we recommend one pump per application. This removes any confusion for how much you should use, unlike other creams where you need to dip your finger into the cream.
Dispense the eye cream on one of your ring fingers and distribute it evenly on your other ring finger. The ring finger is best because it's not as strong as your pointer finger, forcing you to be gentle and avoid pressing too hard.
CONTROL EYE BAGS
Step #3: Apply Eye Cream to the Orbital Bone
This step is where a lot of men go wrong. Eye cream should never be applied to your upper eyelid. This area is incredibly sensitive and doesn't need to be tightened.
Instead, apply the eye cream to your orbital bone. This area surrounds the eye and starts from under your eye to the outer corner near the side temple.
Gently pat the eye cream around your orbital bone—don't rub. Rubbing too hard can pull your skin, causing additional wrinkles.
Take the skin care quiz
A Tip for Eye Cream Application
While applying eye cream may seem straightforward, there are a few additional tips that you should keep in mind. First, don't apply any more than the recommended amount.
High-quality eye creams such as Tiege Hanley's EYES product contain potent anti-aging ingredients such as Acetyl Hexapeptide-8 and Niacinamide that are proven to reverse signs of aging.
In a 2005 study published in Dermatologic Surgery, patients treated with a 5 percent Niacinamide solution saw significant improvements to wrinkles, red blotchiness and hyperpigmentation (see claim: "Analysis of the data revealed…reductions in fine lines and wrinkles, hyperpigmented spots, red blotchiness, and skin sallowness…")
Bottom Line
With more men using eye creams to get ahead in their careers and boost their confidence, it's no longer considered taboo to use an eye cream. But to reap the full benefits of an eye cream, it's crucial that you know how to properly apply it.
Have you tried Tiege Hanley's eye cream for men? Try out our Level 2 and Level 3 Skin Care systems and let us know what you think in the comments below!
---
// © Copyright 2023 Tiege Hanley