Subscription
Shipping Address
Order Date

This subscription's skin care system will get replaced.

${ address.name }




${ address.products }

${ displaySubscriptionName(address) }




${ displayProducts(address) }

${ displayAddress(address) }
${ formatDate(address.scheduleDate) }

${ address.name ? address.name : displaySubscriptionName(address)}
${ address.products }
${ displayProducts(address) }
Shipping Address
${ displayAddress(address) }
Delivery Date
${ formatDate(address.scheduleDate) }
This subscription's skin care system will get replaced.
How to Break Up with Someone—15 Nice(r) Ways to End a Relationship
Need to pull the plug on your relationship? Find out how to break up with someone in the nicest way possible with these strategies and tips.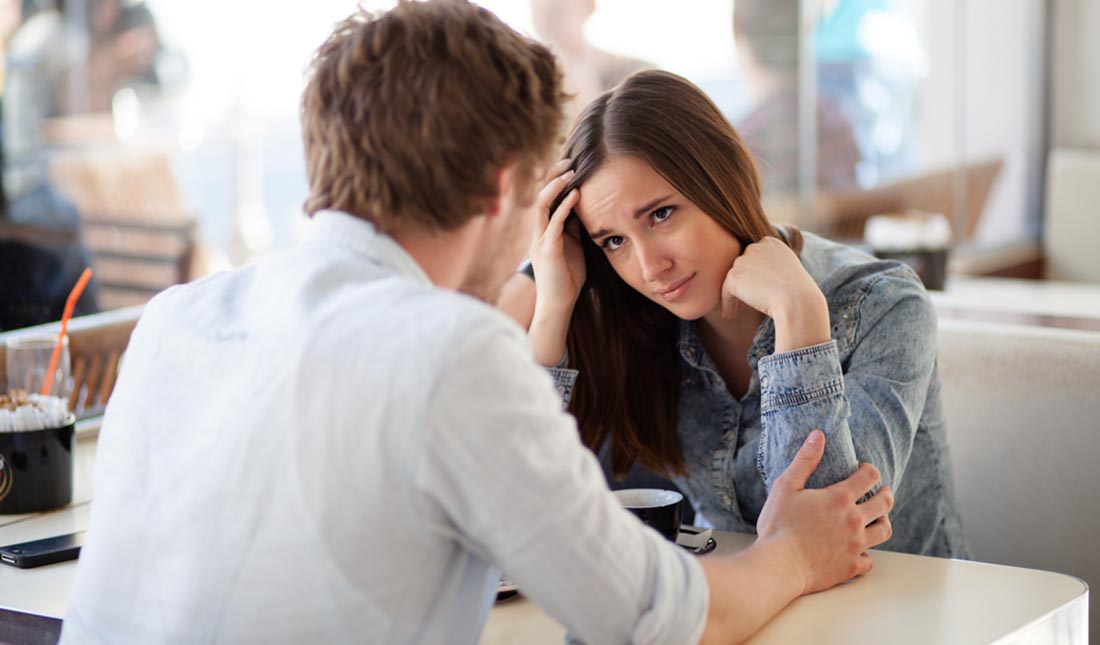 Let's cut right to the chase. You're here because you want to know how break up with someone without hurting their feelings. 
Well, we've got bad news. If the relationship was real, then breaking up is going to hurt regardless of how gently you do it. 
To make matters worse (for you at least), there's a good chance that you'll be painted as the villain for being the one doing the actual dumping. Meanwhile, the other person will be drowning their sorrows in chocolate and sympathy from your group of mutual friends.
It's basically a lose-lose situation for both the dumper and the dumpee, but that doesn't mean you shouldn't at least try to end things nicely. If you want to let the other person down easy, there are plenty of ways to do it without becoming public enemy number one.
Here are a few things you need to know to nicely end a relationship: 
Be respectful to your partner by choosing a private place to break up.

When breaking up, avoid putting all of the blame on your partner.

After the breakup, take time to focus and improve upon yourself.
Before the Breakup 
Breaking up is difficult, no matter how long you've been together.  But with a little bit of planning and a lot of compassion, you can make breaking up a little easier on both of you.
1. Know Why You Want to End It
First, make sure that you have a logical reason for ending the relationship. The last thing you want to do is break up with someone and then start having second thoughts about your decision.
Having different views on marriage or kids are both valid reasons to break up with someone. Ending it because you hate their facial hair style or how they chew their gum is nearing a George Constanza level of pettiness.
It also helps to write down your reasons for breaking up in a Google Doc. That way, you can refer back to them if you begin questioning whether or not you made the right call.
2. Figure Out the Logistics
Ending a relationship—especially a long relationship—is rarely a clean-cut ordeal. There may be pets or kids involved, finances to consider and a complex living situation to figure out.
As the one doing the dumping, it's up to you to work out the initial logistics of your breakup. You'll have time to think about it with a clear head, while your partner will no doubt be in an emotional tailspin for a while.
When creating a post-breakup plan, try to have a little empathy for your partner. Their life is about to be upended and they may not see it coming.
For instance, if you both share an apartment, consider allowing your partner to stay while or you being the one to move out. It's a small yet thoughtful gesture that can help ease the pain of a breakup. 
3. Be the One to Initiate the Breakup
You want to know how to break up with someone nicely, right? Then don't force your partner to break up with you by acting awful towards them.
Forcing your partner's hand in this manner is one of the worst ways to break up with someone. Not only is it extremely disrespectful, it's almost guaranteed to end the relationship with feelings of resentment.
Once you know that it's time to pull the plug, have the decency to initiate the breakup. Your partner deserves that much respect from you.
4. Choose a Good Time and Place
Rule No. 1 to breaking up with someone: Don't do it at a highly public place. No one enjoys having an audience as they work through their raw emotions in real-time.
Unless you fear for your safety, you should always break up somewhere that offers your partner a little privacy. If you're looking for a neutral location, a semi-private park is a good place to do the deed.
Keep timing in mind as well. We get that you don't want to spend one more day pretending to be madly in love, but you also don't want to be that person who breaks up with their partner on Valentine's Day or on the anniversary of their mother's death.
5. Mentally Prepare Yourself
Spoiler alert: Breakups suck. It's going to hurt regardless of whether you're the dumper or dumpee.
Science has shown that the pain of a breakup can be equated to physical pain. In a 2011 study published in the journal PNAS, researchers found that looking at a picture of a former lover and imagining previously shared experiences could light up similar areas in the brain as experiencing a burn on the forearm, suggesting that both are equal in their intensity (see claim: "…suggesting that the two tasks were matched in their subjective intensity…")
Even though you haven't broken up yet, you know that it's coming. This might trigger strong waves of regret inside you. Refer back to the reasons why you want to break up in the first place and stick to your guns.
GOT WRINKLES?
During the Breakup
Once you've worked out the logistics of your impending breakup, it's time to rip the Band-Aid off. By this point, your partner may suspect that something is up.
Whatever you do, don't tell them that you want to "talk about the future." This could give your partner the wrong impression about where the relationship is headed. 
With that in mind, here's how to break up with someone the most painless way possible. 
1. Tell the Truth (But Be Nice About It)
In general, people want closure after a breakup. Otherwise, they'll be plagued with questions like "Where did I go wrong?" or "What could I have done differently?" long after the relationship has ended.
Be honest about your feelings and why the relationship isn't working out. At the same time, avoid delving into too much detail. A breakup is not the time to air out all of your nitpicky grievances.
On a similar note, your reason for breaking up shouldn't come straight out of the blue. Absent of cheating or another relationship deal-breaker, you should give your partner a chance to work through the problem with you before going straight for the nuclear option.
2. Take Responsibility
If you want a nice, clean split, avoid playing the blame game. Rather than blaming your partner for everything they did wrong, use "I" statements that focus on your feelings and perspective. 
For instance, maybe your partner enjoyed trying new things and that always grated on you. Instead of blaming them for it ("you're not as adventurous as I am"), turn it into an "I" statement ("I felt like you were happier at home, whereas I want to go out and explore").
3. Don't Leave the Door Open
Be prepared for your partner to ask if you can work things out or take a short break. In the moment, you may feel extremely tempted to take them up on it. You can chock this feeling up to something called the sunk cost fallacy, a phenomenon which holds that the more time and effort put into something, the more reluctant we are to give up on it.
If you know in your heart that there is no chance of reconciliation, make that clear to your partner. Although it's tempting to say things that will help ease their pain, you'll only be making it that much harder for them to move on from your split.
4. Suggest Going No-Contact
Don't kid yourself. You and your ex can't be friends. At least not immediately. 
To help both of you move on from each other, suggest going no-contact for a minimum of three months. Don't text, call or look them up on social media.
Speaking of social media, you may want to mutually agree to unfollow each other. That way, you won't feel sucker-punched every time you see your ex's face pop up in your newsfeed.
5. Share a Few Positive Sentiments
At this stage of the conversation, you and your partner have officially broken up. As you're wrapping up the breakup conversation, consider tossing a compliment or two their way.
Were they extremely kind? Silly? Honest? Were they an incredible cook? Whatever it is you appreciated about them, let your ex know. It's always nice to leave things on a positive note.
However, keep in mind that your ex may be feeling a little bitter at this point. If you don't think they will be all that receptive to compliments, feel free to skip this step entirely and keep the conversation snappy.
Take the skin care quiz
After the Breakup
The Band-Aid has been ripped off and you're probably feeling the sting. Though it may feel bad right now, rest assured that this too shall pass.
In the meantime, here are a few tips to help both of you move forward after your split.
1. Let Yourself Be Sad
Breakups hurt, regardless of who is initiating the split in the first place. One of the reasons why it hurts so much is because you and your partner's lives were once carefully intertwined, and now—they're not.
According to a 2009 study published in Personality and Social Psychology Bulletin, breakups can cause people to feel a loss of self-concept, or a person's sense of "me" (see claim: "…individuals experienced self-concept content change and reduced self-concept clarity post-breakup.") If you're feeling as though you've lost a huge part of yourself, know that it's completely normal.
Let yourself grieve the relationship. Talk about it with friends, family or a counselor if you need to. It will help you accept the breakup and eventually move forward with your life.
2. Focus on Self-Improvement and Self-Care
Still feeling lost and lonely? Find yourself a "new" identity through self-improvement and self-care.
Whether it's hitting the gym, getting on a skin care routine or picking up a new hobby, doing things to improve your mind and body can make you feel like a brand new person. This is also a prime opportunity to do all the things you know that your ex wouldn't have liked.
Feel like growing out your hair and rocking a manbun? Do it. Always wanted to try a vegan cooking class? Now's your chance. 
Take advantage of your newfound freedom and focus on yourself for once. You'll come out the other side looking and feeling better than ever.
3. Learn from the Relationship
When a relationship doesn't pan out the way we want it to, it's easy to think of it as a "waste of time." But not all relationships need to result in "happily ever after" to be worthwhile.
All relationships are an opportunity to learn more about ourselves and improve our future relationships. What did you like in this relationship? What didn't you like?
Maybe your former partner taught you something not related to relationships at all. Did he or she teach the secret to a perfect steak? That counts as something.
There is meaning in all relationships. You may just need to dig a little deeper inside yourself to realize it.
4. Be Social
We know, we know. Hanging out with friends can be painful when all you want to do is mope. That's exactly why you need to do it.
Being social—whether it's with friends, family or coworkers—is key to rediscovering yourself after a breakup. You need to learn how to function on your own again.
Let your friends drag you out to shady bars and go to networking events that you accidentally neglected while you were in the relationship. Inch by inch, you'll start feeling like yourself again.
5. Move on at Your Own Pace
There is no set time period to start dating again. If you feel ready to get back on Tinder after a few months, then go for it. Need a little more time? That's fine, too.
Get back in the dating game whenever you're ready. In the meantime, enjoy being single by doing whatever it is you want to do.
The Takeaway
Pulling the plug on a relationship is never fun. There will likely be at a few tears and feelings of resentment.
Although you might feel bad about ending it, just remember that what you're feeling inside will eventually go away. By following these tips, you can at least make sure that your breakup is as clean and kind as possible.

References
Kross, Ethan, et al. "Social Rejection Shares Somatosensory Representations with Physical Pain." Proceedings of the National Academy of Sciences, vol. 108, no. 15, National Academy of Sciences, Apr. 2011, pp. 6270–75. 
Slotter, Erica B., et al. "Who Am I Without You? The Influence of Romantic Breakup on the Self-Concept:" Personality and Social Psychology Bulletin, SAGE Publications, Los Angeles, CA, Dec. 2009. 
---
// © Copyright 2023 Tiege Hanley