Subscription
Shipping Address
Order Date

This subscription's skin care system will get replaced.

${ address.name }




${ address.products }

${ displaySubscriptionName(address) }




${ displayProducts(address) }

${ displayAddress(address) }
${ formatDate(address.scheduleDate) }

${ address.name ? address.name : displaySubscriptionName(address)}
${ address.products }
${ displayProducts(address) }
Shipping Address
${ displayAddress(address) }
Delivery Date
${ formatDate(address.scheduleDate) }
This subscription's skin care system will get replaced.
7 Steps to Growing Out Your Hair—A Guide for Guys
Follow these 7 steps to grow your hair out for a longer hairstyle.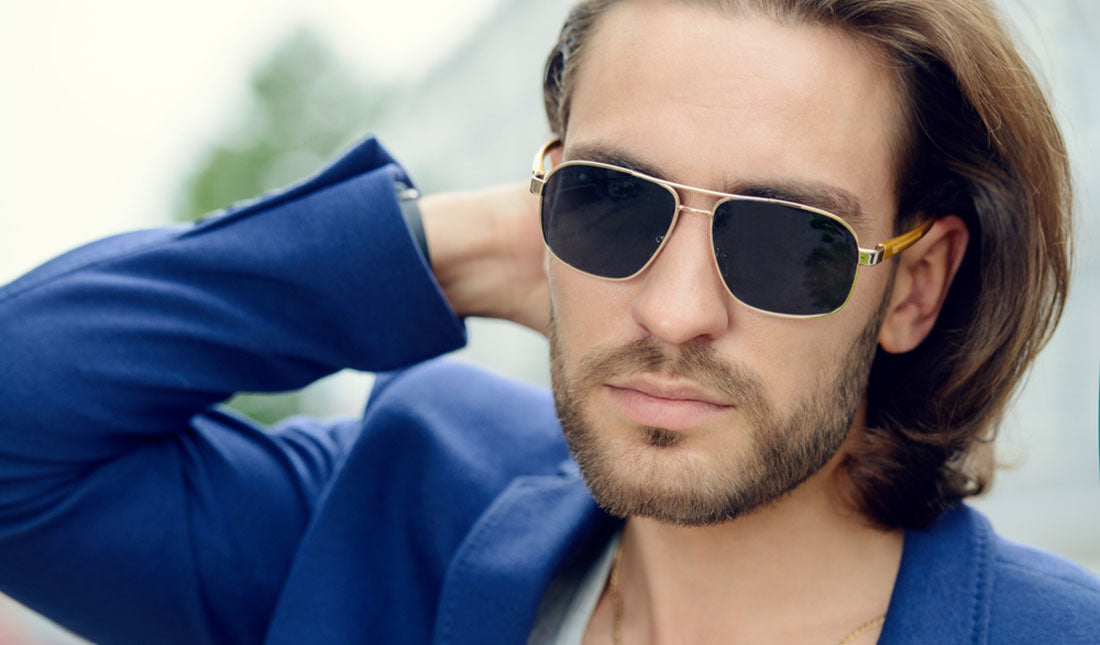 If you've decided to ditch your shorter hairstyle in favor of longer, sexier locks—well, all we can say is buckle up. Once you grow out your hair, the ladies will be clamoring to touch your glorious mane and run their fingers through it constantly.
Of course, that's assuming you manage to grow your hair out properly in the first place. A thick, healthy head of hair doesn't just sprout like magic, you know.
To help you grow out healthy and vibrant hair, we've put together a simple guide for guys to follow. But first, here are a few things to know about growing out your hair:
Growing out your hair is a lengthy process that requires patience
You can speed up hair growth by adopting a healthy, balanced diet
Get through awkward growth stages by picking up new tools and products for your hair
Ready to achieve an epic mane? Here's your step-by-step guide to growing out your hair.
1. Be Patient
Before you go down this hairy road, keep in mind that you'll need to be extremely patient with your hair growth. Although your shorter hair always seemed to grow like a weed, the process of growing out your hair will likely feel tedious and slow.
This is especially true depending on the time of year you decide to grow out your hair. According to a 1991 study published in the British Journal of Dermatology, men experience faster hair growth during the spring and summer and it appears to decline in the fall and winter (see claim: "In the scalp, the proportion of follicles in anagen reached a single peak of over 90% in March, and fell steadily to a trough in September.")
CONTROL EYE BAGS
2. Revamp Your Daily Haircare Routine
Shorter hairstyles can take a lot of abuse from hair care products and still look decent. Unfortunately, the same can't be said for longer hair.
If you want healthy and vibrant-looking hair, switch to a sulfate-free shampoo and use it sparingly—about once or twice a week. You should also start using a leave-in conditioner for men to keep strands hydrated and strong as they grow.
Be aware that if your face starts breaking out all of sudden, it could be the oils from the leave-in conditioner. If you have acne-prone skin, try your best to keep your leave-in conditioner from running down the sides of your face.
3. Get Regular Trims
Yes, we know it sounds a bit backwards, but hear us out. Getting regular trims from your barber or stylist can actually benefit your hair in the long term.
Seeing your barber regularly will help you sidestep some of the more awkward hair growth stages. Additionally, an occasional snip will also prevent split ends and breakage for longer, healthier-looking hair. Consider scheduling a visit to your barber every 10-12 weeks to trim your dead ends and keep hair healthy as it grows.
4. Eat Well
If you want to grow your hair out faster, skip the hair growth supplements altogether and focus on eating a healthy, balanced diet instead. Eating a balanced diet loaded with fresh fruits, vegetables and healthy fats will provide you with the nutrients your hair needs to grow long and luscious.
Although hair growth supplements are generally a waste of time, it doesn't hurt to talk to your doctor about taking a multivitamin for men. You could be lacking a key nutrient (such as vitamin E for men) that could increase your hair growth exponentially.
Take the skin care quiz
5. Learn How to Style Your Longer Hair
Once you reach a specific point of your hair-growing journey, you'll be tempted to cut your hair off and forget all about your desire for longer locks. Don't give in yet!
To get past this particularly frustrating stage of hair growth, try switching up your hair care products. If you were using pomade or hair clay to style your shorter locks, look for a hair cream that tames frizz while emphasizing your natural hair style—whatever that may be.
Since your hair may be tickling your neck at this point, make sure that you choose a hair cream that won't cause neck acne. We can tell you from personal experience that getting rid of neck acne can be—well—a huge pain in the neck.
6. Consider Rogaine
If you're struggling with male pattern baldness, you may not need to give up your dream of a longer hairstyle. Rogaine (aka, minoxidil) is a popular hair loss treatment for hereditary baldness that can potentially regrow your hair and help you achieve enviably locks.
In a recent study published in the Journal of Cosmetic Dermatology, researchers found that the latest 5 percent minoxidil formulation was both safe and effective for hair regrowth in men (see claim: "DC0120 was as safe and effective as a similar marketed minoxidil product for stimulating hair growth in men with AGA.")
Keep in mind that Rogaine doesn't work on everyone. However, it may not hurt to try if you're desperate for longer, thicker hair.
7. Pick Up the Right Tools and Products
Once your hair has reached your desired length, you'll probably need to pick up a few more tools and products to maintain it. You can start by using a dry shampoo, which help will soak up the excess oils on your scalp and keep your hair from looking too greasy in-between shampoos.
Start experimenting with your longer hair and trying new looks. If you want to give your hair a texturized look, use a salt spray to give you beachy, Jason Momoa hair vibes. Consider adding some hair oil to tame your fizz and emphasize the texturized pieces.
Other tools you might need for a longer 'do include a heat-minimizing blow dryer and a wide-bristle brush. Don't forget to give your hair a nightly brushing to distribute the oils and reduce split ends.
Final Thoughts
With a little product and a whole lot of patience, anyone can grow out their hair and achieve a sexier-looking mane. Keep in mind that it might take anywhere from a few months to an entire year to get the longer hairstyle you're going for.
While you wait for your hair to grow, why not try a new skin care routine? By the time your hair is fully grown, you'll have healthy hair to match your healthy skin.
References
Randall, V. A., and F. J. Ebling. "Seasonal Changes in Human Hair Growth." The British Journal of Dermatology, vol. 124, no. 2, Feb. 1991, pp. 146–51. PubMed, doi:10.1111/j.1365-2133.1991.tb00423.x.
Blume-Peytavi, Ulrike, et al. "Efficacy and Safety of a New 5% Minoxidil Formulation in Male Androgenetic Alopecia: A Randomized, Placebo-Controlled, Double-Blind, Noninferiority Study." Journal of Cosmetic Dermatology, vol. 18, no. 1, Feb. 2019, pp. 215–20. PubMed, doi:10.1111/jocd.12541.
---