Subscription
Shipping Address
Order Date

This subscription's skin care system will get replaced.

${ address.name }




${ address.products }

${ displaySubscriptionName(address) }




${ displayProducts(address) }

${ displayAddress(address) }
${ formatDate(address.scheduleDate) }

${ address.name ? address.name : displaySubscriptionName(address)}
${ address.products }
${ displayProducts(address) }
Shipping Address
${ displayAddress(address) }
Delivery Date
${ formatDate(address.scheduleDate) }
This subscription's skin care system will get replaced.
How to Clean a Razor—A Step-by-Step Guide
When was the last time you cleaned your razor? Learn how to clean a razor properly and get expert tips on how to achieve the super-smooth shave of your dreams.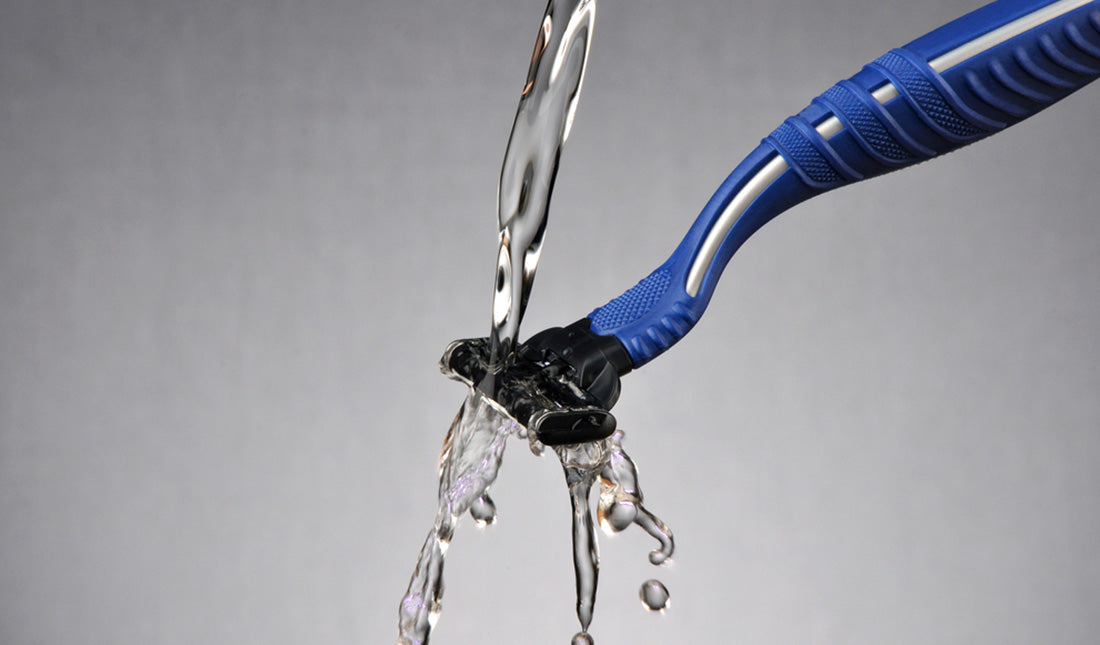 If you're not practicing proper razor hygiene, you're doing your skin a huge disfavor. Shaving with a dirty razor is practically an open invitation for razor bumps, razor burn and nasty skin infections.
Razors need to be cleaned regularly—as in, every time you use one. Although it might sound tedious, we promise that learning how to clean a razor will pay off tenfold for your skin.
Here are a few things you need to know about how to clean a razor:
Razors can harbor bacteria that can get into the skin through microscopic cuts from your razor
Clean your razor by rinsing it with water after each stroke and disinfecting it with rubbing alcohol
Always store your razor in a dry place
Keeping your razor in pristine condition is essential to getting a closer, smoother shave. Below, we'll explain how to clean a razor and provide a few helpful tips to achieving buttery-smooth skin.
TRY MEN'S SKIN CARE
How to Clean a Razor in 6 Simple Steps
It doesn't matter whether your razor blade has one, three or five blades. If you want to prevent ingrown hairs and razor bumps, your razor needs to be sharp and clean at all times.
Luckily, it doesn't take too much elbow grease to clean your razor. Here's how to clean a razor in just five simple steps.
1. Rinse After Each Stroke
We get that you want to zip through your morning routine as quickly as possible, but you need to slow it down and take the time to rinse your razor blade after each stroke. Rinsing after each stroke will prevent your razor blade from getting clogged up with hair and shave gel.
Take short strokes while shaving with the grain and follow up by washing the blade under piping hot water. Give it a little shake or a gentle tap against the sink to get the water out before starting your next stroke.
2. Disinfect with Rubbing Alcohol
After you've completed your shave, rinse the razor blade with water and shake one final time. Then, dip your razor blade into rubbing alcohol (isopropyl alcohol) to disinfect it.
Disinfecting your razor blade with rubbing alcohol will help sterilize and clean the blade of oils and grime. Using rubbing alcohol on your razor blade will also reduce your risk of infection.
After you rinse your razor blade with rubbing alcohol, give it a shake and hang it up to dry.
3. Get Rid of Soap Scum with a Soap Mixture
If you're using a double-edge razor blade, you might notice that soap scum has built up on the neck of your once-beautiful razor. To clean it off, you'll need an old toothbrush, dish detergent and rubbing alcohol.
In a small bowl, mix four ounces of water with two tablespoons of dish detergent. Dip your toothbrush into this mixture and start gently scrubbing the neck of your safety razor.
Once the soap scum is off, rinse your razor with hot water and dip it into some rubbing alcohol to disinfect it. If you want to be proactive about preventing soap scum, dipping the neck of your razor blade into rubbing alcohol can help tremendously.
4. Store in a Dry Place
To make your razor blades stretch further, be sure to store them in a dry place (in other words, not in the shower). If you don't already own a razor stand, be sure to get one and use it to store your razor in a high and dry location.
Although its best to store your razor outside of the bathroom, we're guessing that you want your razor to be easily accessible. In this case, keeping your razor on the bathroom counter or in your medicine cabinet are the next best choices.
5. Replace Your Razor Blades Regularly
No matter how diligent you are with cleaning your razor blades, the blade itself still needs to be replaced regularly. Eventually, your razor blade will get dull and start to feel uncomfortable on your skin.
If you want to avoid nicks, cuts and ingrown hairs, make sure to replace your blades as needed. The American Academy of Dermatology recommends replacing your blade every five to seven shaves to reduce skin irritation.
Take the skin care quiz
Don't Ever Share Your Razor Blades
You might think this would go without saying, but we've heard plenty of horror stories about couples sharing their razors. The reason you don't want to share razors is because the blades can harbor all sorts of bacteria, which can then be transferred to the skin when the razor creates microscopic cuts in the epidermis.
Basically, sharing razors can increase your risk of getting bacterial and fungal infections. According to a 2010 study published in Hepatitis Monthly, sharing razor blades can also increase your risk of getting Hepatitis B Virus, although this is admittedly much less likely (see claim: "…used razor blades may be contaminated with HBV, and the practice of sharing used razor blades may pose a risk of transmission.")
Final Words of Advice
Remember, your pre-shave routine can significantly reduce how much time you spend cleaning your razor. Simple things such as using an exfoliating scrub twice a week can help remove dead skin cells that would otherwise clog up your razor blade.
Lastly, don't forget your post-shave routine. By following up your shave with a soothing moisturizer, you can restore hydration to your skin and reduce razor bumps.
References
Eroglu, Cafer, et al. "Detection of Hepatitis B Virus in Used Razor Blades by PCR." Hepatitis Monthly, vol. 10, no. 1, 2010, pp. 22–25.
---
// © Copyright 2023 Tiege Hanley