Subscription
Shipping Address
Order Date

This subscription's skin care system will get replaced.

${ address.name }




${ address.products }

${ displaySubscriptionName(address) }




${ displayProducts(address) }

${ displayAddress(address) }
${ formatDate(address.scheduleDate) }

${ address.name ? address.name : displaySubscriptionName(address)}
${ address.products }
${ displayProducts(address) }
Shipping Address
${ displayAddress(address) }
Delivery Date
${ formatDate(address.scheduleDate) }
This subscription's skin care system will get replaced.
How to Shave with the Grain (Updated March 2020)
Shaving with the grain is key to smooth, blemish-free skin. Learn how to shave with the grain the right way to avoid patches or irritating bumps.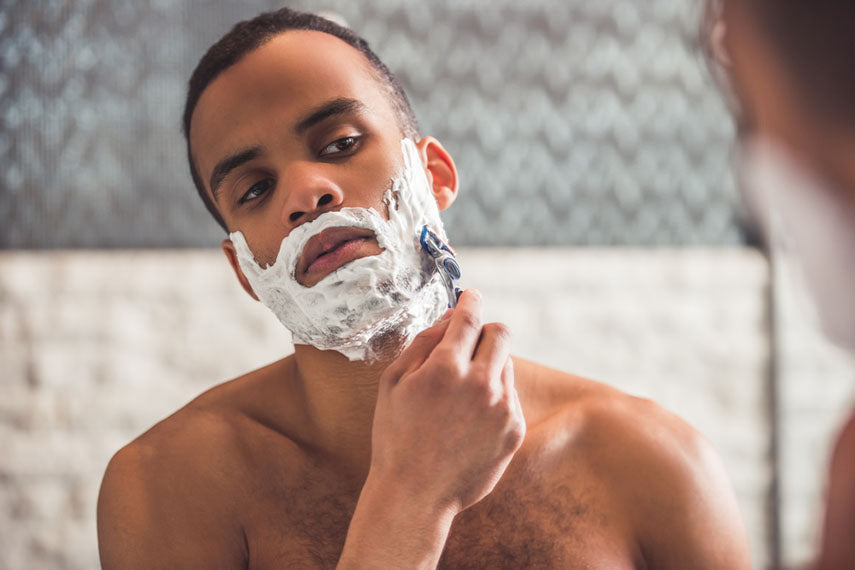 Don't get us wrong, we admire guys who aren't afraid to go against the grain and buck conventional trends.
Unless, of course, we're talking in the literal sense about shaving against the grain.
While some guys say that shaving against the grain is key to getting a close shave, it also increases the likelihood of razor burn and ingrown hairs.
Shaving with the grain may not be as quick, but it's the best way to go if you don't want to end up with embarrassing bumps all over your face.
How do you go about achieving the perfect shave without causing irritation?
Here are three things you need to know about shaving with the grain:
To shave with the grain, you need to know the natural direction in which your hair grows.
No matter which direction you shave, always do prep work for your skin in advance of your shave.
To avoid redness and irritation, avoid shaving the same area on your face repeatedly during the same shave.
Find Your Grain
The "grain" refers to the natural direction that your hair grows. To shave with the grain correctly, you first need to know which direction your hair is growing. 
The easiest way to determine which way your hair grows is by taking your hand and rubbing it across your stubble in different directions.
The direction that provides the most resistance is against the grain, while the direction that provides the least resistance is with the grain.
Shaving against the grain increases your chances of developing painful, ingrown hairs. According to a 2016 study published in the International Journal of Trichology, those with curly hair patterns are especially at risk of developing ingrown hairs when they shave because the hair is likely to curl back into the skin (see claim: "…the most common pattern seen in all cases was the curved hair attached at both ends …")
TRY MEN'S SKIN CARE
Prep Your Face
Once you know the direction of your hair growth, it's time to do some shaving prep work.
First, wash your face with lukewarm water to open up the pores without drying out your skin.
Next, exfoliate the dead skin cells off your face with a gentle exfoliating scrub.
This will help prevent your razor from becoming clogged with dead skin cells and debris.
Be careful to avoid over-exfoliating your face—twice weekly is enough for most guys.
Smooth the Skin for Shaving
Continuing with your prep work, apply pre-shave oil to your face to soften your hair follicles and minimize razor tugging.
This will also help hydrate and protect your sensitive skin while allowing your razor blade to glide smoothly over your face.
Although it depends on your personal preference, unscented shave oils are your best bet for avoiding irritation.
Unscented shave oil also means that you can easily use it in tandem with other products without clashing scents.
Then, apply a moisturizing shave gel or shave lather that contains soothing and nourishing ingredients, such as Aloe Vera or Cucumber Extract.
According to a 2013 study published in Fitoterapia, Cucumber provides a soothing effect on irritated skin (see claim: "It gives a soothing effect against skin irritations and reduces swelling.")
Use a Clean, Single-Blade Safety Razor
One of the easiest ways to sabotage a perfectly good shave is by using an old and dull razor.
A dull blade can tug at the hairs and spread bacteria. This can leave your beard with a nasty razor burn that feels tender and causes red, angry bumps.
Always use a clean, single-blade safety razor when shaving. Unlike multi-blade, a single-blade safety razor is less likely to cause irritation.
Shave Slowly and with the Grain
Gently guide your razor in the direction of the grain with short but fluid strokes.
After each stroke, run your razor blade under the faucet to remove excess hair and shave gel clogging the blade.
Avoid applying too much pressure.
If your face still feels rough in certain areas, simply apply more lather and go gently over the area once more.
Shaving too much in one spot will cause irritation, so let your skin be after the second go-around.
Actual Tiege Hanley customer testimonial:

"Over a 3 year period, I probably spent over two grand in skin care and still had acne. I decided to reach out and request to be a part of the

 

Tiege Hanley Acne trial

 

and I have been blown away. After two weeks, my skin was clear. It's not the acne cream alone that cleared it up, but how all of the products work together as a whole." Kyle B., NJ.
Take the skin care quiz
Rinse and Moisturize Your Face
Finally, wash your face and always apply a soothing moisturizer to your face.
Shaving can strip some of the skin's natural oil, which makes moisturizing post-shave incredibly important for healthy skin.
A nourishing moisturizer will restore hydration while adding a protective barrier to your skin to prevent moisture loss.
If your moisturizer contains SPF, it will provide much-needed sun protection without clogging your pores.
Final Thoughts
You don't need to shave against the grain to achieve a close shave.
Shaving with the grain can provide a perfectly smooth shave without irritating or damaging the sensitive skin on your face.
Just be sure to follow the prep work we've described above and take your time.
Once the process is finished, you'll have a buttery smooth face without the embarrassing red bumps or irritation. Incorporate a men's skin care kit into your post-shave skin care routine to make your skin look better than ever, without all the complication.
---
// © Copyright 2023 Tiege Hanley