Subscription
Shipping Address
Order Date

This subscription's skin care system will get replaced.

${ address.name }




${ address.products }

${ displaySubscriptionName(address) }




${ displayProducts(address) }

${ displayAddress(address) }
${ formatDate(address.scheduleDate) }

${ address.name ? address.name : displaySubscriptionName(address)}
${ address.products }
${ displayProducts(address) }
Shipping Address
${ displayAddress(address) }
Delivery Date
${ formatDate(address.scheduleDate) }
This subscription's skin care system will get replaced.
How to Cut Your Own Hair: A Guide for Men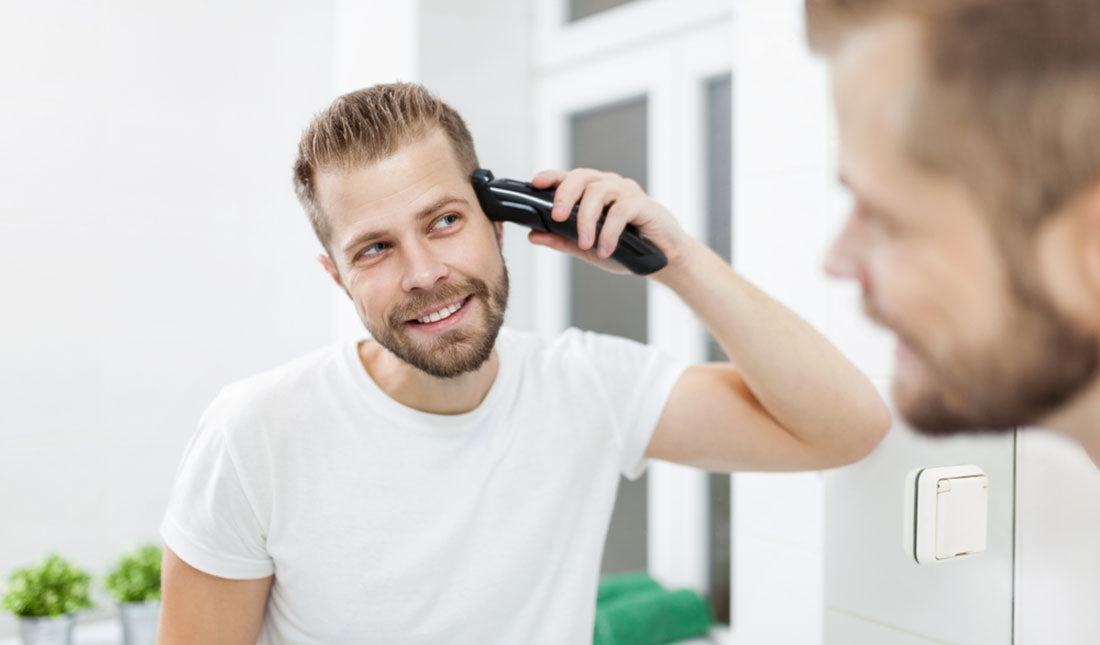 When it comes to getting a fresh haircut, nothing beats the artistry and skill of a professional barber. Still, you've probably entertained the idea of cutting your own hair before.
We get that seeing your barber every couple of months can be time-consuming and expensive. Giving yourself a quick trim can save you a lot of time and money.
Before you pick up your clippers or shears, here are three things you need to know about cutting your own hair:
Choose a flattering hair style before you cut your hair

Work in good lighting and take it slow

Make sure to leave enough hair on top if you plan to create a fade
Ready to skip the barber and start cutting your own hair? Let's begin.
What to Do Before Cutting Your Own Hair
When you go to a professional barber, they don't go straight to cutting your hair. They put in the prep work and make sure to use the right tools for the job.
Before you go anywhere near your head with scissors or clippers, here is what you need to do first: 
1. Choose Your Look
First, you need to choose a flattering hairstyle that suits your face shape. Specifically, you should choose a hairstyle that helps create the illusion of a symmetrical face.
Multiple studies have shown that humans are naturally attracted to symmetry. A 1994 study published in the Journal of Comparative Psychology was the first to show that both men and women showed a preference towards symmetrical faces (see claim: "This is the first study to show that facial symmetry has a positive influence on facial attractiveness ratings.")
While a hairstyle may not be able to fix a crooked nose or asymmetrical lips, it can go a long way in creating balance in your face. Additionally, some hairstyles such as the comb over and short pompadour can help disguise a receding hairline to make you look younger.
2. Pick Up the Right Tools
Whoa there, you didn't think we'd let you cut your hair using the scissors in your junk drawer, did you? Barbers and hairstylists don't use fancy shears and fancy clippers just for looks.
Here are the professional tools you need to get the job done right:
Hair Cutting Scissors:

Known professionally as shears, hair cutting scissors allow you to maintain a comfortable grip while you cut your hair.

Fine-Tooth Comb:

You'll use a fine-tooth comb to grip the hair and make an even cut with your shears.

Hair Clippers:

The best hair clippers for men include several accessories and clipper guards to achieve the desired hair length. Splurge on a good one that will also help you

achieve the perfect 5 o'clock shadow

.

 
Trimmers

: Trimmers (also referred to as liners or edgers) are used by barbers to clean up the lines around your ears, hairline and the back of your head.

Handheld Mirror:

If you aren't lucky enough to have a three-way mirror, a handheld mirror is the next best thing. You'll use this to see the backside of your head.

Styling Product (Optional)

: To complete the look, consider picking up a styling product such as pomade. If you have acne-prone skin, be aware that

pomade can make your breakouts worse

.
CONTROL EYE BAGS
3. Wash Your Hair Beforehand
Before you cut your hair, it needs to be clean and free of product. If your scalp has a build-up of products, this can make the hair lay abnormally and result in an altered haircut.
If you're new to the world of men's shampoos, be sure to pick one that works with your hair type. You wouldn't use a skin care system that wasn't formulated for your skin, right? The same rule applies to your scalp and hair.
If you're struggling with dandruff, pick up a dandruff shampoo for men to get rid of white flakes. For particularly stubborn dandruff, the American Academy of Dermatology offers some useful tips to help you combat symptoms. 
How to Cut Your Own Hair - Two Different Methods 
There are several techniques you can use to cut your own hair. The right technique depends on what you're hoping to accomplish.
Regardless of which technique you use, remember to leave enough hair on top for a fade haircut (explained further down below) if that's the look you're going for. Without further ado, let's begin:
Method 1: How to Cut Your Own Hair Using Scissors
Using scissors to cut your hair may be best if you just need a quick trim on top. This technique works best with wet hair, so consider washing your hair first or spritzing it with a water bottle before you begin.
Step 1: Section Off the Hair 
Section off your hair by giving yourself a side part (aka, a comb over). Start with the side opposite your comb over (the smaller section) and use your comb to lift up a section of hair into the air.
As you reach the ends of the hair with your comb, use your other hand to grasp the hair between your middle finger and forefinger. This should create a straight line of hair, which you'll cut through slowly.
This first cut will be your guide piece. You'll use it for the next section you cut to ensure even results.
Step 2: Follow Your Guide Piece
Next, pick up another section of your hair, making sure that it overlaps with the section you just cut. You'll notice the difference in lengths between your guide piece and your uncut hair.
Use the same technique by cutting a straight line across your fingers. Repeat this process until all sections of your hair are finished.
Step 3: Blow-Dry and Style Your Hair 
Finally, finish up your handiwork by blow-drying and styling your hair. Then, carefully examine your work in the mirror. If your haircut isn't even, go back and tidy it up using the same technique.
Method 2: How to Cut Your Hair Using Clippers 
Cutting your hair with clippers has a few benefits. Not only is it fast and easy, it helps you avoid unevenness in your hair because you're using a clipper guard.
Still, you need to be careful about trimming too much in the beginning. Start with a higher number guard just to be on the safe side.
One last thing we need to mention: Clippers can come in a closed and open position. A closed lever position cuts hair close, while the open position cuts it longer and softer.
Got it? Alright, let's get started:
Step 1: Start with the Sides
First, choose the right guard size number and attach it to your clippers. If you're starting with longer hair, you can remove a lot of the bulk by using a No. 8 guard size (in the open position) on your clipper.
For shorter hair, start with a lower guard number in a closed position. Starting from the bottom, move your clippers in an upward and outward motion along the sides. 
If you want a buzz cut, you can go all the way on top. If you plan to give yourself a fade, stop just short of where you want your fade to begin.
Take the skin care quiz
Step 2: Get the Back
Next, it's time to clip the back. If you have a bathroom that has a three-way mirror, make smart use of it so you can see what you're doing.
If you don't have a three-way mirror, a handheld mirror will work as well. Hold it up in front of you and aim it towards the mirror behind you to see the back of your head.
Use the same upward and outward motion you used on the sides. You'll know roughly where to cut by looking in the mirror and seeing how far up you trimmed the sides. 
When trimming the back, go up to this invisible line and stop just short of it. This will help you taper it or fade it, depending on your preference.
Step 3: Give it a Taper 
If you want to achieve a fade, move onto the next section. To achieve a tapered look, simply switch to a lower guard number and repeat the process just above the hairline.
Step 4: Use Your Trimmers to Create a Shape-Up
Finally, use your trimmers to give yourself a shape-up. Also known as an edge-up or line-up, this haircut technique involves cleaning up the hair around your temples and sideburns.
The hardest part to get with your trimmer is the back. Make sure that you go extremely slow because the mirror can trick you into running your trimmers in the opposite direction you want to go.
How to Create a Fade
Fade hairstyles have been popular for years, and for good reason. This haircut style pairs amazingly well with both modern and classic haircuts and can instantly elevate your look.
But let's rewind: What is a fade haircut? Also known as the taper fade, a modern fade refers to a hairstyle where the hair on the sides and back become gradually thinner. 
Fades can be described as being low, mid and high fade. Here's a brief explanation of each:
Low Fade: A low fade begins to taper about an inch above the ears and drops off around the ears toward your neckline.
Mid Fade: A mid fade begins to taper just below the temple area. Like the low fade, it also curves around the ears and dips toward the neckline.
High Fade: A high fade starts at or above the temple and typically goes straight back towards the head.
Since you'll be using clippers to create a fade, make sure that you begin with dry hair. Wet hair will shrink when it starts to dry, which can throw off your look if you don't account for shrinkage.
Step 1: Create Your Base
When creating a fade, you'll want to use several clipper guard sizes to achieve the desired look. You'll start by using a low guard number and begin trimming from the bottom of the neck, working your way up.
To make things simple, let's just say that you're starting with a No. 1 guard in a closed position. You'll begin clipping the hair at the base of the neck, following the skin closely and working your way up to the invisible line where you want your fade to begin.
Take your time with this step. It lays the groundwork for the rest of your fade, so work slowly and make sure that no patches are left behind.
Step 2: Skip a Guard Number and Continue Fading
Next, you'll attach your No. 3 guard (skipping No. 2) and begin fading the hair into the longer hairs on top. As you go higher, remember to use the upward and outward motion we described in step 1.
Again, you can use different guard numbers depending on your preference. Just make sure to adjust the numbers for the rest of these steps. 
Step 3: Use the Middle Number Guard to Achieve Balance
Next, you'll attach the guard number you previously skipped (in this example, a No. 2 guard) and begin blending between the two different lengths. This will start to give you the fade effect you're going for.
Step 4: Go Back to the First Guard Number and Switch to an Open Position
When you first began your fade, you had the clippers in a closed position. Now, you'll use your No. 1 guard (or, whichever number you started with) and flip the open position. This longer setting will provide the optimal blend between your No. 1 and No. 2 and ensure a perfect fade. 
For the final step, you'll drop to No. 0 guard (meaning, no guard) and keep it in the open position. Clip along the bottom for a clean and polished look.
Final Words of Advice
If you're tired of going to a professional barber for a trim, cutting your own hair is an option. Just don't expect professional results from your self-haircut. Barbers and stylists go to hair school for a reason!
Rather than swear off your barber for good, it may be best to cut your own hair as a way to space out time between appointments. This way, you can save yourself time and money without looking like Edward Scissorhands cut your hair.
---
// © Copyright 2023 Tiege Hanley