Subscription
Shipping Address
Order Date

This subscription's skin care system will get replaced.

${ address.name }




${ address.products }

${ displaySubscriptionName(address) }




${ displayProducts(address) }

${ displayAddress(address) }
${ formatDate(address.scheduleDate) }

${ address.name ? address.name : displaySubscriptionName(address)}
${ address.products }
${ displayProducts(address) }
Shipping Address
${ displayAddress(address) }
Delivery Date
${ formatDate(address.scheduleDate) }
This subscription's skin care system will get replaced.
How to Get Rid of Forehead Wrinkles
Want to get rid of stubborn wrinkles on your forehead? Stop by the Tiege Hanley blog and discover the most effective solutions for reducing the appearance of forehead wrinkles.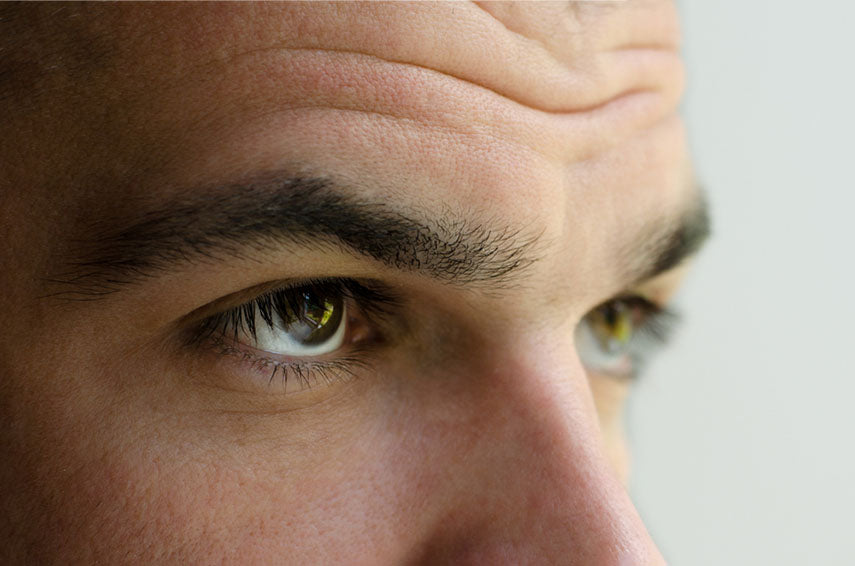 It's a simple fact that all of us will struggle with wrinkles at some point in our lives. For some guys, the deepest and most pronounced wrinkles will inevitably appear on their forehead.
Deep forehead wrinkles can make even the most confident of men feel self-conscious. They're especially bothersome when they appear at an early age, which can happen for several reasons including lifestyle habits and genetics. Why do forehead wrinkles affect some guys more than others and how can you go about achieving a wrinkleless brow?
Here are three things you should know about getting rid of forehead wrinkles:
Forehead wrinkles are more likely to appear in guys at a young age.
Lifestyle choices, genetics and environment can speed up the progression of deep forehead wrinkles.
Skin care ingredients such as peptides and retinol can help reduce the appearance of forehead wrinkles.
GOT WRINKLES?
What Causes Forehead Wrinkles?
When it comes to forehead wrinkles, guys unfortunately get the short end of the stick. According to a 2013 study published in Dermatologic Surgery, forehead wrinkles are more likely to manifest early in guys and first appear in their 20s (see claim: "Very fine wrinkles on the forehead are visible in men in the youngest age group, 20-29…")
Gender isn't the only thing that plays a role in the development of forehead wrinkles. Additional factors that can speed up forehead wrinkles include sun exposure, smoking and repetitive facial expressions (i.e., furrowing your brow).
Out of all the factors that contribute to forehead wrinkles, sun exposure is often the worst offender. Wearing a daily moisturizer with SPF 20 or higher is essential to helping you combat the effects of premature aging and reducing your risk of skin cancer.
How to Get Rid of Forehead Wrinkles
If your forehead wrinkles are taking a toll on your self-esteem, there are things you can do to reduce their visibility. To reduce the appearance of wrinkles on the forehead, here are a few options to consider:
1. Apply a Retinoid
Retinoids have long been the superstar skin care ingredients of the anti-aging industry. These skin-smoothing rock stars help increase collagen production and promote cell turnover, effectively minimizing fine lines and wrinkles.
If you really want to kick your forehead wrinkles to the curb, give our Facial Firming Serum a try. In addition to Retinyl Palmitate (an ester of Retinol and Vitamin A), our Super Serum is packed with antioxidants and peptides to keep skin smooth, hydrated and supple.
2. Maximize Your Skin's Hydration with Glycerin
Everyone's skin could use a boost in hydration, and this includes oily skin types. In addition to promoting healthy skin barrier function, keeping skin hydrated also helps smooth wrinkles for supple and radiant skin.
One of the best ingredients for boosting your skin's hydration is Glycerin. The cornerstone of any good facial cleanser and daily moisturizer, Glycerin is a humectant that draws water to the skin to give it a dewy, youthful appearance.
Best of all, it's relatively fast-acting for an anti-aging ingredient. According to a 2001 study published in the International Journal of Cosmetic Science, Glycerin was shown to increase skin barrier function in as little as 10 days (see claim: "Ten days treatment of normal skin with 20% glycerin significantly increased skin corneometer values, indicating an increased hydration.")
3. Ditch Bad Habits
We know that you're probably looking for simple solutions to your forehead wrinkles. However, the effects of your lifestyle choices on your skin can't be ignored.
Research has shown time and again that smoking, stress and a poor diet can wreak havoc on your skin. Smoking is a particularly bad habit that can lead to premature wrinkles. Even worse, a 2001 study published in the Journal of Clinical Oncology found that smoking was associated with an increased risk of squamous cell carcinoma (see claim: "An association between smoking and squamous cell carcinoma of the skin was found…")
Take the skin care quiz
4. Consider Injectables
While you may not be keen on the idea of Botox, this muscle-relaxing injection can effectively smooth wrinkles on the forehead. The only problem is that it's not long-lasting and you'll need regular, pricey injections to keep your smooth appearance.
If you go this route, we can't stress enough the importance of getting an in-depth consultation with a licensed doctor. Otherwise, you could wind up with a droopy face or uneven eyebrows.
5. Use Peptides
If Botox isn't your thing, use peptides such as Acetyl Hexapeptide-8 instead. Acetyl Hexapeptide-8, or Argireline as it's known, is a synthetic peptide so effective at reducing wrinkles that it's been dubbed "Botox in a Jar."
Want to try this potent peptide? Lucky for you, our Facial Firming Serum has this powerful ingredient in its formula as well. Read more about the many benefits of Acetyl Hexapeptide-8 and give it a shot!
The Takeaway
Don't want to wake up and see your forehead wrinkles in the mirror? You no longer need to start the day feeling dissatisfied with your appearance! With one of these effective, wrinkle-reducing solutions, you can finally restore your youthful look and enhance your handsome.
---
// © Copyright 2023 Tiege Hanley