Subscription
Shipping Address
Order Date

This subscription's skin care system will get replaced.

${ address.name }




${ address.products }

${ displaySubscriptionName(address) }




${ displayProducts(address) }

${ displayAddress(address) }
${ formatDate(address.scheduleDate) }

${ address.name ? address.name : displaySubscriptionName(address)}
${ address.products }
${ displayProducts(address) }
Shipping Address
${ displayAddress(address) }
Delivery Date
${ formatDate(address.scheduleDate) }
This subscription's skin care system will get replaced.
How to Get Rid of Oily Skin—5 Treatment Options to Reduce Shine
Fed up with your oily skin? Learn how to combat shine with skin care tips and treatment options from Tiege Hanley.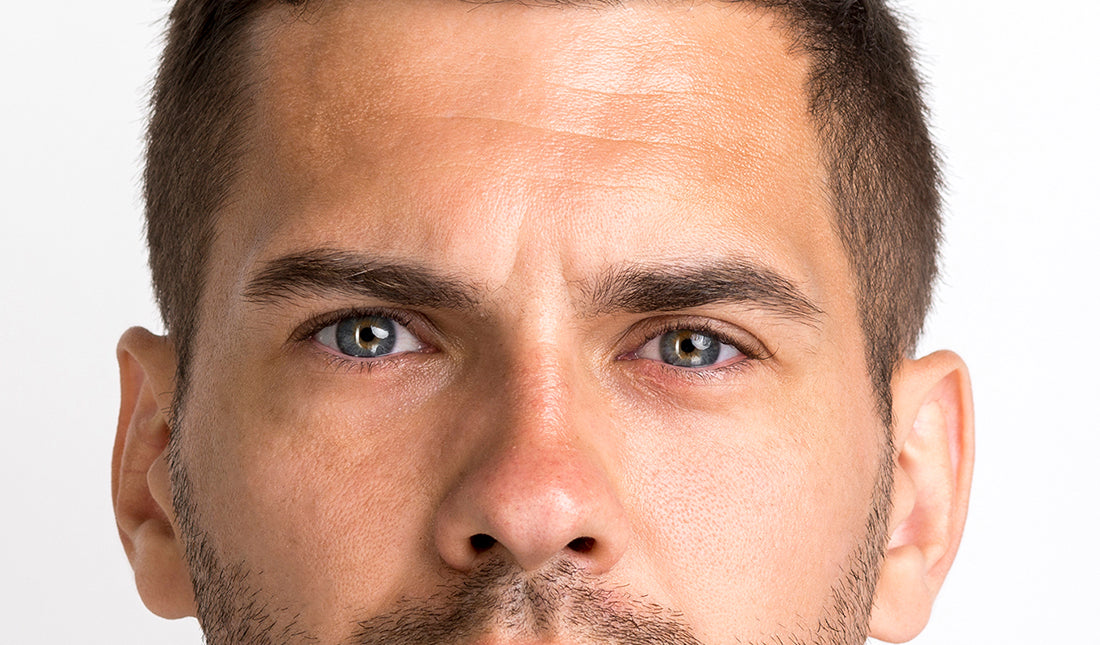 Struggling to control the dreaded 3 p.m. shine? We've all been there at some point in our lives.
While you might have hoped that your oily skin would go away once you reached adulthood, the greasy sheen on your forehead paints a much different picture. The harsh reality is that oily skin often affects guys well into their 20s and 30s. Fortunately, there are a few treatment options to help you combat shine and control your oily skin.
Here are several things you need to know about treating your oily skin:
Oily skin still requires regular moisturization to help control oil production.
While toners and blotting papers are a quick solution to oily skin, they should be used in addition to a regular skin care regimen.
Avoid skin care products that are extremely drying; otherwise, your skin may overcompensate and produce more oil.
1. Apply a Moisturizer
While it may seem counterintuitive, using a daily moisturizer can actually help control your oily skin. Your skin needs hydration; otherwise, it will overcompensate by producing more oil—which is the last thing you want.
It's important, however, that you choose the right moisturizer for your skin. The best moisturizer for guys with oily skin is one that is both lightweight and non-comedogenic, meaning it won't clog your pores.
When choosing a daily moisturizer, be sure to avoid pore-clogging ingredients such as Lanolin and Coconut Oil. Instead, seek out ingredients such as Lavender Oil. Not only is Lavender Oil non-comedogenic, it has properties which may help combat acne.
GOT WRINKLES?
2. Use a Gentle Toner
A toner is a liquid that is formulated to penetrate the skin quickly, delivering a fast hydration boost while removing excess oil from your skin. While toners in the past have had a bad reputation for being too dehydrating and astringent, many modern toners are now formulated specifically to treat oily skin without being too harsh.
Of course, you still need to watch out for ingredients that are too drying. If you're going to use a toner for your oily skin, look for one that is packed with antioxidants and anti-inflammatories such as witch hazel. According to a 2011 study published in the Journal of Inflammation, witch hazel is commonly used as an acne treatment due to its astringent and antiseptic properties (see claim: "…witch hazel has long been used for skin trouble such as acne as an astringent and antiseptic.")
3. Find a Good Acne Cream
An acne cream containing beta-hydroxy acids (BHAs) can do wonders for controlling your shine and preventing acne breakouts. BHAs such as Salicylic Acid are oil-soluble, which means they can penetrate deep into the pores of your skin to loosen dead skin cells and unclog pores.
When choosing the best acne cream for your oily skin, Salicylic Acid isn't the only ingredient you should keep an eye out for. To hydrate and nourish skin, seek out ingredients such as Plantain Extract and Alfalfa Extract, both of which provide moisturizing and anti-aging benefits for your skin.
4. Keep Blotting Papers on Hand
Struggling to control your afternoon shine? It can be extremely embarrassing to have coworkers point out the oily sheen on your forehead and cheeks.
To avoid this unfortunate scenario, consider stashing some blotting papers at your desk. Blotting papers are exactly what they sound like—thin sheets of paper which soak up oil from the skin.
Keep in mind that blotting papers shouldn't be a substitute for a regular skin care regimen. They're good for a quick fix before a big presentation or meeting, but apart from that, blotting papers likely won't be the solution to your oily skin.
Take the skin care quiz
5. Try a Retinoid
Retinoids are often applauded as the superstars of anti-aging skin care products. In addition to their powerful anti-aging abilities, retinoid-based serums and night creams can also help control oily skin.
Retinoids promote cell turnover and decrease oil production, helping your skin exfoliate pores and prevent acne breakouts. Many retinoid-containing products are also packed with vitamins and antioxidants to minimize the appearance of wrinkles and enhance your complexion.
Control Oily Skin with a Consistent Routine
One of the best things you can do for your oily skin is to find a regular skin care routine that works for you. It doesn't need to be complex—just a few simple products will do the trick.
To help guys stick to their skin care regimen, we've designed our men's skin care kits with ease and simplicity in mind. Check them out and let us know what you think!
---
// © Copyright 2023 Tiege Hanley