Subscription
Shipping Address
Order Date

This subscription's skin care system will get replaced.

${ address.name }




${ address.products }

${ displaySubscriptionName(address) }




${ displayProducts(address) }

${ displayAddress(address) }
${ formatDate(address.scheduleDate) }

${ address.name ? address.name : displaySubscriptionName(address)}
${ address.products }
${ displayProducts(address) }
Shipping Address
${ displayAddress(address) }
Delivery Date
${ formatDate(address.scheduleDate) }
This subscription's skin care system will get replaced.
How to Get Rid of Red Pimples
Inflammatory acne is the worst. Find out how to get rid of red pimples with effective acne treatments and dermatologist-recommended tips.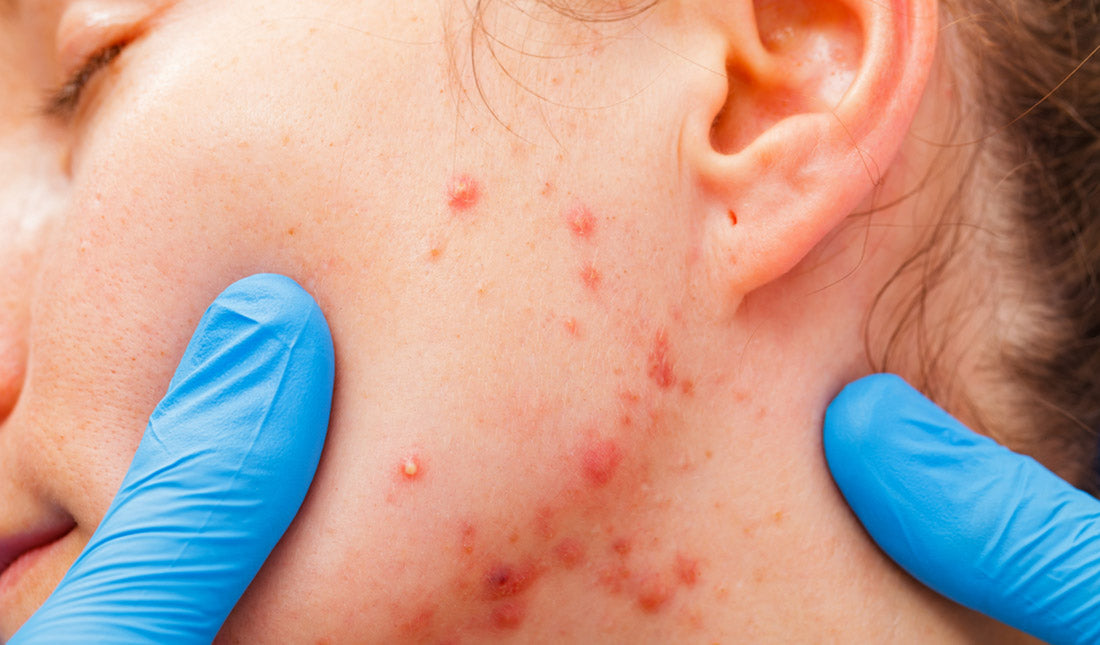 Red pimples can be a huge bummer.
Not only are they bright red and hard to miss, these angry-looking pimples are often painful and swollen.
The good news is that red pimples can be treated effectively.
Here are three things you need to know to get rid of red pimples:
Red pimples typically refer to inflammatory acne, a type of acne that is marked by redness and swelling
Inflammatory acne can be treated with OTC acne treatments
For severe acne, seeing a dermatologist for a prescription medication is recommended
Tired of looking at a red, blotchy face in the mirror?
Below, we'll briefly explain how pimples develop and how to get rid of red pimples for good.
Why Are My Pimples Red?
All types of acne develop the same way.
The hair follicles become clogged with excess oil, dead skin cells or acne-causing bacteria.
However, red pimples are usually the result of oil, dead skin cells and bacteria being pushed deeper into the skin.
When this happens, your body triggers an immune response which causes the surrounding skin to become red and swollen.
This type of acne is known as inflammatory acne.
There are four types of inflammatory acne: papules, pustules, nodules and cysts.
Although following a regular skin care routine is key to achieving clear skin, it may not be enough on its own to get rid of your inflammatory acne.
In the next section, we'll discuss how to get rid of red pimples with the most promising acne treatments.
How to Get Rid of Red Pimples Fast
We won't lie to you. Some red pimples can be a nightmare to treat.
Cystic acne is particularly difficult to get rid of and often requires a visit to a dermatologist.
Papules and pustules can range from mild to severe, making them slightly easier to manage.
Here are some of the most commonly recommended treatments for red pimples:
Home Remedies
There are a few home remedies for red pimples that may help reduce their appearance.
If your red pimples are of the deep and painful variety, the American Academy of Dermatology recommends reducing the swelling with ice.
You can also apply a warm compress to the area three to four times a day for 10 minutes to help draw the pimple out.
In the meantime, keep the area clean with a mild facial cleanser and avoid picking at your skin.
Picking or squeezing your pimples will only irritate them further and may result in scarring.
OTC Products
Over-the-counter (OTC) topical treatments are an inexpensive and effective method for treating red pimples such as papules and pustules.
Applying a Benzoyl Peroxide or a Salicylic Acid-based acne cream can help combat stubborn blemishes and reduce redness.
If you have sensitive skin, be particularly careful with Benzoyl Peroxide-based products.
Although Benzoyl Peroxide is effective at killing acne-causing bacteria, it can cause further redness and skin irritation in individuals with sensitive skin.
Actual Tiege Hanley customer testimonial:

"Over a 3 year period, I probably spent over two grand in skin care and still had acne. I decided to reach out and request to be a part of the

Tiege Hanley Acne trial

and I have been blown away. After two weeks, my skin was clear. It's not the acne cream alone that cleared it up, but how all of the products work together as a whole." Kyle B., NJ.
GOT ACNE?
Retinoids
Topical retinoids such as Isotretinoin and adapalene have also been shown to reduce acne lesions and prevent new breakouts in acne sufferers (see claim: "…they have been shown both to reduce visible lesions and also inhibit the development of microcomedones and new lesions.")
Retinoids are particularly effective at treating red pimples due to their exfoliating and anti-inflammatory properties.
Perhaps the only potential downside to using them are the potential side effects.
Using topical retinoids can result in skin irritation for some.
Topical retinoids can also increase sun sensitivity, making a daily moisturizer with SPF a vital part of your skin care routine.
TAKE THE SKIN CARE QUIZ
Hormonal Therapies
Since acne in adults is often triggered by hormonal imbalances, more doctors have been looking into hormonal therapies for their patients.
Hormonal therapies for acne come in a wide range of options, one of which is eating a healthy diet to help balance hormones.
Research published in the American Journal of Clinical Nutrition has shown that eating foods with a low glycemic index may help improve acne symptoms (see claim: "At 12 wk, mean (+/-SEM) total lesion counts had decreased more (P=0.03) in the low-glycemic-load group…")
Hormonal therapy for acne can also involve taking oral medication to stabilize hormones.
For women, this usually means taking birth control or spironolactone, a medication that blocks androgens (male sex hormones).
Combination Therapies
For severe pimples that are located far beneath the skin, you'll need to see a dermatologist.
Nodules and cysts are best treated with combination therapies that only your dermatologist can properly recommend based on your skin and acne severity.
Combination therapies may include antibiotics and a retinoid like Isotretinoin.
However, doctors have been moving away from antibiotics due to their potential to increase antibiotic-resistant bacteria.
For long-term acne treatment, your doctor may prescribe hormonal therapies and an over-the-counter acne treatment.
Another treatment option is low-dose prednisone, a potent corticosteroid that doctors only prescribe for a severe type of acne called acne fulminans.
The Takeaway
Home remedies and OTC acne products are generally effective at treating mild to moderate pustules and papules.
For more severe acne, you're better off seeing a dermatologist. With their help, you can keep red pimples at bay and finally achieve clear skin once again.
References
Leyden, James et al. "Why Topical Retinoids Are Mainstay of Therapy for Acne." Dermatology and Therapy vol. 7,3 (2017): 293-304.
Smith, Robyn N., et al. "A Low-Glycemic-Load Diet Improves Symptoms in Acne Vulgaris Patients: A Randomized Controlled Trial." The American Journal of Clinical Nutrition, vol. 86, no. 1, July 2007, pp. 107–15.
---