Subscription
Shipping Address
Order Date

This subscription's skin care system will get replaced.

${ address.name }




${ address.products }

${ displaySubscriptionName(address) }




${ displayProducts(address) }

${ displayAddress(address) }
${ formatDate(address.scheduleDate) }

${ address.name ? address.name : displaySubscriptionName(address)}
${ address.products }
${ displayProducts(address) }
Shipping Address
${ displayAddress(address) }
Delivery Date
${ formatDate(address.scheduleDate) }
This subscription's skin care system will get replaced.
How to Shrink a Cystic Pimple
Cystic pimples are massive, deep and difficult to treat. Find out how to effectively shrink a cystic pimple and achieve healthy skin once more.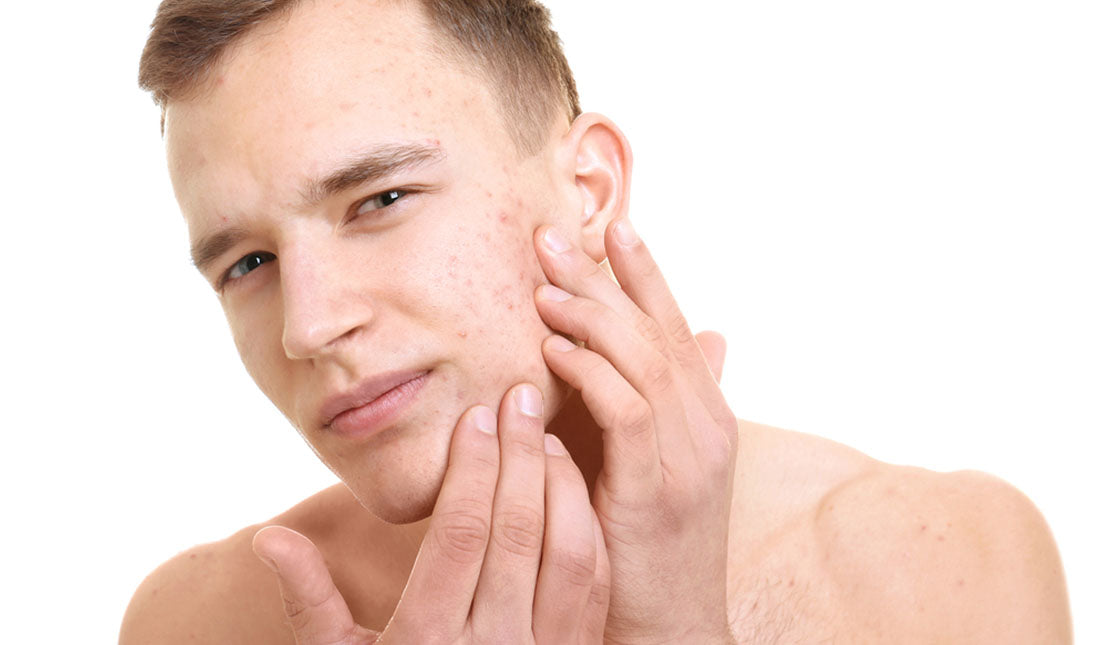 Few types of acne will fill a guy with dread quite like a painful, cystic pimple. These massive pimples grow deep in the skin and can take weeks to finally disappear.
Cystic pimples are the least common type of acne. However, that probably doesn't make you feel any better when you've got a tender, swollen bump taking up space on your cheek or chin. The good news is there are ways to shrink your cystic pimple quickly and speed up your recovery time.
Here is what you should know about treating cystic pimples:
Picking at a cystic pimple is a futile effort that will only worsen your pimple and prolong its healing time.
Salicylic Acid is one of the more effective over-the-counter treatment options for cystic pimples.
While moisturizing your face may seem counterintuitive, applying a light moisturizer is an essential step to treating your cystic pimples.
1. Resist the Urge to Pick
We strongly advise against picking at your acne, regardless of the type of pimple you may have. It's especially unwise to pick at your cystic pimple because it's embedded deep within the skin and could lead to acne scarring.
Cystic pimples are notoriously difficult to pop and won't give you any satisfaction. You'll only end up with an angry, red pimple that now looks 100 times worse.
GOT ACNE?
2. Apply Ice to Reduce Swelling and Inflammation
Usually, you can feel a cystic pimple coming on in advance. As soon as you feel it beginning to form, ice the spot with an ice cube wrapped in either a paper towel or a washcloth.
Applying ice will help reduce the pain, swelling and inflammation by constricting blood vessels and reducing blood flow to the area. Hold the ice cube to your skin for a few minutes at a time for 20-30 minutes total.
3. Use the Right Facial Cleanser
When you're dealing with cystic acne, an ordinary face wash just isn't going to cut it. You need a super effective facial cleanser that's tough on acne, yet gentle on the skin.
Specifically, look for a daily face wash with beta hydroxy acids (BHAs) such as Salicylic Acid or its acne-fighting cousin, Willow Bark Extract. Both types of BHAs have therapeutic properties that can help reduce the inflammation and pain caused by cystic acne.
While both are effective at drying out pimples and reducing inflammation, Salicylic Acid is the more powerful of the two. For this reason, we recommend finding a facial cleanser with Willow Bark Extract and reserving Salicylic Acid for products that you leave on your face, such as your acne cream.
4. Apply Salicylic Acid to Your Cystic Pimple
Next, it's time to unleash your secret weapon upon your cystic pimple: Salicylic Acid. As we mentioned, Salicylic Acid is a powerful, acne-fighting ingredient that is most effective in an Acne Cream.
Although Salicylic Acid can potentially cause irritation in those with sensitive skin, research has shown that it's one of the gentler acne-fighting ingredients on the market. According to a 2009 study published in the Journal of Cosmetic Dermatology, patients who were intolerant of Benzoyl Peroxide saw a significant improvement in their acne when given a derivative of Salicylic Acid (see claim: "Results LHA formulation and benzoyl peroxide decreased the number of inflammatory lesions from baseline to week 12 by 44% and 47% and noninflammatory lesions by 19% and 23%, respectively.")
If you're using the Tiege Hanley Acne System, apply your Acne Cream once in the morning and once at night after you wash your face. Keep in mind that because our Acne Cream contains moisturizer, it's meant to be spread all over your face—not just the site of the cystic pimple.
Take the skin care quiz
5. Follow Up with an Oil-Free Moisturizer
Finishing up with an oil-free moisturizer is the final step to treating your cystic pimple. If you struggle to control your oily skin, you may be wondering if this step is truly necessary.
The short answer is yes. Using an effective daily moisturizer is essential for all skin types because it can help balance your skin's natural oil production and reduce the likelihood of future breakouts.
If you're still worried about your moisturizer causing additional breakouts, look for a moisturizer with a light formula containing Niacinamide. According to a 2004 study published in the Journal of Cosmetic Dermatology, Niacinamide has anti-inflammatory effects that can be beneficial to acne sufferers (see claim: "…demonstrate anti-inflammatory effects in acne…")
When to See a Dermatologist
Truthfully, a regular skin care regimen is the most effective way to prevent cystic pimples. After a few weeks of using a regular acne treatment system, you should notice an improvement in your acne.
If nothing seems to be working after a few weeks, it may be time to see your dermatologist. They can give you a cortisone shot that will reduce swelling and redness fast.
---
// © Copyright 2023 Tiege Hanley