Subscription
Shipping Address
Order Date

This subscription's skin care system will get replaced.

${ address.name }




${ address.products }

${ displaySubscriptionName(address) }




${ displayProducts(address) }

${ displayAddress(address) }
${ formatDate(address.scheduleDate) }

${ address.name ? address.name : displaySubscriptionName(address)}
${ address.products }
${ displayProducts(address) }
Shipping Address
${ displayAddress(address) }
Delivery Date
${ formatDate(address.scheduleDate) }
This subscription's skin care system will get replaced.
Guy's Guide for Getting Rid of Stretch Marks
Yep, guys can get stretch marks, too. Want to find out how to get rid of stretch marks once and for all? Check out our helpful guide to stretch marks for men.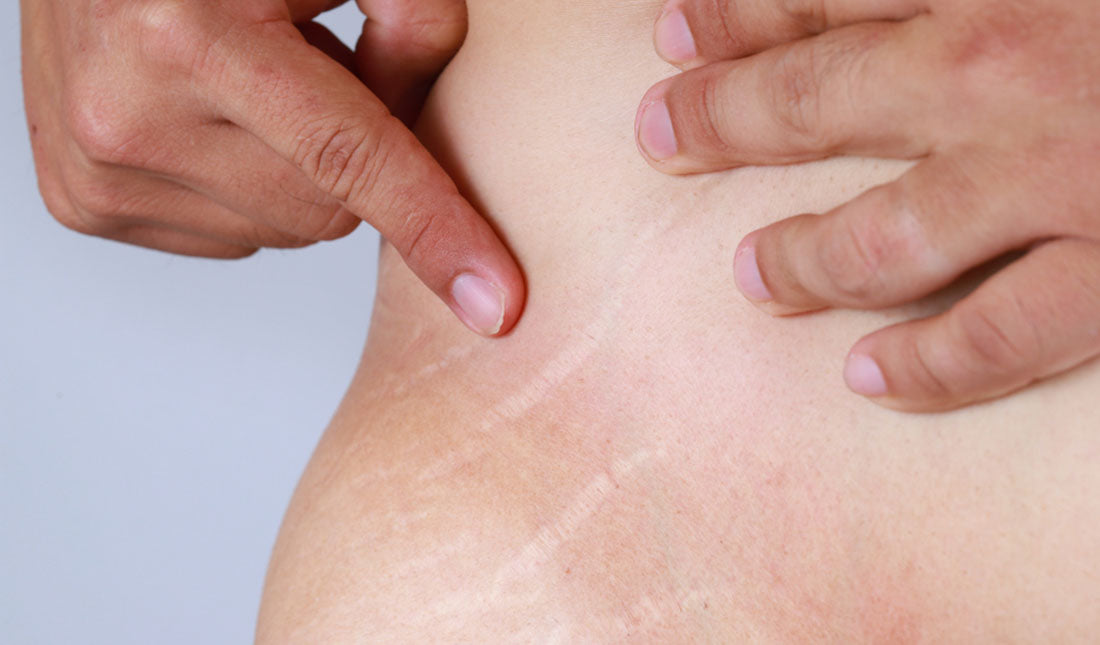 Feeling self-conscious about your stretch marks? We don't blame you. As a guy, having stretch marks can be a major source of embarrassment.
It doesn't matter whether you got them from working out in beast mode for months on end or from putting on weight fast. The permanent streaks on your skin can have a long-lasting impact on your emotional well-being.
If you want to know how to get rid of stretch marks, then you've come to the right place. While stretch marks are notoriously difficult to eliminate, there are some science-backed ways to reduce their appearance.
Here are three things you need to know about how to get rid of stretch marks for men:
Stretch marks seems to occur when skin is stretched too far
Though stretch marks aren't harmful, they can result in a lasting psychological impact
Possible treatments for stretch marks include vitamin A, dermabrasion, platelet-rich plasma injections and various laser and light therapies

What Causes Stretch Marks?
Stretch marks occur when the skin is overstretched by rapid weight or muscle gain. When this happens, your skin's collagen production (the fibrous protein in the skin) is disrupted, resulting in visible damage to the skin. This disruption of collagen can occur for several reasons, one of which is puberty.
Yep, if you thought that getting rid of acne was the only thing you had to worry about as a teen, guess again. According to a 2004 study published in the Journal of Pediatrics, around 40 percent of boys will get stretch marks during puberty (see claim: "…there is about a 40% incidence in boys with lumbosacral striae being the most common.")
Other causes of stretch marks in men may include the following:
Rapid weight gain
Bodybuilding
Medical conditions
Long-term corticosteroid use
Stretch marks in men most commonly appear on the arms, chest, back, buttocks and thighs. However, they can occur virtually anywhere on the body.  
How to Get Rid of Stretch Marks for Men
In other bad news, stretch marks can be an absolute nightmare to treat. Many treatments for stretch marks are costly and aren't guaranteed to be effective.
Still, you may find success in treating your stretch marks with the following treatment options:
Tretinoin
As far as topicals go, tretinoin may be your best bet for getting rid of stretch marks. Tretinoin, which is a derivative of vitamin A, has shown some evidence of reducing the appearance of early stretch marks.
In a 1996 study published in The Archives of Dermatology, patients with stretch marks used tretinoin daily for six months. After six months, 80 percent of patients reported significant improvement in the appearance of their stretch marks (see claim: "After 6 months, eight (80%) of the 10 tretinoin-treated patients had definite or marked improvement compared with one (8%) of the 12 vehicle-treated patients (P = .002).")
Dermabrasion
If you use an exfoliating scrub regularly, then you probably know how it works already. By gently removing the outermost layer of the skin, you can instantly improve your skin's texture and appearance.
While exfoliating can't fully erase stretch marks, it may help improve their appearance. Dermabrasion and other exfoliating techniques have been used to treat damaged skin (such as acne scars) with varying degrees of success, so it might just work for your stretch marks.
Platelet-Rich Plasma
Platelet-rich plasma injections are another possible treatment option for stretch marks in men. In this treatment, patients are injected with their own platelets to accelerate wound healing.
Though injecting yourself with your own blood may sound a bit creepy, it could work even better than tretinoin for getting rid of stretch marks. According to a 2018 study published in Dermatologic Surgery, platelet-rich plasma injections were more effective than tretinoin in the treatment of stretch marks (see claim: "…PRP is more effective and it gives better therapeutic response than tretinoin.")
Laser and Light Therapies
Several types of lasers (including pulse dye lasers and fractional lasers) have shown promise in the treatment of striae. According to a 2016 study published in Lasers in Medical Science, researchers found that a long-pulsed laser could increase collagen and elastin fibers in the skin, thereby improving the appearance of stretch marks (see claim: "A significant improvement in appearance of striae alba using 100 J/cm2 was found while striae rubra improved more with 75 J/cm2.")
Keep in mind that some lasers may cause unwanted side effects such as skin irritation and hyperpigmentation. Therefore, lasers may not be a suitable option for darker skin types and those with sensitive skin.
Give Your Stretch Marks Time to Heal
If your stretch marks are red and angry-looking right now, rest assured that they will likely fade from red to purple and then white over time. Though they may never fully disappear, the white lines will be far less noticeable.
References
Novak, Maureen. "Colored Striae in Adolescent Children." The Journal of Pediatrics, vol. 145, no. 5, Nov. 2004, p. 645. ScienceDirect,
Kang, Sewon, et al. "Topical Tretinoin (Retinoic Acid) Improves Early Stretch Marks." Archives of Dermatology, vol. 132, no. 5, May 1996, pp. 519–26.
Platelet-Rich Plasma Versus Tretinoin in Treatment of Striae Distensae: A Comparative Study. - PubMed - NCBI. Accessed 27 Dec. 2019.
Elsaie, Mohamed L., et al. "Comparison of the Effectiveness of Two Fluences Using Long-Pulsed Nd:YAG Laser in the Treatment of Striae Distensae. Histological and Morphometric Evaluation." Lasers in Medical Science, vol. 31, no. 9, Dec. 2016, pp. 1845–53. PubMed.
---
// © Copyright 2023 Tiege Hanley