Subscription
Shipping Address
Order Date

This subscription's skin care system will get replaced.

${ address.name }




${ address.products }

${ displaySubscriptionName(address) }




${ displayProducts(address) }

${ displayAddress(address) }
${ formatDate(address.scheduleDate) }

${ address.name ? address.name : displaySubscriptionName(address)}
${ address.products }
${ displayProducts(address) }
Shipping Address
${ displayAddress(address) }
Delivery Date
${ formatDate(address.scheduleDate) }
This subscription's skin care system will get replaced.
How to Manscape
Tired of dealing with unwanted body hair? Learn how to manscape the right way for maximum handsome.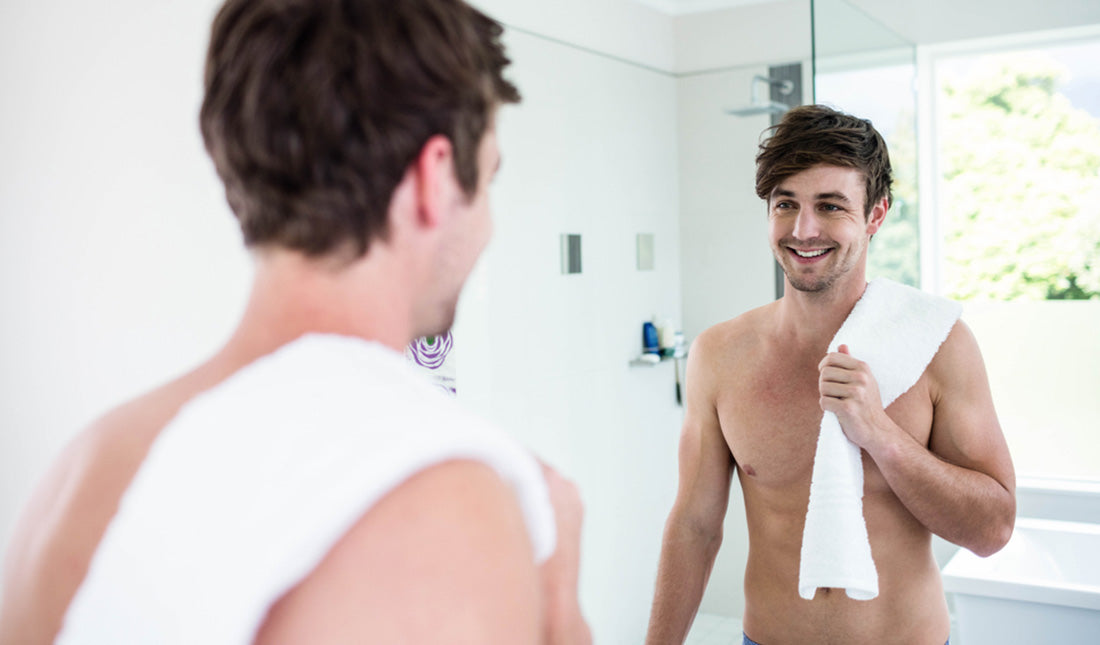 Unless you live under a rock, you've probably heard about manscaping before. Although the word itself is somewhat ridiculous, the process of tidying up your body hair definitely has its merits.
Manscaping is key to getting rid of unwanted body hair and achieving a well-groomed appearance. But how do you manscape properly?
Here are three things you need to know about manscaping:
Choosing the right hair removal method is key to manscaping properly
Never use hot wax or tweezers on your man parts
Always prep the skin before you manscape to reduce pain and irritation
First, we'll explain what manscaping is before moving on to how to manscape various body parts.
What Is Manscaping?
Manscaping is a portmanteau of the words "man" and "landscaping." It refers to trimming or removing unwanted body hair for cosmetic purposes.
Guys are manscaping more than ever these days, mostly because they want to be considered attractive to women. Indeed, science backs this up in a 2014 study published in Body Image, which found that both men and women considered a hairless male body most attractive (see claim: "Both men and women chose a relatively hairless male body as the most sexually attractive.") 
As you prepare to manscape, keep in mind that you don't need to remove all your body hair if you don't want to. If you want to shave your back and keep your chest hair, that's up to you.
TRY MEN'S SKIN CARE
How to Manscape the Right Way
Whether you're removing your chest hair or simply tidying up your nether regions, it's important that you take the right approach for each area. Check out a few of our best body hair removal tips for men before tackling these common manscaping areas.
How to Manscape Your Groin
It's not uncommon for guys to tidy up their man parts. According to a 2017 study published in the American Journal of Men's Health, over half of men report grooming their pubic hair regularly (see claim: "Four thousand one hundred and ninety-eight men completed the survey. Of these men, 2,120 (50.5%) reported regular pubic hair grooming.")
For your groin, we recommend trimming it as opposed to going completely hairless. Not only does it reduce friction during sex, it acts as a buffer against harmful bacteria and pathogens.
When manscaping your groin, skip the tweezers and hot waxes. Use a body trimmer instead and pull the skin taut to prevent nicks.
How to Manscape Your Chest
If you don't want to be sporting a furry front, you have plenty of options for removing it. The right method depends on your skin type and personal preference.
Waxing is a popular hair removal method for the chest area. This method can leave your chest smooth and hairless for weeks.
If you have sensitive skin, you should probably stick to shaving your chest hair. Hot wax can trigger skin reactions in sensitive skin types and cause acne-like bumps on the chest.
How to Manscape Your Back
Manscaping your back can be tricky. If you're doing it alone, you'll need to invest in a back hair shaver (an extended razor blade, essentially) and a back lotion applicator that are long enough to access your back.
While many back hair shavers are designed to be used without shaving cream, we recommend applying shave cream to your backside via your back lotion applicator. This will reduce friction and decrease the likelihood of red, irritated skin after you shave. (This location of the body is particularly tricky to manscape – read How to Shave Your Back for more detailed instructions.)
Take the skin care quiz
How to Manscape Your Arms and Legs
Manscaping your arms and legs is easy. If you want to remove all your arm and leg hair, the easiest and cheapest way to do this is by shaving them with a safety razor and shave cream.
Don't want to go completely hairless? Trim the hair instead by using an electric trimmer set to your desired length.
How to Manscape Your Eyebrows
Struggling to control your wild eyebrows? Fortunately, it's not too difficult to keep bushy brows in line.
Start by getting a brow shaper (a miniature brush for combing your brows) and brush your brows in the direction that the hair grows. Next, brush the hairs upwards and place the back of your pinky finger on your eyebrow.
Any hairs that stick above this should be trimmed. Repeat the process on the other side.
After you trim with eyebrow scissors, you can tidy up the area with tweezing. For unibrows, skip the tweezers and pick up an electric eyebrow trimmer to do the heavy lifting. (For a more detailed discussion on eyebrow grooming, check out our Men's Eyebrow Grooming Guide.)
How to Manscape Ear and Nose Hair
Hands down, the best way to manscape nose and ear hair is by getting an electric trimmer designed for tight crevices. These specialized tools have the cutting blades located inside a metal plate to make it impossible to cut yourself.
When trimming your ear hair, avoid jamming your trimmer too far inside the ear canal. Only trim the hairs that are visible.
On a similar note, don't wedge the trimmer up your nose to get every last nose hair. Your nose hair plays an important role in keeping out bacteria. Trim the visible hairs and leave the rest alone.
Final Words of Advice
No matter which area you decide to manscape, remember to prep the skin accordingly. Using a complete line of skin care products formulated for your skin is key to avoiding painful ingrown hairs and irritated skin after you remove your body hair.

References
Basow, Susan A., and Katherine O'Neil. "Men's Body Depilation: An Exploratory Study of United States College Students' Preferences, Attitudes, and Practices." Body Image, vol. 11, no. 4, Sept. 2014, pp. 409–17. PubMed, doi:10.1016/j.bodyim.2014.06.009.
Gaither, Thomas W., et al. "Prevalence and Motivation: Pubic Hair Grooming Among Men in the United States." American Journal of Men's Health, vol. 11, no. 3, 2017, pp. 620–40. PubMed, doi:10.1177/1557988316661315.
---
// © Copyright 2023 Tiege Hanley