Subscription
Shipping Address
Order Date

This subscription's skin care system will get replaced.

${ address.name }




${ address.products }

${ displaySubscriptionName(address) }




${ displayProducts(address) }

${ displayAddress(address) }
${ formatDate(address.scheduleDate) }

${ address.name ? address.name : displaySubscriptionName(address)}
${ address.products }
${ displayProducts(address) }
Shipping Address
${ displayAddress(address) }
Delivery Date
${ formatDate(address.scheduleDate) }
This subscription's skin care system will get replaced.
How to Shave Your Pubic Hair—7 Tips for Men
Thinking about shaving your man parts? Before you take a sharp razor to your junk, read these expert tips on how to shave your pubic hair safely and carefully.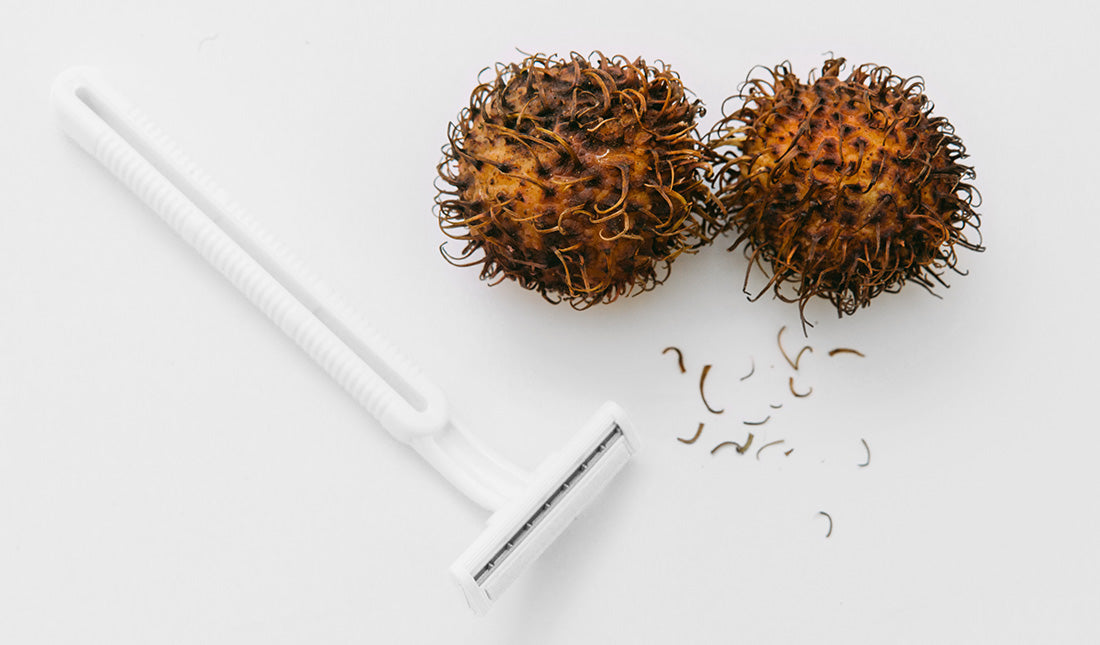 There are plenty of good reasons to shave your pubic hair. Maybe you want things to be a little cleaner down there. Perhaps, you want to tidy things up to make your package look bigger.
No matter what your reason for shaving your pubic hair, it's definitely not something you want to rush into. That's why we're dishing out our best tips on how to shave your pubic hair safely and painlessly.
Here are a few things to know about how to shave your pubic hair for men:
Make sure that you invest in a high-quality trimmer and razor before you shave
Skip the foamy shave creams and use a translucent shave cream or shave oil instead
If shaving isn't working out for you, consider laser hair removal instead
Ready to learn how to shave your pubic hair the right way? Just follow these seven expert tips.
TRY MEN'S SKIN CARE
1. Get the Right Tools
First things first: Be sure to have the right shave tools on hand to manscape properly. You'll need a high-quality razor or an electric trimmer—or both, if this is your first time shaving down there.
Before you grab your razor, you'll use your electric trimmer to trim pubic hair down to a good length. If you don't want your man parts to be completely smooth and clean-shaven, you can call it good with a quick trim.
For a completely clean-shaven look, you'll also need to pick up a fresh and sharp razor—emphasis on the fresh and sharp part. Using a dull, cheap razor will only result in annoying razor bumps and skin irritation.
2. Trim Pubic Hair Down to a Manageable Length
Once you have the right tools, it's time for a pre-trim. Trimming your hair down to a manageable length is key to achieving smooth, pain-free results.
Start by using your electric trimmer on the lowest setting and trim down your pubic hair to a centimeter or less. If you want to have some pubic hair, then congrats—you're all done!
If you want the area clean-shaven to impress your girlfriend (it really does make you look bigger, just saying), then you'll need to continue with your razor. Read on to find out how to shave your pubic hair safely with a razor.
3. Take a Steamy Shower
Before you take a blade to your man parts, make sure to hop in the shower. We've already done the research and found that shaving after you shower (or in the shower, for that matter) yields much better results than shaving before you shower.
The reason is simple: The moisture from a steamy shower will help soften the skin and hair follicles, allowing the razor blade to glide more easily across the skin. So, jump in the shower for 5-10 minutes and try not to think too much about how you're going to take a sharp blade to your ball sack in the next step.
4. Use a Light Layer of Shave Cream
Alright guys, let's talk about shave creams for pubic hair. Keep in mind that the best shave cream for your beard may not be the best choice for your pubic hair.
The best shave cream for pubic hair is one that is both lightweight and slightly see-through. You don't want it to be overly-foamy because you need to see what you're doing down there.
While you're at it, you may want to use a shave cream formulated for sensitive skin. Not only do your man parts have a bunch of nerve endings, the skin on your genitals can be just as sensitive as the skin on your face.
In fact, a 2009 study published in Clinical and Experimental Dermatology surveyed more than 1,000 people and found that more than half of respondents claimed to have sensitive skin of the genital area (see claim: "…56.3% claimed sensitive skin in the genital area.")
Long story short, treat the skin on your nether regions just as delicately as you do the skin on your face by using essential grooming products formulated for sensitive skin.
5. Take It Slow
How do you shave your pubic hair? Carefully, that's how.
In all seriousness, make sure that you take your time and go super slow, especially around your family jewels. Once you apply a layer of shave cream to your nether region, pull the skin taut and shave slowly.
Rinse your razor off after each stroke and re-apply shave cream to the area if necessary. Otherwise, you might begin scraping at the skin itself, which will result in an unpleasant razor burn.
6. Follow Up with Aftershave
Finally, rinse off with cool water to help soothe your skin and pat the area gently with a towel. Finish up by applying a nourishing aftershave to help reduce razor burn and itchiness.
If you have sensitive skin, you can also apply a soothing moisturizer to the area to lock in moisture. Just make sure that your moisturizer is fragrance-free to avoid unwanted skin reactions.
Take the skin care quiz
7. Consider Alternative Methods for Trimming Pubic Hair
If shaving your man parts isn't working for you, don't force it! Instead, consider lasering your junk to remove the hair.
Think about it: Laser hair removal means no more dealing with painful, ingrown hairs or razor burn. Just zap your pubic hair with a laser until it's down to the amount you desire.
Besides, laser hair removal probably isn't as painful as you think it is. According to the American Academy of Dermatology, laser hair removal shouldn't hurt, especially if you're given a topical anesthetic by a board-certified dermatologist.
The Long and Short of It
Learning how to shave your pubic hair for the first time isn't too difficult. While you might have some itchiness for a few days, you'll eventually get better at shaving as time goes on. Just remember to take it slow and use a fresh blade every time to achieve a smooth, pain-free shave.
References
Farage, M. A. "How Do Perceptions of Sensitive Skin Differ at Different Anatomical Sites? An Epidemiological Study." Clinical and Experimental Dermatology, vol. 34, no. 8, Dec. 2009, pp. e521-530. PubMed, doi:10.1111/j.1365-2230.2009.03487.x.
---
// © Copyright 2023 Tiege Hanley