Subscription
Shipping Address
Order Date

This subscription's skin care system will get replaced.

${ address.name }




${ address.products }

${ displaySubscriptionName(address) }




${ displayProducts(address) }

${ displayAddress(address) }
${ formatDate(address.scheduleDate) }

${ address.name ? address.name : displaySubscriptionName(address)}
${ address.products }
${ displayProducts(address) }
Shipping Address
${ displayAddress(address) }
Delivery Date
${ formatDate(address.scheduleDate) }
This subscription's skin care system will get replaced.
How to Wash Your Hands
Worried about coronavirus? Learn how to wash your hands the right way to help prevent the spread of infectious diseases like COVID-19 and the regular flu.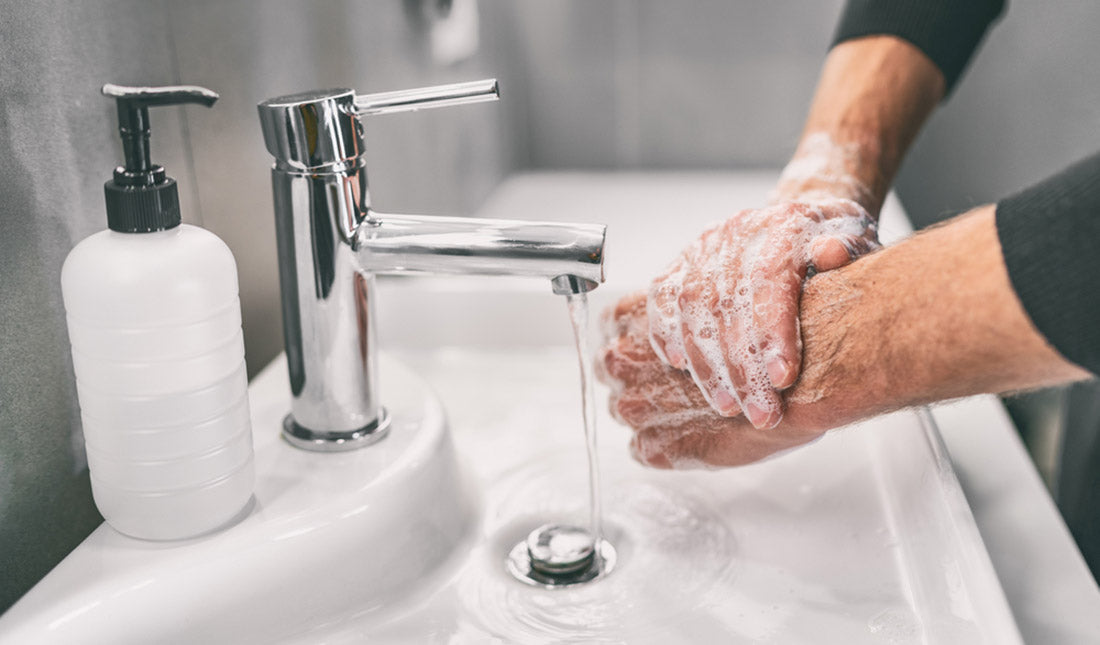 If there were ever a good time for a lesson in how to wash your hands, now is it.
The current outbreak of the novel coronavirus (COVID-19) has sparked major anxiety across the globe, leading many to question everything they ever knew about basic hand washing.
As it turns out, hand washing isn't as basic as it seems.
From the type of soap you use to the technique you use, there's a good chance that your hand hygiene isn't nearly as rock solid as it could be.
So, how do you wash your hands properly?
Before we discuss how to wash your hands, here are three things you need to know about proper hand washing:
Washing hands with soap and water is one of the best ways to protect yourself from getting sick
The temperature of the water matters less than you might think
Alcohol-based hand sanitizers should only be used when water and soap aren't accessible
The Technique
Knowing how to wash your hands properly is key to protecting yourself and your community.
Follow these seven steps to wash your hands the right way:
Turn the water faucet on, wet your hands and turn the faucet off to conserve water while you scrub your hands.
Apply soap and rub your hands together.
Lather the backs of your hands, the fronts of your hands and between your fingers.
Scrub your hands for 20 seconds.
Turn the faucet back on and rinse off the soap.
Dry hands with a clean paper towel.
Use the paper towel to turn the faucet off.
TRY MEN'S SKIN CARE
Hand Washing FAQ
Now that you know how to wash your hands, let's move on to a few frequently asked questions about hand washing:
Q: Do I Need to Wash My Hands with Hot Water?
A: No.
Contrary to popular belief, washing your hands with warm or cold water makes no difference.
According to a 2017 study published in the Journal of Food Protection, washing your hands with cold water is equally as effective at removing bacteria as washing with hot water (see claim: "Water temperature as high as 38°C (100°F) and as low as 15°C (60°F) did not have a significant effect on the reduction of bacteria during hand washing…")
Although hot water can kill germs, the temperature would need to be boiling for it to have any effect.
Q: What Is the Best Soap for Hand Washing?
A: Anything that you're likely to use regularly.
Liquid soap is the best.
However, you can use bar soap so long as it's not sitting in an unsanitary dish.
Germs love damp places.
Keep in mind that your soap doesn't need to be "antibacterial."
According to the FDA, there is no evidence that antibacterial soaps are more effective at killing germs and spreading illness.
Q: Do I Really Need to Dry My Hands with Paper Towels?
A: Paper towels are preferred, but they aren't strictly necessary.
If you don't want to use paper towels, you can dry your hands with a regular hand towel.
However, hand towels must be washed every two days or so.
Q: Hand Sanitizer vs. Washing Hands – Which Is Best for Killing Germs?
A: Washing your hands with soap is the better option.
Although alcohol-based hand sanitizers can help kill germs, research shows that washing with soap and water is more effective at preventing the spread of influenza virus (see claim: "HH with SW or alcohol-based hand rub is highly effective in reducing influenza A virus on human hands, although SW is the most effective intervention.")
You should only use hand sanitizer when you don't have immediate access to water and soap.
Q: How Often Do I Need to Wash My Hands?
A:  It varies by individual.
In general, here are a few key times when you need to wash your hands:
After you go to the bathroom.
Before, during and after making food.
After touching someone who is sick.
After cleaning up after a child or elderly person who has used the toilet.
After touching an animal.
After handling pet food or pet waste.
After touching garbage or other germ-ridden items.
After you cough, sneeze or blow your nose.
TAKE THE SKIN CARE QUIZ
Q: How Do I Care for Dry Hands?
A: Wash with cold water and a soap for sensitive skin.
If your frequent hand washing is starting to dry out your hands, there are a few things you can do to fix the problem.
First, make sure that the water temperature isn't too hot.
The water temperature doesn't need to be warm to kill germs–that's what your soap is for.
Speaking of soap, consider using a mild, fragrance-free soap.
Soaps with artificial fragrances can cause red, irritated skin that is prone to dryness and flakes.
Finally, use a fragrance-free hand lotion after you wash your hands.
Word to the wise: Don't share your hand lotion with anyone.
The same goes for the rest of your skin care products.
Hand lotions and other skin care products shouldn't be shared because they can get contaminated and spread germs to others.
Stay Safe: Wash Your Hands
Knowing how to wash your hands the right way is a vital step in preventing the spread of viruses such as COVID-19.
Follow these tips, wash your hands frequently and we can all do our part to keep our community as safe and healthy as possible.

References
Dane A. Jensen, David R. Macinga, David J. Shumaker, Roberto Bellino, James W. Arbogast, Donald W. Schaffner; Quantifying the Effects of Water Temperature, Soap Volume, Lather Time, and Antimicrobial Soap as Variables in the Removal of Escherichia coli ATCC 11229 from Hands. J Food Prot 1 June 2017; 80 (6): 1022–1031.
Grayson, M. Lindsay, et al. "Efficacy of Soap and Water and Alcohol-Based Hand-Rub Preparations against Live H1N1 Influenza Virus on the Hands of Human Volunteers." Clinical Infectious Diseases: An Official Publication of the Infectious Diseases Society of America, vol. 48, no. 3, Feb. 2009, pp. 285–91.
---
// © Copyright 2023 Tiege Hanley