Subscription
Shipping Address
Order Date

This subscription's skin care system will get replaced.

${ address.name }




${ address.products }

${ displaySubscriptionName(address) }




${ displayProducts(address) }

${ displayAddress(address) }
${ formatDate(address.scheduleDate) }

${ address.name ? address.name : displaySubscriptionName(address)}
${ address.products }
${ displayProducts(address) }
Shipping Address
${ displayAddress(address) }
Delivery Date
${ formatDate(address.scheduleDate) }
This subscription's skin care system will get replaced.
Should Men Care About pH Balance?
What is pH balance and why should guys care? Learn about men's pH balance, why it matters and how to maintain your skin pH to achieve happy, healthy skin.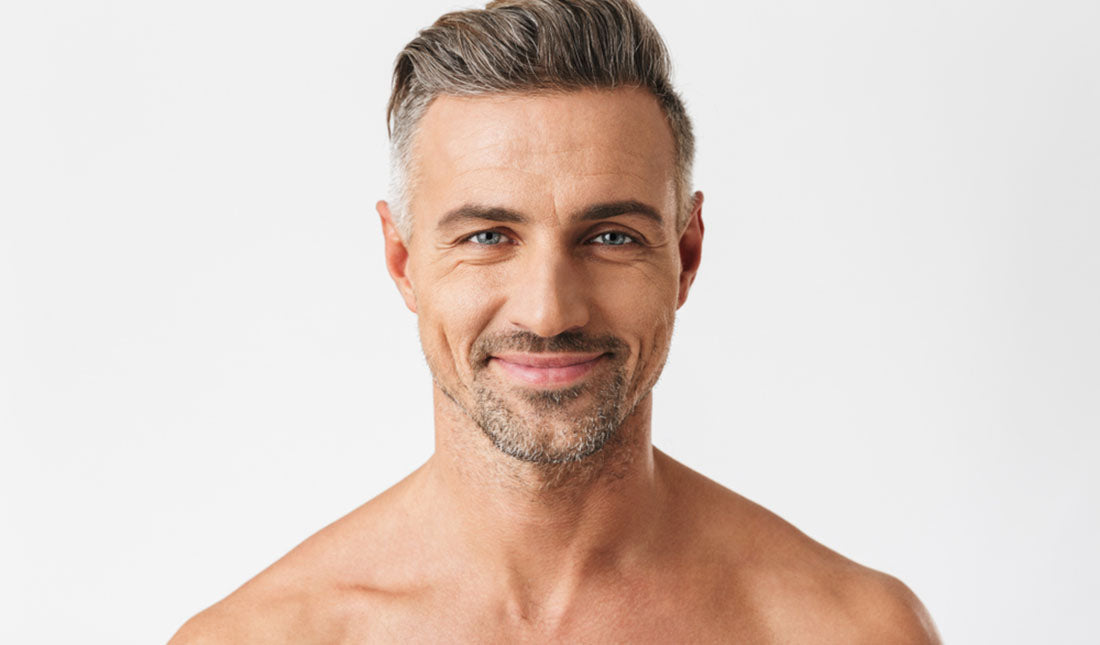 Diet, budget, time—some things are just better when they're balanced.
Another thing you can add to that list? Your skin.
Turns out, your skin has its own little sweet spot that it likes to maintain.
When your skin's pH levels are thrown off, it can manifest itself as wrinkles, acne, inflammation and a slew of other skin problems.
What is your skin's pH balance and why does it matter?
Here are three things you should know about men's pH balance:
pH balance is the acid-alkaline ratio of a substance.
Maintaining your skin's pH balance is key to healthy, happy skin.
Skin care products can make or break your skin's pH.
What Is pH?
In case you weren't paying attention in your high school chemistry class, here's a quick refresher: pH is an abbreviation for "power of hydrogen," or "potential hydrogen."
The term pH is used to describe the acidity or alkalinity of a substance, with 0 being the most acidic and 14 being the most alkaline.
Anything below 7 is considered acidic, while anything above it is considered alkaline.
To give you a reference, lemon juice has a pH of 2, which means that it's extremely acidic.
Sodium hydroxide, on the other hand, has a pH of 14, which makes it a strong alkaline.
And a pH of 7 is considered neutral, like pure water.
TRY MEN'S SKIN CARE
What Is the pH of Skin?
What does this have to do with your skin?
Because your skin looks and feels its best when it maintains the proper balance of alkalinity and acidity.
The outer layer of your skin (known as the stratum corneum) has a thin coating made up of sebum (oil), lactic and amino acids, making it somewhat acidic.
This thin film is called the "acid mantle."
The acidity of the acid mantle is particularly important because it helps protect the skin from bacteria, viruses and other harmful substances.
It also helps us retain moisture and offers some degree of protection against UV rays.
According to a 2006 study published in the International Journal of Cosmetic Science, healthy skin has an average pH just below 5 (see claim: "…an acid skin pH (4-4.5) keeps the resident bacterial flora attached to the skin.")
However, this level can vary slightly depending on the individual.
Why Men's pH Balance Matters
So, why should you care about skin pH at all? In short, men's pH balance matters because it's key to achieving clear, healthy skin.
When skin pH is too high, it can lead to dry skin and more pronounced wrinkles. Low skin pH can cause oily skin, redness and stubborn acne.
This isn't to say that all of your skin care woes can be blamed on your skin's pH levels.
However, research has shown that skin pH can be affected by a variety of factors, including your skin care products (see claim: In addition, exogenous factors like detergents, application of cosmetic products…may influence the skin pH.")
One of the products that may be contributing to out-of-whack pH levels: your bar soap.
Many traditional bar soaps are super alkaline and have pH levels in the 8-10 range, which is far outside the range of your skin's surface pH.
According to our research, nearly one-third of guys say they use bar soap to wash their face.
If you count yourself among that group, you should: a) switch to a quality bar soap; b) limit using it your body ONLY; and c) use a gentle facial cleanser on your face that won't destroy the acid mantle and throw off your pH balance.
TAKE THE SKIN CARE QUIZ
How to Maintain Your Skin pH Balance
Although maintaining your skin pH balance isn't particularly difficult, it does require you to be more aware about things that could potentially mess with your skin.
Case in point: tap water.
Tap water generally has a pH of 6.5-8.5, which can make your skin too alkaline.
If you have eczema or dry skin, it might be worth testing your water's pH (you can get a testing kit on Amazon) and buying a water softener for your shower.
Your skin care routine can also make or break your skin pH balance.
Skin care products each have their own pH that can help you restore balance to your skin.
They can also do the opposite and make your skin problems much worse.
That's one of the many reasons why using a skin care system can be a huge benefit to guys.
By using skin care products that are formulated to work in tandem with one another, you don't need to play the role of chemist and concern yourself with the pH of all your products.
The heavy lifting has already been done for you.
By choosing products that are designed to be gentle on your skin, you can keep your acid mantle intact and functioning properly.
Wrapping Up
To recap, your skin has its own sweet spot where it likes to be.
Although it's generally good at maintaining its pH, a lot of guys throw off this delicate balance by using skin care products that are way too harsh for the skin on their face.
Restoring men's pH balance isn't complicated.
By choosing the right skin care products and using them consistently, you can maintain a healthy skin pH and achieve the handsome skin you've always wanted.

References
Lambers, H et al. "Natural skin surface pH is on average below 5, which is beneficial for its resident flora." International journal of cosmetic science vol. 28,5 (2006): 359-70.
Schmid-Wendtner, M-H, and H C Korting. "The pH of the skin surface and its impact on the barrier function." Skin pharmacology and physiology vol. 19,6 (2006): 296-302.
---
// © Copyright 2023 Tiege Hanley