Subscription
Shipping Address
Order Date

This subscription's skin care system will get replaced.

${ address.name }




${ address.products }

${ displaySubscriptionName(address) }




${ displayProducts(address) }

${ displayAddress(address) }
${ formatDate(address.scheduleDate) }

${ address.name ? address.name : displaySubscriptionName(address)}
${ address.products }
${ displayProducts(address) }
Shipping Address
${ displayAddress(address) }
Delivery Date
${ formatDate(address.scheduleDate) }
This subscription's skin care system will get replaced.
How to Get the Smell of Sweat Out of Clothes
Tired of lingering bad smells ruining your favorite clothes? Find out how to get rid of stinky odor from clothing with ease.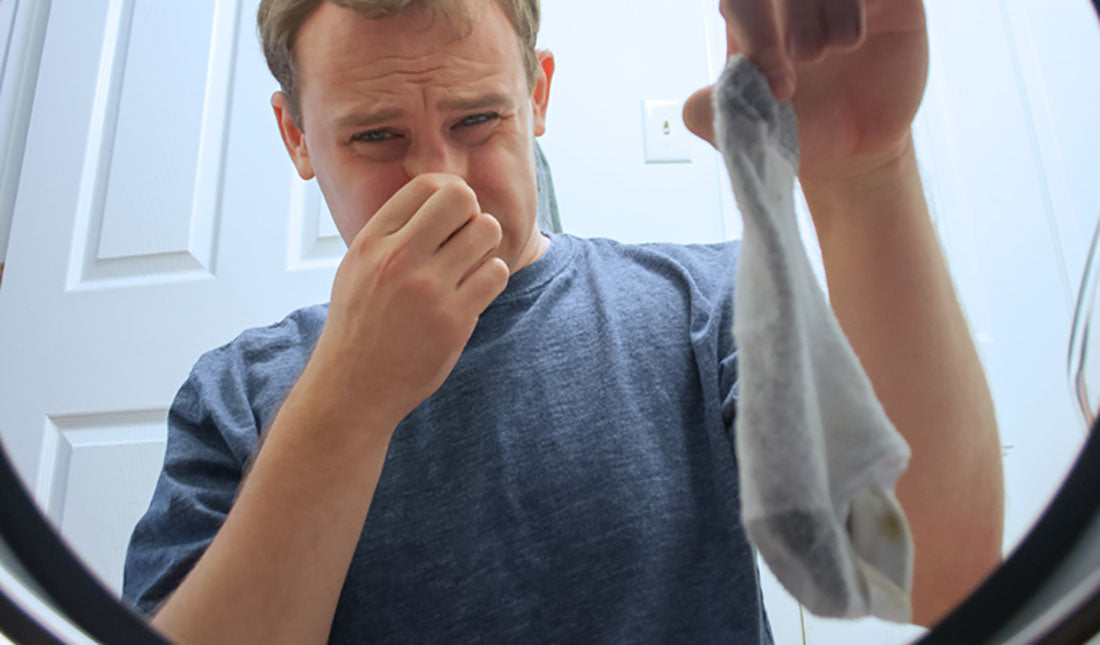 Few things can ruin a perfectly good shirt or pair of shorts like the lingering smell of sweat. Whether you work out every day or live in a hot climate, sweating is a normal process that has long been a pesky problem for guys.
If you're tired of sweat smell and stains ruining your nice clothes, there is good news. You don't need to buy new clothes to get rid of the stink.
With a few simple tips, you can easily resolve this particular frustration and achieve fresh-smelling clothes once again. Here's what you should know about getting that sweat smell out of your clothes:
Bacteria that breaks down sweat molecules is to blame for your body odor.
The best way to get sweat smell out of clothing is to pretreat clothes with white vinegar.
Existing sweat stains are stubborn to treat and may be impossible to get out.
TRY MEN'S SKIN CARE
What Causes Sweat Smell in Clothing?
Sweat smell, also known as body odor (BO) or bromhidrosis, is caused by bacteria that multiply significantly whenever our bodies produce sweat. In fact, sweat itself is almost completely odorless. Body odor actually results from the breakdown of sweat molecules by bacteria.
In recent years, scientists have managed to pinpoint the bacteria and protein molecules responsible for our most pungent armpit smells. In a 2018 study published in the journal eLife, researchers managed to decode the molecular structure of a transport protein that allows Staphylococcus bacteria to thrive under our armpits (see claim: "Here we report the structural and biochemical basis of bacterial transport of S-Cys-Gly-3M3SH by Staphylococcus hominis, which is converted to the sulphurous thioalcohol component 3M3SH in the bacterial cytoplasm.")
This is big news for those of us suffering from excessive sweating because this new research can potentially pave the way for improved antiperspirants and deodorants. In the meantime, let's talk about how to get those pesky sweat smells out of your clothing.
How to Get Sweat Smell Out of Clothes
Sweat isn't all bad, for the record. Believe it or not, it can help your dating life. According to a 2007 study published in The Journal of Neuroscience, male sweat can actually increase arousal in women (see claim: "…merely smelling androstadienone maintained significantly higher levels of the hormone cortisol in women.")
Despite that interesting benefit of sweat (and there are others), the bacteria your sweat attracts can still be a huge problem. To get the body odor out of your clothes for good, here are the steps you need to take:
Step 1: Soak Clothes in White Vinegar
White vinegar is a neutralizer that will get rid of stinky odors. Fill a large bucket with white vinegar and allow your smelly clothes to soak for 30 minutes.
Step 2: Toss Clothes into the Washing Machine
After allowing your clothes to soak in white vinegar, turn them inside out and put them in the washing machine. Run a delicate cycle, which has the lowest temperature setting (heat will lock in odor).
Go easy on the liquid detergent and skip fabric softeners altogether. Fabric softeners can result in red, irritated skin and can lock odor into your clothes, which is the exact opposite of what you're trying to achieve.
Step 3: Do a Sniff Test
Once your clothes are out of the washing machine, give them a quick sniff. If the smell is still there, soak them in white vinegar once again. Note that heat from the dryer will "cook" in the smell, making it impossible to rid your clothing of it, so make sure the smell is gone before you proceed to Step 4.
Step 4: Tumble Dry on a Low Setting or Air Dry
Finally, place your clothes in the dryer on the lowest temperature setting or allow them to air dry. To air dry clothes, you can either hang them up to dry or lay them flat on a towel.
Take the skin care quiz
Additional Tips for Preventing Sweat Smells
The best way to get rid of sweat smells in your clothing is to prevent them from happening in the first place. Here are a few tips to prevent clothes from stinking:
Use Deodorant—Although sweating is a natural process, you can minimize sweat and stink by using a men's deodorant or antiperspirant regularly. Just be sure to go easy on the product. Some aluminum-based deodorants can cause unsightly pit stains.
Do Laundry Immediately—Taking care of your sweaty clothes immediately is key to preventing the smells from accumulating. After your workout, do a small load with all your sweaty items instead of dumping them in a hamper.
Stick Clothes in the Freezer—If you work out every day and don't want to constantly be doing laundry, put smelly clothes in a plastic bag and stick them in the freezer. This will limit pungent smells and give you time to build up a sizable load of laundry.
Final Thoughts
Getting smells out of clothing after they've been washed and dried is notoriously tricky. While there isn't much that can be done about those stubborn smells, you now have the knowledge to tackle sweat stains before they seep into your clothing permanently. 
---
// © Copyright 2023 Tiege Hanley