Subscription
Shipping Address
Order Date

This subscription's skin care system will get replaced.

${ address.name }




${ address.products }

${ displaySubscriptionName(address) }




${ displayProducts(address) }

${ displayAddress(address) }
${ formatDate(address.scheduleDate) }

${ address.name ? address.name : displaySubscriptionName(address)}
${ address.products }
${ displayProducts(address) }
Shipping Address
${ displayAddress(address) }
Delivery Date
${ formatDate(address.scheduleDate) }
This subscription's skin care system will get replaced.
5 Things to Consider Before Shaving Your Head
If you're asking yourself, "Should I shave my head?" the answer is probably yes. But before you officially shave your head, here are five things to consider.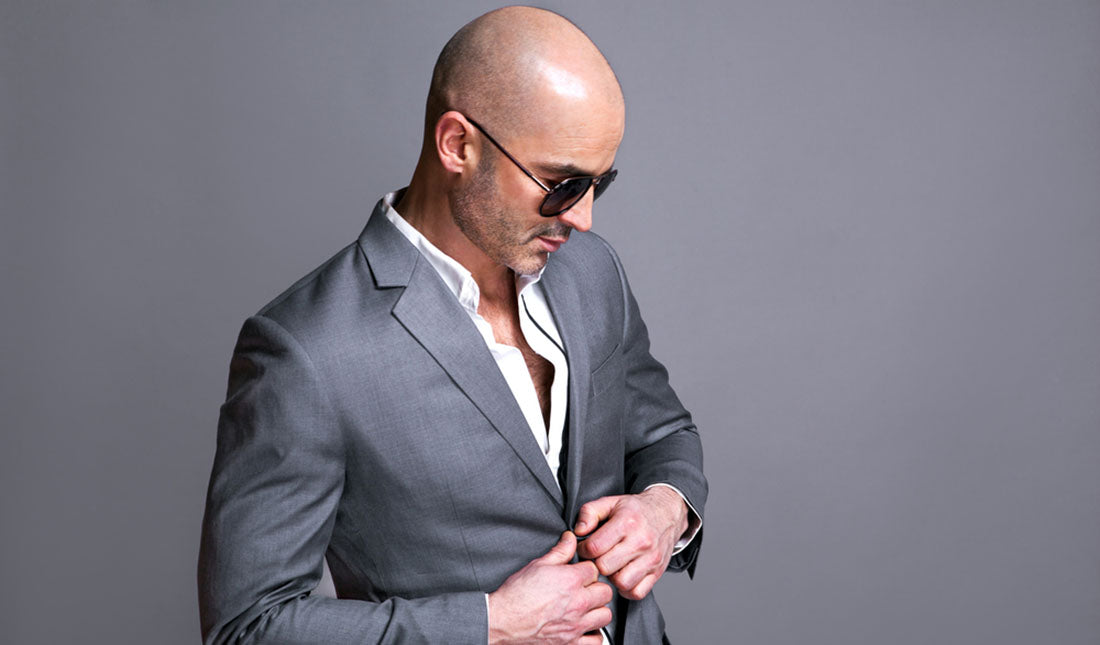 If you've ever wondered, "Should I shave my head?" then we're guessing that you had a valid reason for asking yourself this question. Perhaps you have a receding hairline that isn't doing you any favors in the looks department. Maybe you want an easy-to-maintain look that keeps you cool in the summertime.
No matter what your reasons for embracing the bald, we're all for it. But before you pick up a razor and take the plunge, there are a few things you may want to consider before rocking the bald dome.
Here are a few things you should know before shaving your head:
The vast majority of men will experience hair loss at some point in their lives
Being bald can make you look more dominant and confident
Although being bald is a low-maintenance look, you still need to take good care of your skin
So, should you shave your head? Here are five things to consider before you rock the chrome dome.
TRY MEN'S SKIN CARE
1. Do I Really Want to Give Up My Hair?
Look, we're not trying to talk you out of shaving your head. But if you have an epic mane that girls fall head-over-heels for, you may want to think twice before you decide to give that up.
On the other hand, maybe you've tried all the tricks in the book to stop your gradual hair loss with no such luck. In that case, we fully support your decision to shave your head.
The sad reality is that the majority of men will be affected by male pattern baldness at some point in their lives. According to the American Hair Loss Association, about two-thirds of men will experience some degree of hair loss by age 35.
If you have luscious locks that any guy would kill for, do you really want to hack it off prematurely? Just keep that in mind before you take a razor to your head.
2. Do I Have the Right Head Shape to Be Bald?
Hands down, one of the biggest mistakes a guy can make when shaving his head is not considering his head shape in advance. You see, not everyone has been blessed with a good head shape that can rock the bald dome.
Round head shapes are by far the best candidates for a shaved head. If you have an oddly-shaped head or weird bumps and divots, you may want to choose a different haircut for your receding hairline that will be more flattering to your head shape.
3. How Do I Want to Be Perceived?
If your ultimate goal in life is to look like a badass, then we've got good news. The bald look can give you confidence. Well, it can make people think that you're confident, which is close enough.
In a 2012 study published in Social Psychology and Personality Science, researchers found that men with shaved heads were perceived as being more dominant, masculine and confident than men with hair (see claim: "Men who had their hair digitally removed in a photograph were perceived as more dominant by the respondents…")
Famous bald men such as Jason Statham and Dwayne "The Rock" Johnson have certainly helped this modern perception of bald men. If you'd rather not look intimidating or super masculine, you may want to rethink the bald look.
Take the skin care quiz
4. Am I Committed to Maintaining My Bald Dome?
Good news! Once you shave your head, regular trips to the barber will soon become a thing of the past. But while it's arguably one of the best perks about being bald, don't be fooled into thinking that your hairless head requires zero upkeep.
Even if you have a receding hairline, you'll still need to shave your head as it grows back in the form of irritating stubble. Be sure to invest in a good shaver, preferably a razor recommended for sensitive skin, so you don't get razor burn on your scalp.
To further reduce razor burns and cuts, consider shaving in the shower. This will make clean up a breeze and help keep your skin moisturized.
5. Am I Prepared to Take Care of the Skin on My Head?
Taking care of a freshly-shorn scalp is more work than it seems. Once your hair is gone, you need to level up your skin care routine to take care of that sexy bald dome of yours.
One of the most important bald head care tips we can pass on is to apply sunscreen to your head every single day—no exceptions. In addition to preventing liver spots on your head, applying a daily moisturizer with SPF to your head and face is key to reducing your risk of skin cancer.
Applying a moisturizer with SPF to your head will also help counteract the dehydrating effects of your razor blade. By moisturizing your head every day, you can keep your bald dome supple and soft.
Final Thoughts
Honestly, shaving your head for the first time can be incredibly scary. Hair is all you've ever known, and now, you're going to finally experience the other side.
That's why it's important for you to think through your decision carefully. By keeping these considerations in mind, you can hopefully feel a little more confident in your decision to shave your head. 

References
American Hair Loss Association - Men's Hair Loss / Introduction. https://www.americanhairloss.org/men_hair_loss/introduction.html. Accessed 14 Nov. 2019.
Mannes, Albert E. "Shorn Scalps and Perceptions of Male Dominance." Social Psychological and Personality Science, vol. 4, no. 2, Mar. 2013, pp. 198–205. DOI.org (Crossref), doi:10.1177/1948550612449490.
---
// © Copyright 2023 Tiege Hanley