Subscription
Shipping Address
Order Date

This subscription's skin care system will get replaced.

${ address.name }




${ address.products }

${ displaySubscriptionName(address) }




${ displayProducts(address) }

${ displayAddress(address) }
${ formatDate(address.scheduleDate) }

${ address.name ? address.name : displaySubscriptionName(address)}
${ address.products }
${ displayProducts(address) }
Shipping Address
${ displayAddress(address) }
Delivery Date
${ formatDate(address.scheduleDate) }
This subscription's skin care system will get replaced.
Waxing for Men—A Step-by-Step Tutorial
Waxing for men is growing in popularity. What's all the fuss about? Find out how to wax safely and painlessly with this step-by-step tutorial.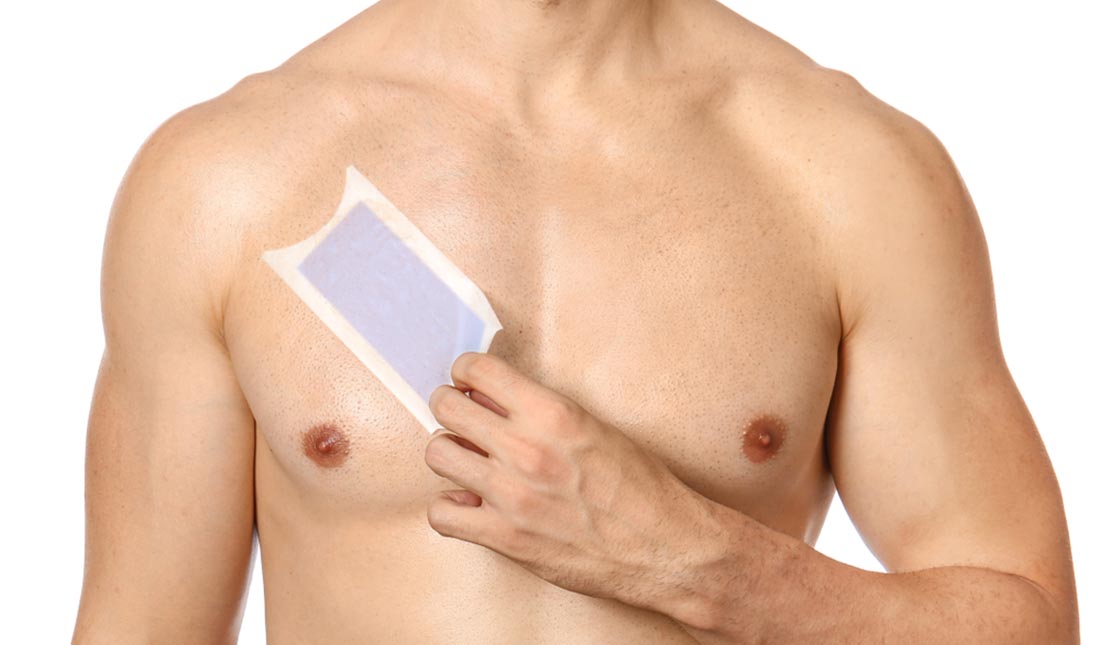 Waxing for men often gets a bad rap. Despite the many horror stories you may have heard, at-home waxing is a fast, affordable and effective method of hair removal. It's also probably not nearly as painful as you might think.
Of course, we'd be remiss if we didn't stress a little bit of caution when using this method of body hair removal. While the results can be fast and relatively painless, waxing for men can also have disastrous results if you don't know what you're doing.
Here are three things to know about waxing for men.
Waxing is best used on areas of the body that aren't particularly sensitive, such as the chest
Prepping the skin before waxing is key to achieving the best results
You may need to adjust your routine to accommodate your freshly waxed skin
To help you achieve a hair-free bod without burning, itching or discomfort, we've come up with a step-by-step tutorial on how to wax your body the right way. Just follow these steps and you'll be waxing like a pro in no time.
TRY MEN'S SKIN CARE
Before We Begin
First, let us just say that body hair removal is completely normal. In fact, a 2014 study published in the journal Body Image suggests that male body hair removal is becoming more normative, especially among college students (see claim: "Men's body depilation, while still optional, may be becoming normative, at least among United States college students.")
But just because waxing for men is socially acceptable doesn't necessarily mean you should do it. Case in point—your man parts. Putting hot wax anywhere near your groin area is just a bad idea. If you're determined to tidy up your nether regions, do so carefully with a safety razor.
Got it? Good. Now, let's get waxing.
How to Wax Properly
Waxing for men doesn't need to play out like the famous scene from The 40-Year-Old Virgin. If you want your waxing experience to be smooth sailing, just follow these steps:
Step #1: Choose Your Waxing Kit Wisely
Not all waxing kits are created equal. There are different types of wax (hard vs. soft) and different methods for how to remove the wax.
Hard wax is ideal for removing coarse hair, while soft wax is best for removing fine hair. Soft wax can also be a lot more painful because it removes more skin along with the hair, so keep that in mind before you buy.
Step #2: Ensure That Your Hair Is at the Optimal Length
Before you wax, make sure that your hair is about one-fourth of an inch long. This is the "sweet spot" for waxing because it gives the wax something to cling to.
If your hair is on the longer side, be sure to trim it down to the optimal length with a pair of safety scissors. This will make your wax job far less messy and painful.
Step #3: Prep Your Skin
Ideally, you should start prepping your skin around two to five days in advance of waxing. If you're waxing your face, stop using retinoids a few days prior to waxing.
Two days before you wax is also a good time to use a gentle face scrub (if you're waxing your eyebrows) or a body scrub on your skin. This will help remove dead skin cells and reduce the likelihood of ingrown hairs.
On wax day itself, remember to clean the skin thoroughly. This will help prevent pimples, which are an all too common side effect of waxing.
TAKE THE SKIN CARE QUIZ
Step #4: Start Waxing
Once your skin is prepped and ready, it's time to warm up the wax and apply it to your skin. Make sure that you follow the directions on your kit closely. Before you apply wax all over, test it on a small patch of skin to ensure that it's not too hot.
If you're using soft wax, apply the cloth strip over the wax on your skin and press it down to ensure even coverage. Leave it on for a few seconds and then prepare to rip. If you're using hard wax, simply apply the wax to your skin and allow it to cool/harden.
For both types of wax, be sure to hold your skin taut and rip off the wax quickly. The slower you go, the more painful it's going to be.
Step #5: Soothe Your Skin
Congrats! You should now have perfectly smooth skin. Of course, the work isn't over yet. Now, you need to apply soothing Aloe Vera to your skin to reduce post-wax irritation.
Why Aloe Vera? According to a 2016 study published in the Journal of Clinical & Diagnostic Research, Aloe Vera has both anti-inflammatory and anti-microbial properties (see claim: "AVG has various pharmacological actions like antibacterial, anti-fungal, anti-inflammatory, antioxidant, hypoglycemic and immune boosting properties.") These medicinal properties may help soothe freshly waxed follicles and prevent acne breakouts.
Step #6: Adjust Your Routine
After you wax your skin, you'll probably need to switch up your routine a little. First and foremost, avoid putting any heavy oils on your skin. Pore-clogging oils (such as coconut oil) can cause nasty breakouts that put a huge damper on your freshly waxed skin.
Working out can also lead to clogged pores and breakouts, so try to avoid the gym for a few days. If you break out anyway, get on top of the problem with a Salicylic Acid-based acne cream.
Final Thoughts
Waxing for men doesn't need to be a torturous experience. As long as you use the right waxing kit and follow a few simple steps, you can achieve a hairless appearance without the pain.
References
Basow, Susan A., and Katherine O'Neil. "Men's Body Depilation: An Exploratory Study of United States College Students' Preferences, Attitudes, and Practices." Body Image, vol. 11, no. 4, Sept. 2014, pp. 409–17.
Jain, Supreet, et al. "Antibacterial Effect of Aloe Vera Gel against Oral Pathogens: An In-Vitro Study." Journal of Clinical and Diagnostic Research : JCDR, vol. 10, no. 11, Nov. 2016, pp. ZC41–44.
---
// © Copyright 2023 Tiege Hanley