Subscription
Shipping Address
Order Date

This subscription's skin care system will get replaced.

${ address.name }




${ address.products }

${ displaySubscriptionName(address) }




${ displayProducts(address) }

${ displayAddress(address) }
${ formatDate(address.scheduleDate) }

${ address.name ? address.name : displaySubscriptionName(address)}
${ address.products }
${ displayProducts(address) }
Shipping Address
${ displayAddress(address) }
Delivery Date
${ formatDate(address.scheduleDate) }
This subscription's skin care system will get replaced.
What Is Face Serum?
Discover the benefits of a face serum for men and find out what ingredients to look for when shopping for a firming serum.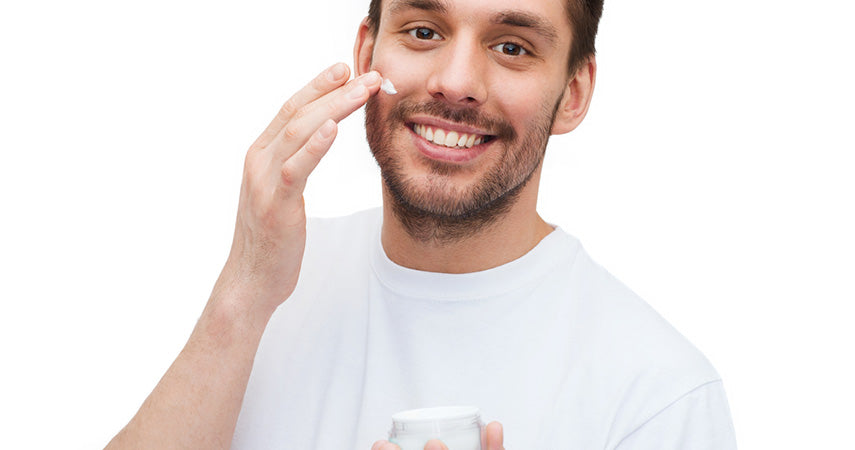 If your current skin care regimen consists of a gentle cleanser, moisturizer and face scrub, congratulations! You've got the basics of skin care down pat.
Now that you're comfortable with the essentials, it's time to introduce another must-have skin care product for men: face serum. Although you may have heard of it before, you may not know about its purpose.
A lot of men don't take advantage of face serums, which is a shame, considering how effective they can be. Serums can fix a lot of your most stubborn skin care problems, from reducing brown spots and dull skin to reducing wrinkles for a more youthful complexion. So, what exactly is a face serum and how can it benefit your skin?
Here are three things you should know about face serum:
Face serums deliver a high concentration of potent antioxidants, vitamins and anti-aging ingredients to the skin.
Whether you're struggling with hyperpigmentation or deep wrinkles, face serums can target your biggest skin care woes.
Face serums are extremely beneficial for men because they can penetrate into a guy's thick outer layer for maximum effect.
What Is a Face Serum?
A face serum is a gel or a light cream which is chock-full of beneficial skin care ingredients in a single application. While the ingredients will vary depending on the purpose of the serum, most are loaded with potent antioxidants and anti-aging ingredients.
What Is the Purpose of a Face Serum?
The purpose of a face serum is to deliver a high concentration of potent skin care ingredients to your face to smooth, firm and brighten your complexion. It's specifically formulated to penetrate deeper into your skin, allowing the serum's active ingredients to deliver better results.
In fact, their unique ability to penetrate deeply into the skin makes them especially beneficial for men. According to a 2018 study published in the International Journal of Women's Dermatology, men have a thicker dermis and more oil, which can affect the skin's ability to absorb skin care products (see claim: "…sebum, microcirculation, pigmentation and thickness are generally higher in men…")
What Are the Benefits of a Face Serum?
The benefits of face serums for men are vast. Serums can be used to target every skin care grievance, from acne breakouts to dryness to dark spots and more. However, one of the biggest benefits of using a face serum is its super-charged moisturizing ability.
We know what you're probably thinking. You have a moisturizer already. Why do you need another?
The difference between a moisturizer and a face serum is that a serum has a far higher concentration of ingredients designed to penetrate deeper into the skin. As critical as your daily moisturizer is for your skin, it's not nearly as powerful.
Another key benefit to face serums is their ability to target wrinkles and fine lines. Using a facial firming serum for men can help you turn back the clock on your face by delivering potent, anti-aging ingredients to your deep forehead wrinkles, crow's feet and laugh lines.
Which Ingredients in a Face Serum Are Best?
The ingredients you should look for in a men's face serum will depend on what you want the serum to do, but generally speaking, you'll want to look for retinoids, peptides and anti-aging antioxidants.
Retinoids such as Retinyl Palmitate (RP) and Retinol are extremely powerful ingredients used to fight signs of aging, as well as acne blemishes. According to a 2014 study published in BioMed Research International, Retinyl Palmitate was found to have increased protein and collagen production in rats that were given RP for two weeks (see claim: "The topical administration of RP for 14 days in rats resulted in increased protein and collagen and an epidermal thickening.")
Other ingredients that you should look for include noncomedogenic oils, or oils that don't clog your pores. All skin types need moisturization, but men generally have oilier skin that needs careful ingredients to avoid causing acne breakouts.
Keep an eye out for oils such as Jojoba Seed Oil, Lavandula Oil and Almond Oil.  However, do your best to avoid Coconut Oil and Camelina Oil, both of which are best suited for dry skin types.
When Should a Face Serum Be Used?
Wondering where a face serum fits into your existing skin care regimen? Don't worry, it's simple.
Face serums are best used after you wash your face and before you apply your daily moisturizer. In case you're wondering, a face serum should not be used to replace a moisturizer—you still need both!
Level Up Your Skin Care Routine
If you're ready to take your skin care to the next level, a men's face serum is a must. The benefits of this product have revolutionized the way men treat their most troublesome skin problems, allowing them to revitalize their skin for a healthy glow.
Have you tried Tiege Hanley's face serum for men? Check out our Level 3 Skin Care System and let us know what you think!
---