Subscription
Shipping Address
Order Date

This subscription's skin care system will get replaced.

${ address.name }




${ address.products }

${ displaySubscriptionName(address) }




${ displayProducts(address) }

${ displayAddress(address) }
${ formatDate(address.scheduleDate) }

${ address.name ? address.name : displaySubscriptionName(address)}
${ address.products }
${ displayProducts(address) }
Shipping Address
${ displayAddress(address) }
Delivery Date
${ formatDate(address.scheduleDate) }
This subscription's skin care system will get replaced.
What to Do About Acne on the Penis
Don't know what to do about acne on the penis? Find out how to treat this annoying problem once and for all.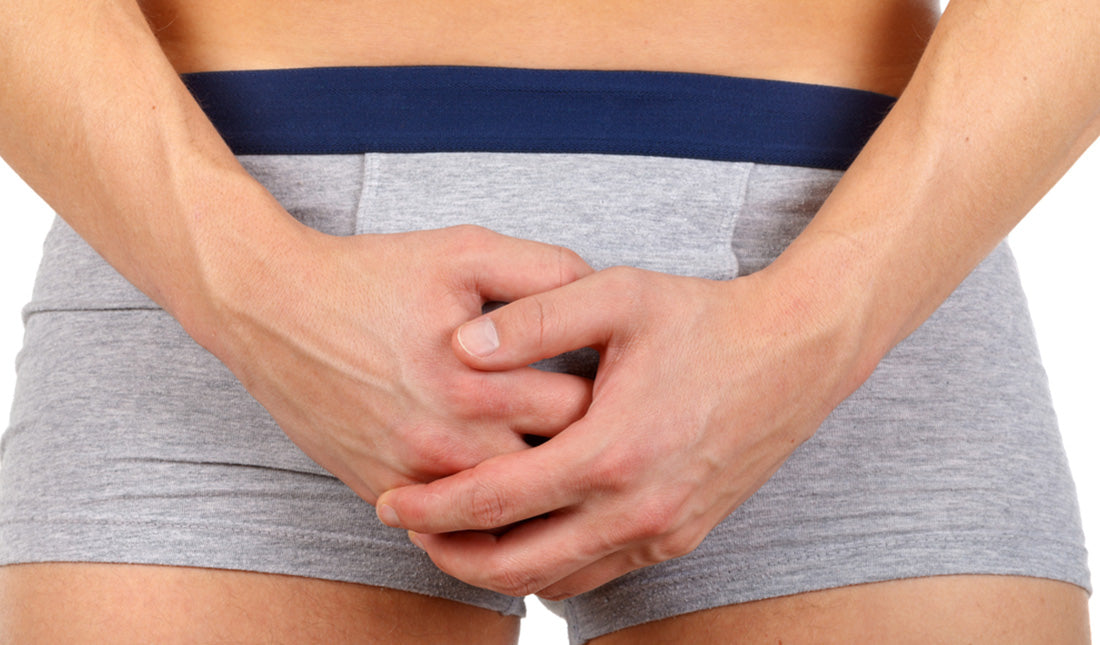 Acne breakouts are bad enough when you get them on the face. Getting acne on your penis? Now, that's the worst.
To answer your unspoken question: Yes, acne on the penis is a real thing. Although the red bumps on your penis might make you panic initially, they're probably nothing to worry about.
Here are three things you should know about acne on the penis:
Acne on the penis may be mistaken for STDs and ingrown hairs
In most cases, acne on the penis will resolve on its own
See a doctor if the red bumps on your penis are painful, sore and persist for weeks
Rest assured that acne on the penis is perfectly normal. Below, we'll explain how to handle an acne breakout below the belt.
Is It Acne on the Penis or Something Else?
Before you treat your acne on the penis, make sure that those red bumps are actually acne and not a sign of something more serious. Acne-related bumps on the penis typically aren't painful or itchy and can develop regardless of whether you're sexually active or not.
On the other hand, abnormal red bumps may change in size, be extremely painful and ooze or crust over. Here are a few additional causes of red bumps on the penis:
TRY MEN'S SKIN CARE
Human Papillomavirus (HPV)
If you're sexually active, there's a good chance that you have human papillomavirus (HPV). According to the Centers for Disease Control and Prevention (CDC), there are an estimated 79 million Americans infected with HPV.
While most types of HPV are harmless, some cases can linger and cause genital warts on the penis or the anus. If your bumps don't go away or they grow in size or number, it's worth getting them looked at by a doctor.
Syphilis
Syphilis is a sexually-transmitted disease that is spread by direct contact with a syphilis sore. These sores are often confused for pimples or rashes and can come and go over time.
If you're sexually active or you've had unprotected sex, consider getting tested for syphilis. If syphilis is confirmed, your doctor will likely prescribe you penicillin, an antibiotic that will destroy the syphilis bacterium.
Genital Herpes
Genital herpes (not to be confused with genital warts, which come from a different virus) is a sexually-transmitted disease caused by direct contact with the herpes simplex virus (HSV). While some people are asymptomatic, others may experience blister-like sores on the genitalia that can be itchy or burning.
According to the World Health Organization (WHO), there is currently no cure for genital herpes. However, outbreaks can be managed by taking an anti-herpes medication daily.
Ingrown Hair
On a less scary note, the red bumps on your penis could be a couple of ingrown hairs. Also known as razor bumps, ingrown hairs may develop after shaving or using other methods to remove body hair, such as waxing or tweezing.
The easiest way to reduce your chances of developing ingrown hairs is to stop shaving your pubic hair. If you want to keep things tidy down below, use an electric trimmer for sensitive skin to trim hair to a manageable length.
What to Do if You Have Acne on the Penis
As annoying as your pimples may be, acne on the penis usually isn't that big of a deal. In most cases, the bumps will disappear on their own without treatment.
If your acne below the belt is bothering you, here are a few things you can do about it:
1. Understand How They Got There
The first step to getting rid of acne on the penis? Understanding why your bumps are appearing in the first place.
Acne on the penis can develop for a variety of reasons, such as using an improper shaving technique, harsh body washes or soaps and working out in tight-fitting clothing. No matter what the reason for your breakout below the belt, the problem can usually be fixed with a minor adjustment to your daily routine.
2. Practice Proper Hygiene
Although poor hygiene doesn't cause penis acne, it can make the problem worse. Remember to shower every day and be sure to clean your manhood with warm water and a mild soap.
If you have foreskin, gently pull it back and wash the area. Once you've washed the area thoroughly, pull the foreskin back over and pat dry.
Take the skin care quiz
3. Be Careful with Acne Creams
When your face breaks out all of a sudden, your first thought is probably to treat it with a powerful acne cream. But when it comes to treating acne on your penis, this approach may not be the best.
The skin on your penis is much thinner and more sensitive than the skin on your face. As such, you may want to avoid harsh acne products that have been known to cause skin irritation, such as Benzoyl Peroxide.
Although Salicylic Acid is a much gentler choice for the skin, it can also irritate the sensitive skin on the penis. Be sure to do only a small dab of Salicylic Acid to begin with to see how your skin reacts.
See a Doctor if Bumps Persist
If the acne lesions on your penis don't go away within a few weeks or keep returning, consider scheduling an appointment with your doctor. Don't be embarrassed! They can help get to the root cause of the acne on your penis and prescribe you an effective treatment to nip it in the bud.
References
Centers for Disease Control and Prevention. STD Facts - HPV and Men. 23 Sept. 2019, https://www.cdc.gov/std/hpv/stdfact-hpv-and-men.htm.
World Health Organization. Herpes Simplex Virus. https://www.who.int/news-room/fact-sheets/detail/herpes-simplex-virus. Accessed 18 Nov. 2019.
---
// © Copyright 2023 Tiege Hanley