Subscription
Shipping Address
Order Date

This subscription's skin care system will get replaced.

${ address.name }




${ address.products }

${ displaySubscriptionName(address) }




${ displayProducts(address) }

${ displayAddress(address) }
${ formatDate(address.scheduleDate) }

${ address.name ? address.name : displaySubscriptionName(address)}
${ address.products }
${ displayProducts(address) }
Shipping Address
${ displayAddress(address) }
Delivery Date
${ formatDate(address.scheduleDate) }
This subscription's skin care system will get replaced.
Why Is My Acne So Bad? 6 Reasons and What to Do About It
Can't figure out why your acne is so bad all of a sudden? Find out the sneaky reasons why you're breaking out and what you can do about it.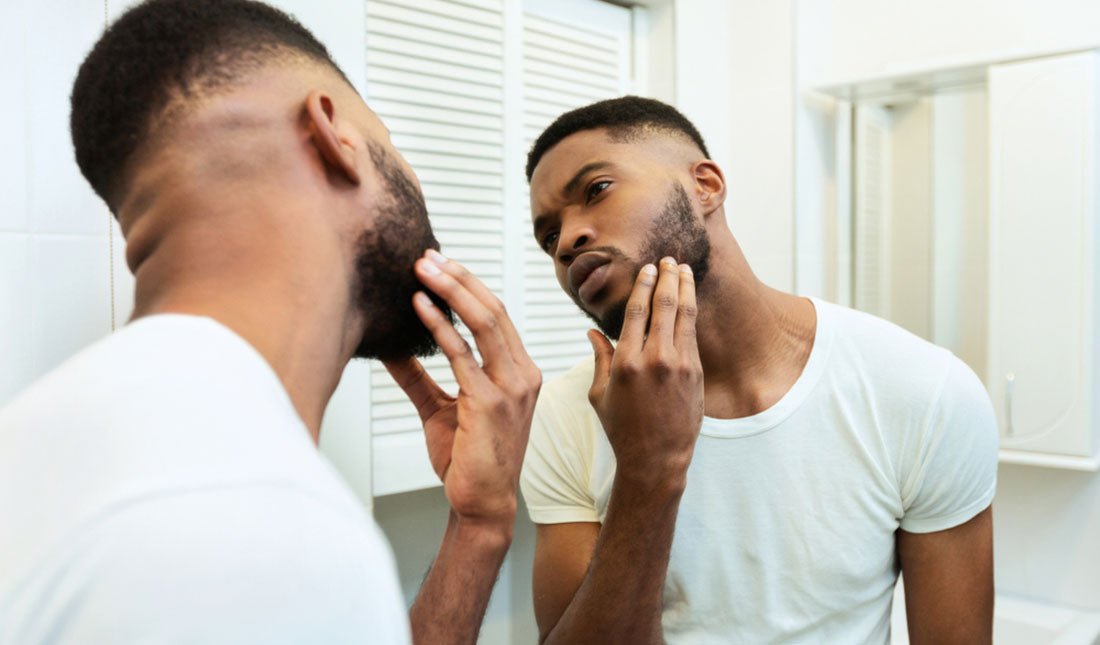 You do all the right things. You wash your face, moisturize daily and exfoliate regularly.
Unfortunately, that's not always enough to stop a nasty breakout.
Acne flare-ups can come on quickly and seemingly out of nowhere, leading many of us to wonder: Why is my acne so bad all of a sudden?
Before we answer that question, here are a few things you should know about sudden acne breakouts:
Acne flare-ups are often hormonal and may be triggered by stress or diet.
Other sneaky causes include a dirty cell phone or misusing skin care products.
A powerful acne treatment system can clear up your skin in as little as two weeks.
Ready to get the bottom of your breakouts?
Here are a few potential reasons why you may be breaking out all of a sudden:
1. Your Tech Is Filthy
Have you been ramping up your phone calls lately?
If so, your cell phone could be making your acne worse.
Unless you clean your phone regularly, it's probably covered in germs and bacteria.
In fact, researchers from the University of Arizona found that cell phones carry 10 times more bacteria than the average toilet seat—yikes!
What to Do About It:
To clean your phone properly, give it a regular wipe down with 70 percent isopropyl alcohol.
Additionally, try to take more calls using earbuds or your speakerphone to reduce acne caused by friction.
2. You're Mega Stressed Out
Have you been getting a lot of stress pimples lately?
If work or current life events are making you anxious, it's not surprising that your stress is showing up on your face.
When we're stressed out, our bodies produce more cortisol—aka, the "stress hormone."
This hormone can trigger an increase in the body's oil production, which can lead to excess oil and acne breakouts.
What to Do About It:
Get moving!
Exercise is one of the best ways to curb anxious feelings and improve your mood.
According to a 2010 study published in JAMA Internal Medicine, subjects who exercised regularly for 12 weeks experienced a significant reduction in their anxiety (see claim: "Exercise training reduces anxiety symptoms among sedentary patients who have a chronic illness.")
GOT ACNE?
3. You're Washing Your Face Too Much
When it comes to washing your face, there can be too much of a good thing.
Washing your face frequently can strip away the natural oils that keep your skin barrier healthy.
This is doubly true if you're using the wrong products to wash your face (i.e., bar soap).
What to Do About It:
Put down the bar soap and use a gentle facial cleanser on your face instead.
Use your cleanser twice daily—once in the morning and once in the evening.
Actual Tiege Hanley customer testimonial:

"Over a 3 year period, I probably spent over two grand in skin care and still had acne. I decided to reach out and request to be a part of the

Tiege Hanley Acne trial

and I have been blown away. After two weeks, my skin was clear. It's not the acne cream alone that cleared it up, but how all of the products work together as a whole." Kyle B., NJ.
4. You're Using Harsh, Acne-Fighting Ingredients
Speaking of using the wrong skin care products, you might want to rethink your acne treatment product.
Certain acne-fighting ingredients such as Benzoyl Peroxide tend to be extremely drying to the skin.
What to Do About It:
If you suspect that Benzoyl Peroxide is making your acne worse, try using a Salicylic Acid cream to treat your stubborn breakouts instead.
Salicylic Acid eliminates acne by dissolving the bonds of keratin that can clog pores and lead to acne.
It's just as effective at treating mild to moderate breakouts as Benzoyl Peroxide and is gentler on the skin.
5. You're Slathering on Heavy Creams and Lotions
Trying to be proactive about wrinkles and fine lines?
Good for you!
However, there is a small downside to using some anti-aging products in your late 20s.
Since many of them are formulated for aging skin, they may contain heavy ingredients formulated to restore hydration to the skin.
If you have acne-prone skin, the heavy oils in certain anti-aging products can trigger breakouts.
What to Do About It:
It feels like you're being punished for being proactive about your skin, doesn't it?
But don't worry—you can still use anti-aging products in your 20s and 30s.
The trick is to use skin care products that fight aging and acne.
Take retinoids, for example.
They can unclog your pores while simultaneously turning back time on your face.
It's a win-win!
TAKE THE SKIN CARE QUIZ
6. You've Changed Up Your Diet
Have you been eating a lot of junk food lately?
Although the relationship between diet and acne is still debated within scientific circles, there is pretty compelling evidence that certain foods can trigger acne breakouts.
For example, dairy has long been suspected of causing acne breakouts. In a systematic review published in Nutrients, researchers concluded that milk, yogurt, cheese and other dairy products are associated with an increase in acne lesions (see claim: "In conclusion, any dairy, such as milk, yogurt, and cheese, was associated with an increased OR for acne in individuals aged 7-30 years.")
What to Do About It:
Try an elimination diet in which you remove foods from your diet that you believe may be causing your acne.
You can also try eating a low-glycemic diet.
According to research from the American Academy of Dermatology, there is evidence to show that low-glycemic diets may help reduce the amount of acne you have.
When to See a Dermatologist
When starting an acne treatment product, a good rule of thumb is to give it at least two weeks to kick in and work its magic.
If you're still breaking out after a couple of weeks, consider seeing a dermatologist.

References
Herring, Matthew P., et al. "The Effect of Exercise Training on Anxiety Symptoms Among Patients: A Systematic Review." Archives of Internal Medicine, vol. 170, no. 4, American Medical Association, Feb. 2010, pp. 321–31.
Juhl, Christian R et al. "Dairy Intake and Acne Vulgaris: A Systematic Review and Meta-Analysis of 78,529 Children, Adolescents, and Young Adults." Nutrients vol. 10,8 1049. 9 Aug. 2018, doi:10.3390/nu10081049
---