Subscription
Shipping Address
Order Date

This subscription's skin care system will get replaced.

${ address.name }




${ address.products }

${ displaySubscriptionName(address) }




${ displayProducts(address) }

${ displayAddress(address) }
${ formatDate(address.scheduleDate) }

${ address.name ? address.name : displaySubscriptionName(address)}
${ address.products }
${ displayProducts(address) }
Shipping Address
${ displayAddress(address) }
Delivery Date
${ formatDate(address.scheduleDate) }
This subscription's skin care system will get replaced.
5 Beard Maintenance Tips for Busy Guys
We get it, you're a busy guy. Discover five beard maintenance tips that will help you breeze through your morning routine.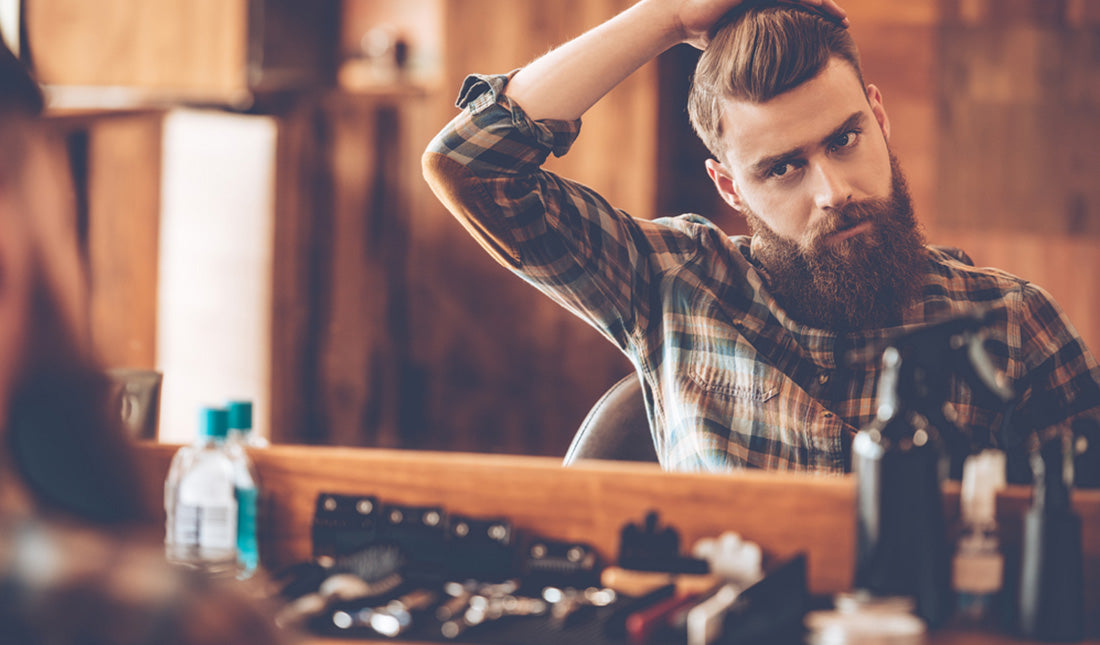 With office dress codes becoming more relaxed, guys are free to show off their beards in all their bushy glory. However, that doesn't mean you can just stroll into the office with an unkempt beard.
If you're a busy professional, we get that you probably don't have much time to spend on your grooming regimen. That's why we've taken the liberty of rounding up our best beard maintenance tips for busy guys.
First, here are three things you need to know about beard maintenance:
Opting for stubble over a full beard can make beard maintenance much easier
Getting your grooming products sent straight to your door will save you trips to the store
Recognizing which steps deserve your time and attention is key to achieving a great beard
Beard maintenance doesn't need to be a chore. Just follow these tips to keep your beard in check with minimal effort.
TRY MEN'S SKIN CARE
1. Choose a Low Maintenance Beard Style
All facial hair styles require some maintenance. Even a clean-shaven look takes regular grooming to maintain.
If you're truly pressed for time, it's probably not a good idea to rock a beard style with high maintenance. Full beard styles in particular require a significant amount of time and upkeep to maintain.
Instead, opt for designer stubble or heavy stubble, both of which require much less beard maintenance. Women tend to be most attracted to this beard style anyway.
2. Get a Beard Care/Skin Care Subscription
When you're a busy guy, shopping for grooming products can be time-consuming and a major hassle. To make things easier on yourself, consider a grooming subscription box that will send all the products you need right to your door each month.
Some things are probably one-time purchases, such as your beard comb. However, you can sign up for a skin care subscription and get all the must-have skin care products you need to maintain healthy skin.
Beard care and skin care go hand-in-hand, so this will take care of a large portion of the work for you. With products such as a men's daily moisturizer and a face scrub, you can maximize your handsome and achieve a sexy skin and beard combo.
3. Don't Skip Critical Steps in Your Routine
There are some things you just need to make time for. It's as simple as that.
Beard oil is one step in particular that you don't want to skip. It's essential to taking good care of the skin underneath your beard, as well taming that wild beard hair of yours.
Another step you don't want to skip or speed through is trimming your neckline. If you try to do a rush job, you'll end up missing spots and cutting yourself.
Take the skin care quiz
4. Adopt Healthy Habits
It's much easier to take care of a healthy beard compared to a dry, scraggly-looking beard. If you don't get much sleep and eat a poor diet, you're only making your daily grooming routine that much harder.
For example, stress is believed to negatively affect facial hair by lowering testosterone, a sex hormone which plays a vital role in facial hair growth and health. In a 1996 study published in Neuroreport, 50 healthy male participants had lower testosterone levels after being exposed to anticipatory stress (see claim: "…mean testosterone level fell from 1.31 (N-2) to 0.70 microgram (N-1).")
To reduce your stress and temporarily increase testosterone, consider getting on a regular exercise regimen. According to a 2007 study published in the International Journal of Sports Medicine, men who underwent a resistance training exercise experienced a temporary increase in testosterone (see claim: "Testosterone and cortisol concentrations were higher (p<0.05).")
Other ways to improve beard and skin health could include taking a multivitamin for men, getting more sleep and eating a well-balanced diet.
5. Train Your Beard
Real beard masters know that training their beards is the key to minimizing how much effort they put into styling it. If you're not familiar with the concept, training your beard refers to conditioning it to grow in the direction you want.
How do beard enthusiasts train their beards? They step out of the shower and start combing their hair in the direction they want it to grow every morning until it naturally begins growing that way on its own.
Yes, it requires more effort upfront. However, it can pay dividends later when your well-tamed beard is ridiculously easy to style.
Final Thoughts
Just because you're a busy guy doesn't mean that you can't achieve a well-groomed beard. As long you choose a practical beard style and don't skip through important steps in your routine, you can give everyone a serious case of beard envy.

References
Schulz, P., et al. "Lower Sex Hormones in Men during Anticipatory Stress." Neuroreport, vol. 7, no. 18, Nov. 1996, pp. 3101–04. PubMed, doi:10.1097/00001756-199611250-00061.
Smilios, I., et al. "Hormonal Responses after a Strength Endurance Resistance Exercise Protocol in Young and Elderly Males." International Journal of Sports Medicine, vol. 28, no. 5, May 2007, pp. 401–06. PubMed, doi:10.1055/s-2006-924366.
---
// © Copyright 2023 Tiege Hanley