Subscription
Shipping Address
Order Date

This subscription's skin care system will get replaced.

${ address.name }




${ address.products }

${ displaySubscriptionName(address) }




${ displayProducts(address) }

${ displayAddress(address) }
${ formatDate(address.scheduleDate) }

${ address.name ? address.name : displaySubscriptionName(address)}
${ address.products }
${ displayProducts(address) }
Shipping Address
${ displayAddress(address) }
Delivery Date
${ formatDate(address.scheduleDate) }
This subscription's skin care system will get replaced.
6 Ways to Get Rid of Lines Under Eyes
Lines under the eyes always give away a person's true age. Find out how to get rid of lines under eyes and erase dark spots with these six treatment options.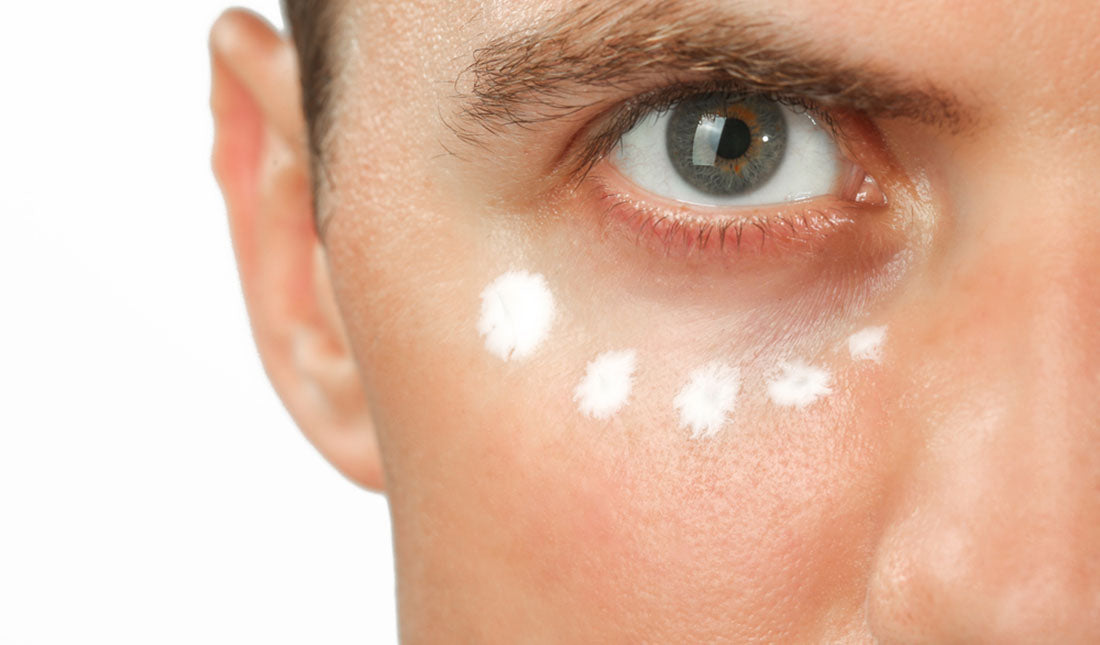 Although we're sure that there are many benefits to getting older, dealing with lines under the eyes isn't one of them. There is always a sinking feeling when you wake up and see your true age etched into your face for the entire world to see.
The good news is that you don't need to put up with your undereye lines and wrinkles. In fact, there are several undereye treatments that can zap those pesky lines and disguise your aging eyes.
Before we get to such treatments, here are a few things you need to know to get rid of lines under the eyes.
The skin under your eyes (known as the periorbital hollow) is thin and delicate, which makes it more susceptible to fine lines
Eye creams containing powerful peptides is an inexpensive and non-invasive way to treat undereye lines
Botox, dermal fillers and laser skin resurfacing are expensive yet effective treatments for lines under the eyes
How to Get Rid of Lines Under Eyes
When it comes to figuring out how to get rid of lines under the eyes, there are several treatments a person can try. While some are harmless (exfoliation and eye creams, for example), others will require professional medical advice from a certified dermatologist.
GOT WRINKLES?
1. Gently Exfoliate Under the Eyes
Exfoliation is a crucial component to any well-rounded skin care routine. Yet even the most dedicated skin care enthusiasts often neglect exfoliating the area around their eyes.
Exfoliating under the eyes can encourage collagen production, the protein in the skin tissue that gives it strength and minimizes lines. To exfoliate under your eyes, choose a gentle facial scrub that will slough off dead skin cells without damaging the skin. Be careful to avoid getting the product in your eyes.
2. Moisturize with an Eye Cream
A lack of moisture underneath the eyes can emphasize lines and dark bags under the eyes. To fix the problem, pick up a nourishing eye cream loaded with peptides, vitamin B3 and other skin care powerhouses that hydrate the skin and promote cell turnover.
For the best results, gently apply your eye cream right after you wash your face. Don't skip your nightly application! Applying eye cream at night is key to waking up to younger-looking eyes.
3. Get Regular Dermal Fillers
Dermal fillers typically contain hyaluronic acid which is injected into the skin under the eyes to plump up sagging skin and reduce fine lines. This undereye treatment has become extremely popular because it's minimally invasive, lasts for six to eight months and requires no downtime for patients.
According to a 2018 study published in the Journal of Cosmetic Dermatology, hyaluronic acid fillers are safe and well-tolerated for the area under the eyes (see claim: "Hyaluronic acid gel fillers of the periorbital region are well tolerated in our long-term follow-up experience.") However, dermal fillers may have mild, long-term side effects including swelling, discoloration and contour irregularities.
4. Consider Botox
Like dermal fillers, Botox is another popular anti-aging treatment for the eyes that is minimally invasive. The difference between Botox and dermal fillers is that Botox is a neurotoxin, a poison which temporarily paralyzes the nerve tissue that creates lines under the eyes.
While injecting poison into your body may sound intense, research has shown that Botox can be extremely effective at getting rid of crow's feet (fine lines and wrinkles around the eyes). In a 2014 study published in Dermatologic Surgery, patients who received Botox injections for their crow's feet noticed significant improvement in their facial lines that lasted for four months (see claim: "OnabotulinumtoxinA produced treatment responses in most subjects with CFL, and duration of response was ≥4 months in both studies.")
TAKE THE SKIN CARE QUIZ
5. Try Home Remedies
If injecting your face with chemicals isn't your cup of tea, there are always home remedies that may help minimize the appearance of undereye lines. Consider making a DIY face mask with ingredients that are rich in vitamins and antioxidants, such as a banana.
Bananas have several ingredients (vitamins B3, C and silica) that are known to promote collagen production and smooth fine lines. To make your own banana mask, mash one banana and mix in a little bit of manuka honey to give your mask some additional anti-inflammatory properties (see claim: "It has been suggested that the immunomodulatory properties of honey may….reduce chronic inflammation in the wound, leading to enhanced healing.") Leave the mask on your face for 15 minutes before rinsing off with lukewarm water.
6. Talk with a Dermatologist About Laser Resurfacing
Are your undereye lines negatively impacting your life? It might be time to schedule an appointment with your dermatologist and talk about laser resurfacing treatments.
With laser skin resurfacing, dermatologists use a device that emits a narrow beam of light to the skin. The light hits specific targets on the surface of the skin, promoting collagen production and healing.
While laser skin resurfacing is generally safe, not all lasers are created equal. You'll need to talk with your dermatologist about your skin type and find out which laser treatment is right for you.
Prevention Is Key
Once you get a handle on the lines under your eyes, you can then switch your focus to prevention. The number one contributor to undereye lines and wrinkles is ultraviolet (UV) rays.
To protect eyes from the sun, always apply a moisturizer with SPF 20 minutes before going outside. Along with a healthy diet and a regular skin care routine, applying the proper amount of sunscreen to the skin around your eyes is key to keeping skin healthy and ageless for years to come.

References
Mustak, Hamzah et al. "Filling the periorbital hollows with hyaluronic acid gel: Long-term review of outcomes and complications." Journal of cosmetic dermatology vol. 17,4 (2018): 611-616.
Baumann, Leslie et al. "Duration of Clinical Efficacy of OnabotulinumtoxinA in Crow's Feet Lines: Results from Two Multicenter, Randomized, Controlled Trials." Dermatologic surgery : official publication for American Society for Dermatologic Surgery [et al.] vol. 42,5 (2016): 598-607.
McLoone, Pauline et al. "Honey: A Therapeutic Agent for Disorders of the Skin." Central Asian Journal of Global Health vol. 5,1 241. 4 Aug. 2016.
---
// © Copyright 2023 Tiege Hanley