Subscription
Shipping Address
Order Date

This subscription's skin care system will get replaced.

${ address.name }




${ address.products }

${ displaySubscriptionName(address) }




${ displayProducts(address) }

${ displayAddress(address) }
${ formatDate(address.scheduleDate) }

${ address.name ? address.name : displaySubscriptionName(address)}
${ address.products }
${ displayProducts(address) }
Shipping Address
${ displayAddress(address) }
Delivery Date
${ formatDate(address.scheduleDate) }
This subscription's skin care system will get replaced.
6 Ways to Get Rid of Pimples Overnight
Want to wake up with clear skin? Find out how to get rid of pimples overnight with various treatment options and home remedies.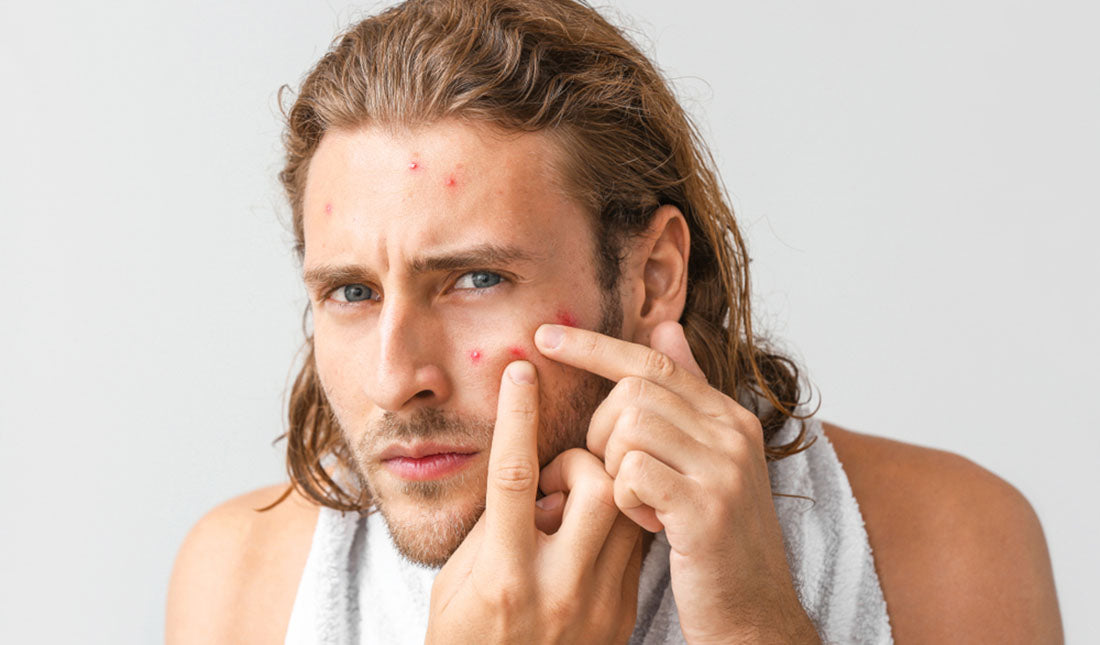 It's a tale as old as time. You have a big date, a job interview or something similarly important planned in the next couple of days. Suddenly, a huge pimple decides to choose that same week to take up real estate on your face. Perfect…
Well, it looks like you're calling in sick. Just kidding. You don't need to let a pesky pimple ruin whatever you have planned. With a few simple tricks, you can get rid of pimples overnight (yes, really) and show up to your event feeling more confident than ever.
Here are a few things you need to know to get rid of pimples overnight.
Be sure to clean the area first with a mild, fragrance-free cleanser
You can reduce the size of your pimple by treating it with Salicylic Acid
Although cortisone shots can reduce the swelling fast, they may come with unwanted side effects
Keep in mind that picking at your pimples will slow down the healing process. Resist the urge to pick. Instead, follow these tips to zap your pimples fast.
1. Wash the Pimple Using a Mild Cleanser
The first thing you'll want to do is to wash the area with warm water and a mild, fragrance-free cleanser. We recommend using a facial cleanser with Willow Bark Extract because it can get rid of excess oil while reducing inflammation.
Apply the cleanser to your skin gently by using only your fingers to work the product into your skin. According to the American Academy of Dermatology, using a washcloth or sponge can lead to skin irritation.
2. Reduce the Swelling with Ice
To reduce the swelling and the pain, wrap an ice cube in a paper towel and hold it to the area for five minutes. Repeat this twice, waiting 10 minutes in-between.
A word of warning: This might make your pimple look slightly worse because of the ice-induced redness. Don't panic. It will disappear soon enough and likely reduce your pimple's size by half.
GOT ACNE?
3. Use a Warm Compress
To speed up the healing process, apply a warm compress to your pimple. Hold it there for 10 minutes, repeating the process three or four times a day. This will help bring the pimple to a head and allow it to drain safely.
Again, don't pick at your pimple. We know how tempting it is to squeeze the pus right out of the pimple. But, unless you want to end up with acne scars, we suggest that you leave it alone.
4. Apply a Powerful Acne Treatment
It's time to show this zit who's boss. To get rid of your pimple overnight, you'll need to use a powerful acne treatment on the affected area.
If your pimple is on the surface, use a Salicylic Acid-based acne cream to treat it. According to a 2004 study published in the Journal of the American Academy of Dermatology, Salicylic Acid can effectively reduce inflammatory acne after just four hours (see claim: "…salicylic acid acne treatment showed a significant reduction (P < .05) in inflammatory acne lesion erythema…as early as 4 hours after application.")
For particularly stubborn pimples, you may need to use Benzoyl Peroxide to kill the bacteria. If you have sensitive skin, be sure to do a small test patch first to see how your skin reacts to it.
Actual Tiege Hanley customer testimonial:

"Over a 3 year period, I probably spent over two grand in skin care and still had acne. I decided to reach out and request to be a part of the Tiege Hanley Acne trial and I have been blown away. After two weeks, my skin was clear. It's not the acne cream alone that cleared it up, but how all of the products work together as a whole." Kyle B., NJ.
TAKE THE SKIN CARE QUIZ
5. Try an Acne Patch
An acne patch, also known as a pimple patch, is a type of hydrocolloid dressing that sticks to the skin. These patches usually contain acne-fighting ingredients such as Salicylic Acid or Benzoyl Peroxide.
Here's how it works: You place the sticker over the pimple. Overnight, the patch will absorb excess fluid while treating the blemish.
Basically, it's a spot treatment that might provide a little extra help with vanquishing your zit. If you want to give it a try, look for a pimple patch with ingredients such as Salicylic Acid and Aloe Vera to fight acne while soothing your inflamed skin.
6. Consider a Cortisone Injection
Salicylic Acid and Benzoyl Peroxide aren't miracle workers. If you're dealing with a deep and painful pimple that you need to get rid of fast, you may want to bite the bullet and get a cortisone injection from a dermatologist.
With this procedure, a dermatologist will inject a diluted corticosteroid into your pimple. They may even drain the oil from the pimple before administering the shot.
After a few hours, your pimple will (hopefully) shrink in size. You'll wake up and your annoying pimple will already be a thing of the past.
Although it sounds great, cortisone shots should only be used as a last resort. They can have adverse side effects, such as depressions in the skin, which may or may not be permanent.
Final Tips
To get rid of your pimple overnight, make sure you use skin care products that won't clog your pores. Also, don't scrub at your pimple! You'll only cause additional irritation.
Remember: Preventing pimples is much easier than fighting an existing blemish. If you're not already on a skin care routine, check out Tiege Hanley's Skin Care Systems today and get the clear skin you deserve.

Reference
"A Novel Salicylic Acid Topical Acne Treatment Rapidly Improves Mild to Moderate Acne Lesions." Journal of the American Academy of Dermatology, vol. 52, no. 3, Mar. 2005, p. P11.
---