Subscription
Shipping Address
Order Date

This subscription's skin care system will get replaced.

${ address.name }




${ address.products }

${ displaySubscriptionName(address) }




${ displayProducts(address) }

${ displayAddress(address) }
${ formatDate(address.scheduleDate) }

${ address.name ? address.name : displaySubscriptionName(address)}
${ address.products }
${ displayProducts(address) }
Shipping Address
${ displayAddress(address) }
Delivery Date
${ formatDate(address.scheduleDate) }
This subscription's skin care system will get replaced.
Best Haircuts for Black Men (2019 Trends)
Need a fresh new 'do? Find out this year's best haircuts for black men.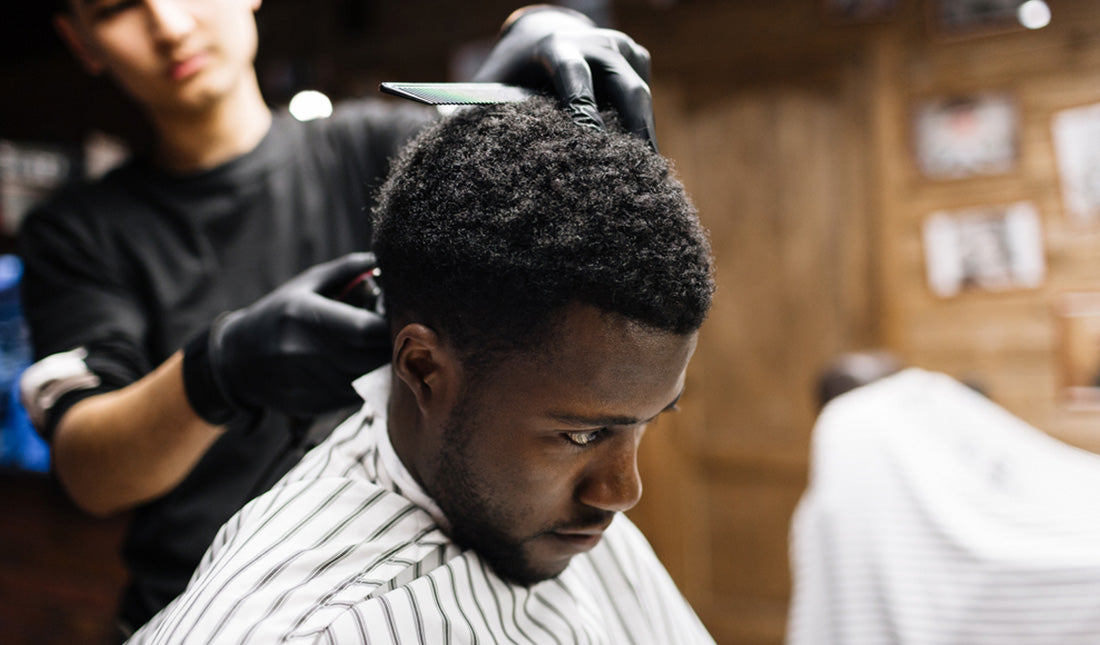 When it comes to finding the best haircuts for black men, you have plenty of options in 2019. From short afro looks to the classic high and tight, the right haircut can take your vibe to a whole new level.
To help you find a haircut that suits your style and works with your unique hair texture, we've rounded up a few of the best haircuts for black men.
Here are three things you should know about the best haircuts for black men:
The high and tight taper is the perfect haircut for busy professionals
If you want to rock your natural hair, consider a short afro haircut
Treat hair with the care it deserves by using men's conditioner and limiting your shampoo use
TRY MEN'S SKIN CARE
Best Haircuts for Black Men in 2019
Ready to sport a fresh new 'do? Here are the best haircuts for black men in 2019:

High and Tight Taper
Let's start with a classic look: The high and tight. This style has been making the rounds in barbershops across the country for decades and its popularity has yet to wane.
Best of all, the high and tight is easy to maintain and looks amazing with designer stubble. It also gives you a professional look that transitions perfectly from office desk job to a night out with the guys.
Line Up Haircut
The line up (also called an edge up) is particularly popular with black guys because their hair is suited perfectly for it. This style is identified by the sharp and clean-looking edges that define the hairline.
The line up can be modest (as in the picture above) or elaborate for a super-defined look. With this haircut, it's especially important that you find a good barber who knows how to create lines that flatter your face.
Mini Afro
If you're not ready to rock a big, bushy afro, the mini afro is a good place to start. This style is often considered one of the best haircuts for black men because it allows the oil from your scalp to reach the ends, resulting in healthy and shiny hair.
It's also a good option if you want to showcase your natural hair. Keep in mind that while the mini afro is easier to keep healthy and moisturized, you'll still want to use a good conditioner (we'll talk more about this below). 
High Fade
The high fade is a trendy haircut that works with all the best haircuts for black men, including the mini afro, high top and the line up.
While it's mostly popular with guys in their 20s and 30, those in their 40s and beyond have been known to sport the look as well. If you're in your 20s and want to add something extra to your look, consider asking your barber for a surgical line with your fade.
Bald
Bald hairstyles are a popular look amongst black guys at every age, and for good reason. The bald look is ridiculously easy to maintain and has been made popular thanks to guys such as Dwayne Johnson and Vin Diesel.
If you decide to embrace the bald, good for you. Just make sure that you take care of the skin on your head to reduce age spots and skin cancer.
It's a common misconception that African-Americans can't get skin cancer. According to a 2016 study published in Asian Pacific Journal of Cancer Prevention, skin cancer is often detected late in people of color, making treatment much more difficult (see claim: "Very often, skin cancer is diagnosed at a more advanced stage in POC, making treatment difficult.")
Take the skin care quiz
Tips for Taking Care of African-American Hair
Once you get a haircut, you're naturally more motivated to take better care of your hair. Follow these tips to keep your hair healthy and strong:
1. Limit Your Shampoo Use
Washing your hair too often will strip the natural oils from your scalp, making hair dry and brittle. For healthy hair, limit your shampoo use to no more than once or twice a week.
Also, it's worth mentioning that there are some ingredients in shampoos you should avoid, such as sodium laureth sulfate. Sulfates are especially damaging to African-American hair because they can strip strands of their precious oils.
2. Invest in a Good Conditioner
Although hair conditioning should be a key part of every guy's hair care routine, it's especially important for African-American hair. According to a 2014 French study published in Annales de Dermatologie et de Venereologie, African-American hair is more brittle and prone to breakage and knotting (see claim: "The hair of blacks is naturally more brittle and more susceptible to breakage and spontaneous knotting than that of whites.")
To promote healthy and strong hair, incorporate a men's conditioner into your hair care routine. You can also use a leave-in conditioner for men to lock-in moisture and keep hair hydrated.
3. Shop for Hair Care Products in the Ethnic Section
The sad truth is that most drug stores don't have hair care products that are formulated to work with African-American hair. Luckily, many stores have an ethnic section that features hair care products that won't make your hair super flat or give it a weird shine.
4. Give Hair a Regular Hot Oil Treatment
To help restore hydration to your hair, consider getting a hot oil treatment for your hair every 10 days. Hot oil treatments can reduce breakage, increase blood flow to the scalp and tame frizz.
Hot oil treatments are commonly offered at salons and barber shops. If you don't want to spend the time or money going to a professional, you can also whip up a DIY hot oil treatment at home.
Wrapping Up
From high and tight to completely bald, there are plenty of popular haircuts for black men to rock in 2019.  Don't forget you can also add trendy touches to your hairstyle with surgical lines or intricate hair designs.
If you want to further enhance your look, consider pairing your fresh new 'do with blemish-free skin. Whether you have oily skin, dry skin or combination skin, Tiege Hanley's Skin Care System for Men will get you on the path to amazing-looking skin in no time.

References
Gupta, Alpana K., et al. "Skin Cancer Concerns in People of Color: Risk Factors and Prevention." Asian Pacific Journal of Cancer Prevention : APJCP, vol. 17, no. 12, 2016, pp. 5257–64. PubMed Central, doi:10.22034/APJCP.2016.17.12.5257.
La Ruche, G., and J. P. Cesarini. "[Histology and physiology of black skin]." Annales De Dermatologie Et De Venereologie, vol. 119, no. 8, 1992, pp. 567–74.
---
// © Copyright 2023 Tiege Hanley