Subscription
Shipping Address
Order Date

This subscription's skin care system will get replaced.

${ address.name }




${ address.products }

${ displaySubscriptionName(address) }




${ displayProducts(address) }

${ displayAddress(address) }
${ formatDate(address.scheduleDate) }

${ address.name ? address.name : displaySubscriptionName(address)}
${ address.products }
${ displayProducts(address) }
Shipping Address
${ displayAddress(address) }
Delivery Date
${ formatDate(address.scheduleDate) }
This subscription's skin care system will get replaced.
5 Best Nail Clippers for Men
We've done the research and found the best nail clippers for men. Prepare to level up your nail care, gentlemen. Here are the nail clippers that made the cut!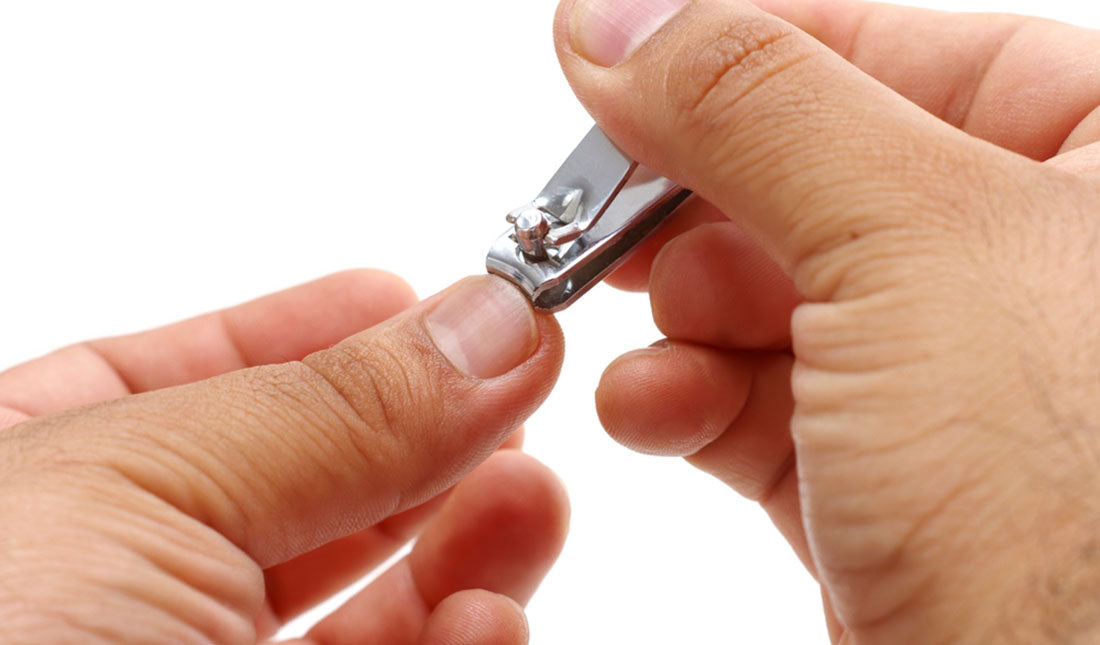 Most guys consider clipping their nails to be a chore, and an extremely boring one at that.
If you feel the same way, you probably have at least a few 99-cent nail clippers stashed away in your bathroom and maybe even in your car.
Although these cheap tools can help you keep your nails short, that doesn't mean they do a decent job of it.
If you're tired of fumbling with awkward nail clippers that create jagged edges, it's time to upgrade to a tool that will take your nail care to the next level.
We've rounded up the best nail clippers for men that meet the following three criteria: easy to use, attractive and precise.
Because frankly, your nails—and the people who are forced to see them daily—deserve better.
Here are a few things you should know about the best nail clippers for men:
High-quality nail clippers cut more precisely and won't dull as quickly as cheap nail clippers.
Quality made nail clippers feature high-grade stainless steel and ergonomic designs.
Disinfect your nail clippers regularly to prevent the spread of bacteria.
TRY MEN'S SKIN CARE
5 Nail Clippers to Get the Job Done Right
We're all practicing better hand hygiene these days, and nail care should not be overlooked.
Trimming your nails regularly can help prevent infection by reducing the number of bacteria and dirt your nails can harbor.
Furthermore, keeping your nails short and neat can also help you more easily identify any unusual nail changes, like dark streaks or yellow toenails.
If you want to start giving your nails the love and care they deserve, here are the best nail clippers for men on the market:
Ergonomic, effortless, precise—those are just a few adjectives that describe the Harperton nail clippers.
With more than 8,000 Amazon reviews and an average rating of 4.6, this fingernail and toenail set is beloved by many.
The nail clipper set was designed for a variety of nail sizes and features a sleek, stainless steel design.
Handmade in Germany by Solingen artisans, the GERMANIKURE nail clippers ooze masculinity and class.
Featuring surgical-grade stainless steel, these large clippers promise to stay sharp for decades.
It also comes with an attractive, 100 percent leather case to hold your precious tool.
If you've always wanted to wield a Samurai sword but never had the opportunity to buy one, reach for the next best thing with SEKI EDGE nail clippers.
Made from the creators of Samurai swords in the mountains of Seki, Japan, the SEKI EDGE combines high-grade, tempered stainless steel with ergonomic construction.
The result is a high-end clipper that offers clean cuts and unmatched precision.
If you're tired of subpar nail clippers that get dull on a dime, pick up the KIYA nail clipper.
Another Japanese-made nail clipper, this sleek nail clipper features black-carbon steel that will cut through the thickest of nails.
Bonus points for the sleek, black design that will add some variety to your countless other stainless steel grooming tools.
Above all, the Kohm nail clipper set is designed for comfort.
This stainless steel nail clipper for men features a custom-designed rubber grip handle and a built-in nail file, making it the perfect nail clipper to stash in your car for those random hangnails.
TAKE THE SKIN CARE QUIZ
How to Clip Your Nails
We know what you're thinking.
Do I really need to know how to clip my nails?
Just snip and go, right?
There's a little more to it than that.
If you want to level up your grooming routine, here's how to clip your nails the right way:
Disinfect Your Tools
Always start with clean tools.
If you recently purchased a nail clipper, be sure to soak it in a 70-90 percent isopropyl alcohol solution before using it.
Remember to disinfect your nail clippers regularly to prevent bacteria from spreading.
Soften the Nails
The ideal time to trim your nails is right after you've taken a warm shower.
The warm water will soften the nail and the cuticle, making it easier to push the cuticle back to keep it in check.
Trim and Smooth
Cut almost straight across the nail.
Then, use a nail filer to smooth the edges.
Apply Moisturizer
You're already a pro at applying a daily moisturizer to your face.
Why not extend the love to your nails?
Softening the nails with a hand lotion for men or cuticle cream can prevent the nail and surrounding skin from becoming dry and irritated.
Less irritation means that you'll be less likely to pick at your skin and cause painful hangnails.
Nail-ing Your Grooming Regimen
There you have it: the best nail clippers for men, plus some advice on how to clip your nails.
You're now one step closer to perfecting your grooming routine.
---