Subscription
Shipping Address
Order Date

This subscription's skin care system will get replaced.

${ address.name }




${ address.products }

${ displaySubscriptionName(address) }




${ displayProducts(address) }

${ displayAddress(address) }
${ formatDate(address.scheduleDate) }

${ address.name ? address.name : displaySubscriptionName(address)}
${ address.products }
${ displayProducts(address) }
Shipping Address
${ displayAddress(address) }
Delivery Date
${ formatDate(address.scheduleDate) }
This subscription's skin care system will get replaced.
Is Skin Cancer Deadly?
How deadly is skin cancer? We break down the three different forms of skin cancer and discuss the seriousness of each.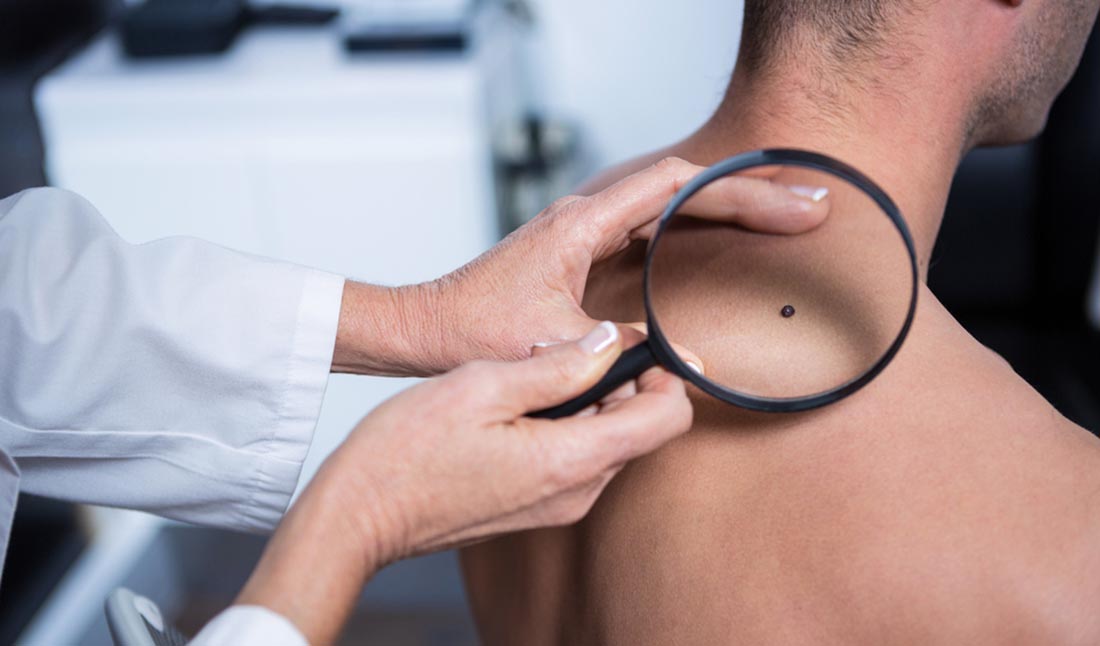 Getting diagnosed with skin cancer is incredibly scary, especially when you don't know much about it. Is skin cancer curable? How deadly is it?
To alleviate some of your fears, doctors believe every form of skin cancer is curable when caught early. How deadly skin cancer is depends on the type of skin cancer, the stage of the cancer, how much it has spread and the patient's health.
Before we dive in, here is what you should know about skin cancer:
Squamous cell and basal cell carcinomas are the most common and least deadly forms of skin cancer.
Melanoma is the deadliest form of skin cancer, taking nearly 8,000 lives annually.
The best way to reduce your risk of skin cancer is by getting annual skin screenings and learning how to check your moles at home.
TRY MEN'S SKIN CARE
How Dangerous Is Each Type of Skin Cancer?
Although there are several types of skin cancers, the three most common forms are squamous cell carcinoma (SCC), basal cell carcinoma (BCC) and melanoma. SCC and BCC are commonly referred to as nonmelanoma skin cancers (NMSCs) and make up the vast majority of skin cancer diagnoses.
According to a 2015 study published in JAMA Dermatology, it's believed that over three million people in the United States are diagnosed annually with nonmelanoma skin cancers (see claim: "We estimate that…total number of persons in the United States treated for NMSC at 3,315,554.")
Below, we'll break down the three main types of skin cancers and discuss how deadly each type is:
Squamous Cell Carcinoma—Squamous cell carcinoma occurs in the squamous cells of the skin, which are the flat skin cells located in the outer part of the epidermis. SCC rarely spreads to lymph nodes and other parts of the body, though it's more likely to do so compared to basal cell carcinoma. The good news is that SCCs are highly treatable, and death from this type of skin cancer is rare.
Basal Cell Carcinoma—Basal cell carcinoma is the most common form of skin cancer, accounting for roughly 80 percent of all skin cancers. Basal cells are located in the lower part of the epidermis and are constantly dividing to replace squamous cells above them. Although it's the most common, basal cell carcinoma is also the least deadly type of skin cancer.
Melanoma—Though all forms of skin cancer should be taken seriously, melanoma is the type of skin cancer that is most concerning. Melanoma occurs in cells called melanocytes, which produce the brown pigment called melanin. Melanoma is often caused by excessive sun damage and is highly treatable when it's caught early, but when melanoma is discovered too late, it can be extremely deadly.
Take the skin care quiz
Why Is Melanoma So Deadly?
While Melanoma is the least common of the three types of skin cancer, that's not to say it is uncommon. According to the Skin Cancer Foundation, over 192,000 cases of melanoma will be diagnosed this year in the United States. Of these cases, an estimated 4,740 men and 2,490 women will die from the disease.
What makes melanoma so deadly? Here are a few reasons why it's a particularly deadly skin cancer:
It's More Likely to Spread—Unlike other types of skin cancer, melanoma can spread quickly to the lymph nodes. For stage 4 melanoma, the survival rate is around 15-20 percent.
Lack of Sun Protection—One of the main culprits of melanoma is DNA damage caused by UV radiation. Applying a daily moisturizer with SPF to your face and wearing sun protective clothing can significantly reduce your risk of melanoma and other types of skin cancers.
Most People Don't Pay Attention—Though melanoma is highly treatable in its early stages, most of us simply don't pay close enough attention to our skin. This is why it's incredibly important to get annual skin screenings and to recognize the early warning signs of melanoma.
Melanoma isn't to be messed around with. Guys have a higher risk of developing skin cancer compared to women, and this includes melanoma. If you have a suspicious-looking mole, don't wait to get it checked out by a dermatologist.
Detecting and Treating Skin Cancer Early Is Critical
As the most common type of cancer in the United States, skin cancer is something that should be on everyone's radar. We can't stress enough the importance of practicing sun safety, learning the ABCDEs of melanoma and getting regular skin checkups.
Don't forget that nonmelanoma skin cancers need to be taken seriously as well. Though they aren't the deadliest type of skin cancer, they aren't a pleasant experience. Just take it from Hugh Jackman, who has had basal cell carcinoma six times.
---
// © Copyright 2023 Tiege Hanley