Subscription
Shipping Address
Order Date

This subscription's skin care system will get replaced.

${ address.name }




${ address.products }

${ displaySubscriptionName(address) }




${ displayProducts(address) }

${ displayAddress(address) }
${ formatDate(address.scheduleDate) }

${ address.name ? address.name : displaySubscriptionName(address)}
${ address.products }
${ displayProducts(address) }
Shipping Address
${ displayAddress(address) }
Delivery Date
${ formatDate(address.scheduleDate) }
This subscription's skin care system will get replaced.
Fish Oil Benefits for Men
From enhanced brain function to better performance in bed, the benefits of fish oils are vast. Find out the most important benefits of taking fish oils for men.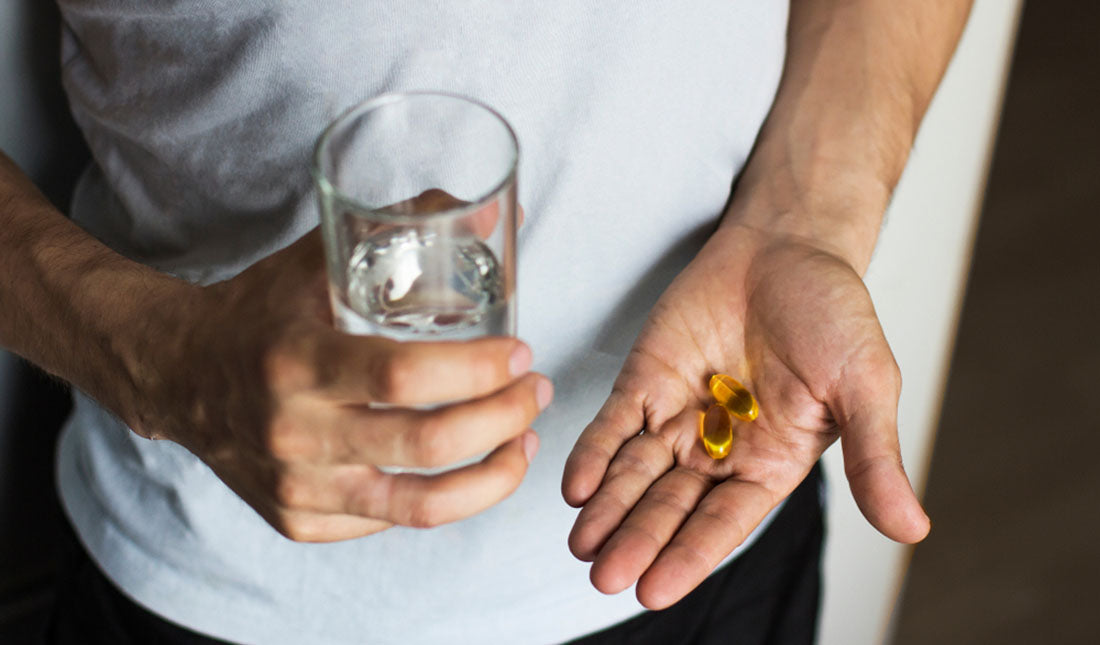 Apart from multivitamins, there is no other supplement that is more commonly used than fish oil. Packed with omega-3 fatty acids, fish oil supplements are believed to have a vast array of benefits, ranging from reduced risk of certain diseases and cancers to improving skin tone. Are fish oil supplements as beneficial as some believe? What are the advantages of fish oils for men, specifically?
Here are three things you need to know about the benefits of fish oils for men:
There is some evidence that fish oils can improve heart health in men and lower their risk of heart attack.
Omega-3 fatty acids have anti-inflammatory properties which may be beneficial to acne sufferers.
Fish oil supplements can improve blood flow to the brain for enhanced cognitive function.
TRY MEN'S SKIN CARE
Lower Risk of Cardiovascular Disease
Perhaps one of the biggest reasons why guys should consider taking fish oil supplements is for better heart health. According to a 2016 study published in JAMA Internal Medicine, the risk of getting a heart attack is much higher for men than it is for women, although the difference is smaller as both genders age (see claim: "Men had higher risk throughout life, but the IRRs decreased with age…")
Omega-3 fatty acids, which are abundant in fish oil supplements, have long been linked to a lower risk of cardiovascular disease. Evidence of this can be seen in a 2002 study published in the New England Journal of Medicine, which found that the risk of sudden death was much higher in men with low levels of long-chain omega-3 fatty acids (see claim: "The n-3 fatty acids found in fish are strongly associated with a reduced risk of sudden death among men without evidence of prior cardiovascular disease.")
Similarly, a 2005 study published in Circulation suggests that daily intake of fish oils can potentially reduce the risk of fatal ventricular arrhythmias (see claim: "…daily ingestion of fish oil fatty acids may significantly reduce potentially fatal ventricular arrhythmias.")
May Reduce Your Acne
Struggling to control your acne? You may want to consider taking fish oil on top of your daily acne treatment system. Research has shown that taking fish oils may be beneficial to individuals with acne-prone skin.
In a small 2012 study published in Lipids in Health and Disease, patients with existing acne took fish oils for 12 weeks, with most seeing considerable improvement in the severity of their acne (see claim: "The results showed that acne severity improved in 8 individuals, worsened in 4, and remained unchanged in 1.")
While researchers aren't certain, it's believed that the anti-inflammatory properties in fish oil can soothe inflammation caused by acne. For this reason, fish oils can potentially improve other common inflammatory skin conditions such as eczema and dermatitis.
Improve Brain Function
If you want to get promoted at work, you need to be on top of your game mentally. While fish oils don't promise to make you into a genius, the omega-3 fatty acids in fish oils are crucial to supporting brain function and may boost your mental performance.
In a 2012 study published in the British Journal of Nutrition, researchers found that while fish oil supplements didn't improve concentration in subjects, they did increase blood flow to the brain and improve mental performance in subjects (see claim: "Supplementation with DHA-rich FO, in comparison with placebo, resulted in a significant increase in the concentrations of oxy-Hb and total levels of Hb, indicative of increased cerebral blood flow (CBF), during the cognitive tasks.")
If you're getting up there in age, taking fish oils may help slow down the aging process and stave off cognitive decline. For guys who depend on their thinking skills at work, fish oils may be worth speaking to the doctor about.
Take the skin care quiz
Better Performance in Bed
Looking for ways to impress your girlfriend? According to research, fish oils can potentially help some guys in the bedroom.
Fish oils are well-known for their ability to improve blood flow and circulation to muscles and organs throughout the body, and the penis is no exception. In a 2014 study published in the International Journal for Vitamin and Nutrition Research, researchers found that fish oil improved blood flow during exercise (see claim: "…exercising blood glucose and RER were seen to change significantly (4.66±0.44 vs. 4.58±0.31 mmol.L(-1) and 0.97±0.03 vs. 0.99±0.04; p<0.05).")
Maximizing blood flow efficiency allows more oxygen to be delivered to your muscles. In other words, you potentially can go for longer without feeling as tired. Plus, increased circulation can give your skin an attractive, healthy glow that your partner will find irresistible.
Talking with Your Doctor About Fish Oils
The benefits of fish oils are vast, potentially reducing your risk of disease while improving your appearance to boot. That being said, taking fish oils isn't without risks.
Even if you're a fairly healthy guy, it doesn't hurt to talk with your healthcare provider about fish oil supplementation. Together, you can weigh the pros and cons of fish oils before making a decision that's right for you.
---