Subscription
Shipping Address
Order Date

This subscription's skin care system will get replaced.

${ address.name }




${ address.products }

${ displaySubscriptionName(address) }




${ displayProducts(address) }

${ displayAddress(address) }
${ formatDate(address.scheduleDate) }

${ address.name ? address.name : displaySubscriptionName(address)}
${ address.products }
${ displayProducts(address) }
Shipping Address
${ displayAddress(address) }
Delivery Date
${ formatDate(address.scheduleDate) }
This subscription's skin care system will get replaced.
How to Straighten Your Beard–5 Foolproof Tips
Having trouble learning how to straighten a beard? Discover a few foolproof tips and grooming secrets you need to achieve a flawless beard.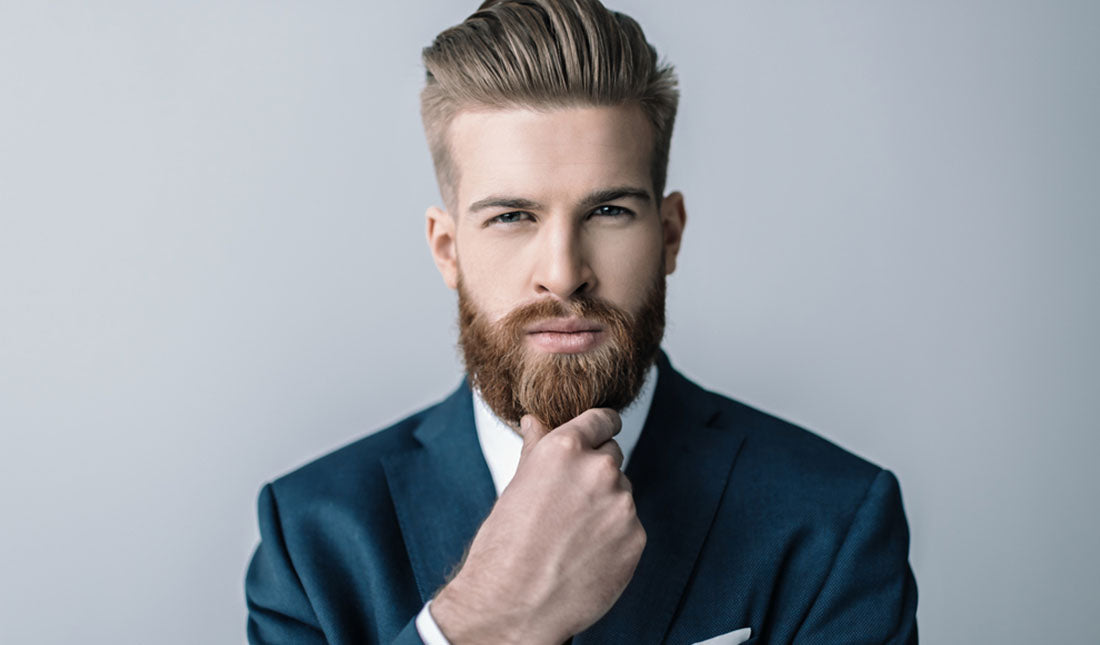 Some guys are blessed with naturally straight beard hair, while others—well, not so much. The rest of us need to use a little elbow grease and a few beard care products to tame our wild facial hair into a perfectly neat and straight beard.
How do you straighten a beard, exactly? Don't worry, we've got a few foolproof tips to help you wrangle your mane into a gloriously straight beard.
But first, here are a few things to know on how to straighten your beard:
Beard hair is usually thicker and coarser than scalp hair and can grow in several different directions
You can smooth and straighten your beard effectively with a blow dryer and a small, round brush
Make sure to lock in your beard style with a high-quality beard balm
The last thing you want is for your unkempt beard to hurt your career and romantic prospects, right? Then be sure to take good care of your facial hair and learn how to straighten your beard with our foolproof tips below.
CONTROL EYE BAGS
5 Tips for Straightening a Beard
It's just a simple fact. A well-groomed beard requires time, patience and a slew of beard care products to keep it looking neat and tidy.
But you're already used to investing a few minutes into your skin care routine. This shouldn't be too difficult, right?
As a matter of fact, all it takes is a few short minutes to tame your beard into a neat and straight mane. Start by hopping in the shower, giving your beard a good wash and following these five tips:
1. Apply a Sea Salt Spray to Your Beard
While your beard is slightly damp, apply a sea salt spray to it. Although it's more common to use sea salt spray on head hair, you can also use it on your beard to give it shape and texture. 
When choosing a sea salt spray, try to find a product with high-quality ingredients such as sea kelp. According to a 2019 study published in the Journal of Cosmetic Dermatology, research suggests that sea kelp extract can improve skin barrier function and may help reduce signs of aging (see claim: "These results suggest that the tested ingredients could help to preserve a healthy epidermis and dermis, and possibly to prevent the visible signs of skin aging.")
Once you've found the right sea salt spray, spritz a little on your beard. Then, use a comb to spread it evenly throughout your beard.
2. Use a Blow Dryer on Medium Heat
A lot of serious beard-growers have mixed feelings on using heat styling tools on their beards, and for good reason. Heat styling tools such as hair dryers are notorious for zapping moisture content from hair and causing unrepairable damage.
On the other hand, blow dryers are one of the most effective beard styling tools a guy can have in his grooming arsenal. The secret to reducing damage from the blow dryer is to use medium heat and to hold the blower dryer at least a foot away from your head.
Still worried about damage to your facial hair? Consider this 2011 study published in the Annals of Dermatology, which found that holding a hair dryer 15 cm away from the scalp resulted in less damage to the hair follicle than air drying (see claim: "Using a hair dryer at a distance of 15 cm with continuous motion causes less damage than drying hair naturally.")
3. Use a Round Brush for Styling
While you're blow drying your facial hair, use a small, round brush with vented ceramic plates to style your beard. The vented metal plates help reinforce the heat, which you can use to take the curl out of your beard.
After you've brushed and blow dried your beard with high heat, you're ready to set the style with cold air. To do this, flip your blow dryer to a cold setting and comb your beard with the round brush the same way you did with high heat.
4. Work Styling Balm into Your Beard
Cold air alone probably won't be enough to keep your beard straight and tidy-looking. To avoid letting all of your hard work go to waste, pick up a beard styling balm to lock your style into place.
Be sure to work your beard balm well into your hair. If you typically use beard oil in your facial hair, feel free to work that into your skin and beard first.
Beard oil and beard balm are two different products, so they can be used together. Beard oil will help take care of the skin underneath your beard, while beard balm is used more as a styling product.
Take the skin care quiz
5. Use a Comb to Make Your Beard Symmetrical
Finally, you're almost done with learning how to straighten your beard. The last step is to go through your beard with a fine-tooth comb and making sure that your beard is perfectly symmetrical.
If you have a mustache, don't forget to shape it and smooth out your mustache hair as well. Once everything is straight and tidy, you're ready to show the world your impeccably groomed beard.
The Takeaway
This routine only takes a few minutes to complete, and we promise that you'll get faster the more you practice. In just three minutes or less, you can look like the suave and sophisticated gentleman you always imagined.

References
Hameury, Sebastien, et al. "Prediction of Skin Anti-Aging Clinical Benefits of an Association of Ingredients from Marine and Maritime Origins: Ex Vivo Evaluation Using a Label-Free Quantitative Proteomic and Customized Data Processing Approach." Journal of Cosmetic Dermatology, vol. 18, no. 1, Feb. 2019, pp. 355–70. PubMed, doi:10.1111/jocd.12528.
Lee, Yoonhee, et al. "Hair Shaft Damage from Heat and Drying Time of Hair Dryer." Annals of Dermatology, vol. 23, no. 4, Nov. 2011, pp. 455–62. PubMed Central, doi:10.5021/ad.2011.23.4.455.
---
// © Copyright 2023 Tiege Hanley