Subscription
Shipping Address
Order Date

This subscription's skin care system will get replaced.

${ address.name }




${ address.products }

${ displaySubscriptionName(address) }




${ displayProducts(address) }

${ displayAddress(address) }
${ formatDate(address.scheduleDate) }

${ address.name ? address.name : displaySubscriptionName(address)}
${ address.products }
${ displayProducts(address) }
Shipping Address
${ displayAddress(address) }
Delivery Date
${ formatDate(address.scheduleDate) }
This subscription's skin care system will get replaced.
How to Trim a Mustache—A Step-by-Step Guide
Don't let your mustache wear you. Find out how to trim a mustache with finesse and skill to maintain your glorious 'stache.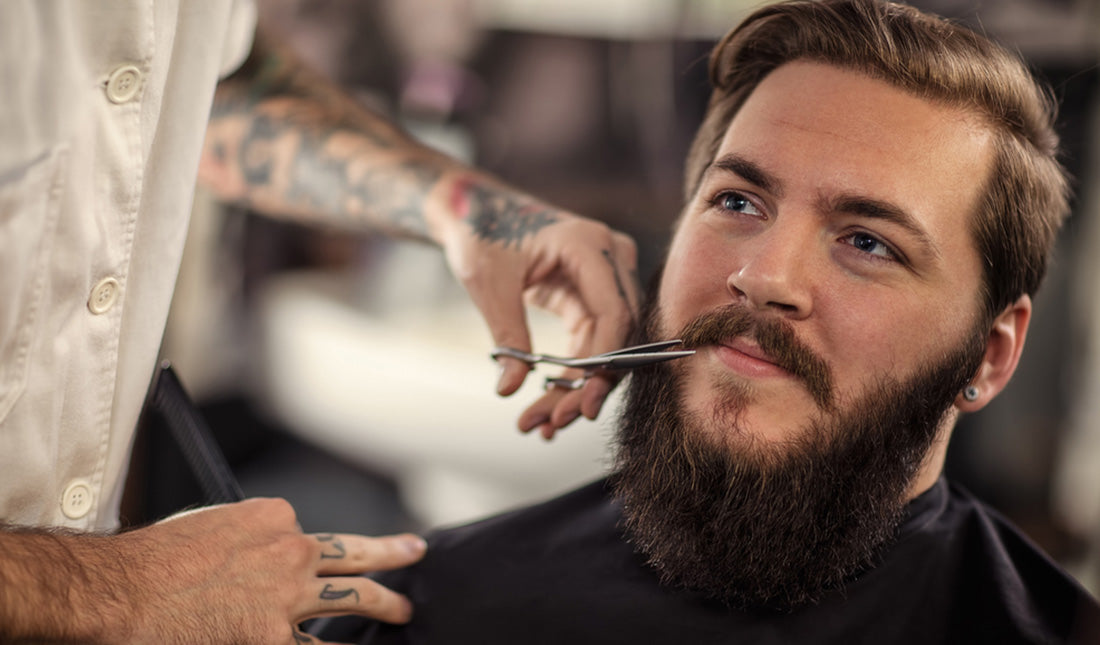 Mustaches can be tricky to get right. Do it well, and you'll look extremely dapper and stylish. Do it wrong, and you'll look like you time-traveled from the '70 s—and not in a good way.
Keeping things trim and tidy on your upper lip is key to sporting a mustache with finesse. With the right tools and a steady hand, you can easily rock the 'stache with complete confidence.
Here are a few things you should know about trimming your mustache:
You can use grooming scissors or electric trimmers to trim your mustache
Always cut your mustache when it's dry to ensure an even line
Trim your mustache weekly to maintain your look
Ready to maintain that glorious 'stache of yours? Follow these simple steps to trim your mustache like a professional.
Step 1: Get the Right Tools
To trim your mustache, you'll need the following tools and products:
Mustache Comb
Grooming Scissors
Mustache Styling Product (optional)
While you can use electric trimmers to trim your mustache, we suggest you use grooming scissors instead. They offer greater control than clippers and can also be utilized if/when you decide to grow out a beard.
TRY MEN'S SKIN CARE
Step 2: Start with a Dry Mustache
Before you begin, make sure that your mustache is dry. The reason for this is because hair will become shorter as it dries. If you snip your mustache when it's wet, you might trim it too much.
Step 3: Trim for Shape
Comb your dry mustache into an even line. Then, take your grooming scissors and start cutting the bottom of your mustache before moving on to the outer edges.
Maintain a neutral face while you're trimming to ensure an even line. Be careful and take your time. This isn't a race.
Step 4: Trim for Length
Now that you've trimmed your mustache into a nice shape, it's time to reduce the length. Start by running your mustache comb (which should be much tinier than your typical comb) through your mustache and trimming the hairs that peek out from the comb.
Step 5: Add the Finishing Touches
Run your comb one more time through your mustache and snip any hairs you might have missed. Then, consider applying mustache wax or beard oil.
If you don't want to style your mustache with wax, at least apply beard oil to it. Beard oil will make your mustache less scraggly, which your girlfriend will no doubt appreciate.
Additional Tips for Mustache Maintenance and Styling
Congratulations, you officially know how to trim a mustache. To take your mustache to the next level, here are some additional tips to keep in mind:
Tip 1: Trim Your Mustache Once a Week
According to a 2016 review published in the International Journal of Cosmetic Science, facial hair grows at an average rate of 0.27 mm each day (see claim: "Beard hair grows at an average rate of around 0.27 mm day.") While this might not seem like much, your mustache hair can quickly overwhelm your face when it's not trimmed regularly.
Aim to trim your mustache once a week. If you use a men's face scrub once a week, you can do it on the same day to help get you into the habit of regular mustache trims.
Tip 2: Snip Off Less in the Beginning
Remember: You can always go back and trim more if you need to. The same can't be said for the other way around. Snip a tiny amount and constantly check your work in the mirror as you go.
Tip 3: Modify for Clippers
Although using grooming scissors to trim a mustache is cheaper, you can also use clippers to get the job done. Simply use a clipper guard to trim down the length (start with a higher guard to avoid cutting it too short) before removing the guard and trimming hairs along the lip.
Take the skin care quiz
Tip 4: Take Good Care of Your Skin
If you're allowing your mustache to take center stage on your face (i.e., no beard), then your skin needs to be nothing short of amazing. Otherwise, everyone will be too distracted by your blemishes to notice your magnificent mustachio.
To achieve healthy, glowing skin, get on a regular skin care routine that works with your schedule. If you're a busy guy, consider signing up for a men's skin care system that delivers all the products you need straight to your door each month.
Tip 5: Be Careful with Mustache Wax
If you're one of the 50 million Americans who struggle with acne, you may want to be careful when choosing a mustache wax. Beard and mustache waxes can contain pore-clogging ingredients that can lead to acne breakouts.
Unfortunately, most—if not all— mustache waxes contain pore-clogging ingredients such as beeswax or coconut oil. If you struggle with acne, this isn't good news for your skin.
If you've tried mustache wax and struggle with acne around your mouth, you may want to consider sticking to beard oil instead. Although it's not a styling product, it can help tame your mustache and give it a well-groomed appearance.
Final Thoughts
Pulling off a glorious mustache isn't easy. But with the right tools and techniques, we're sure that you're up for the task.
If you're still unsure about how to trim your mustache, consider getting a trim from your local barber and watching him carefully as he works. Then, you can mimic what he does and give yourself a professional trim at home.

References
Cowley, K., and K. Vanoosthuyze. "The biomechanics of blade shaving." International Journal of Cosmetic Science, vol. 38, no. S1, 2016, pp. 17–23. Wiley Online Library, doi:10.1111/ics.12330.
June 28, 2019. Research Updates to Mark the End of Acne Awareness Month. Accessed 1 Oct. 2019.
---
// © Copyright 2023 Tiege Hanley