Subscription
Shipping Address
Order Date

This subscription's skin care system will get replaced.

${ address.name }




${ address.products }

${ displaySubscriptionName(address) }




${ displayProducts(address) }

${ displayAddress(address) }
${ formatDate(address.scheduleDate) }

${ address.name ? address.name : displaySubscriptionName(address)}
${ address.products }
${ displayProducts(address) }
Shipping Address
${ displayAddress(address) }
Delivery Date
${ formatDate(address.scheduleDate) }
This subscription's skin care system will get replaced.
Laser Hair Removal for Men—6 Facts to Know
Thinking about getting laser hair removal for men? Read these six facts before scheduling your first consultation.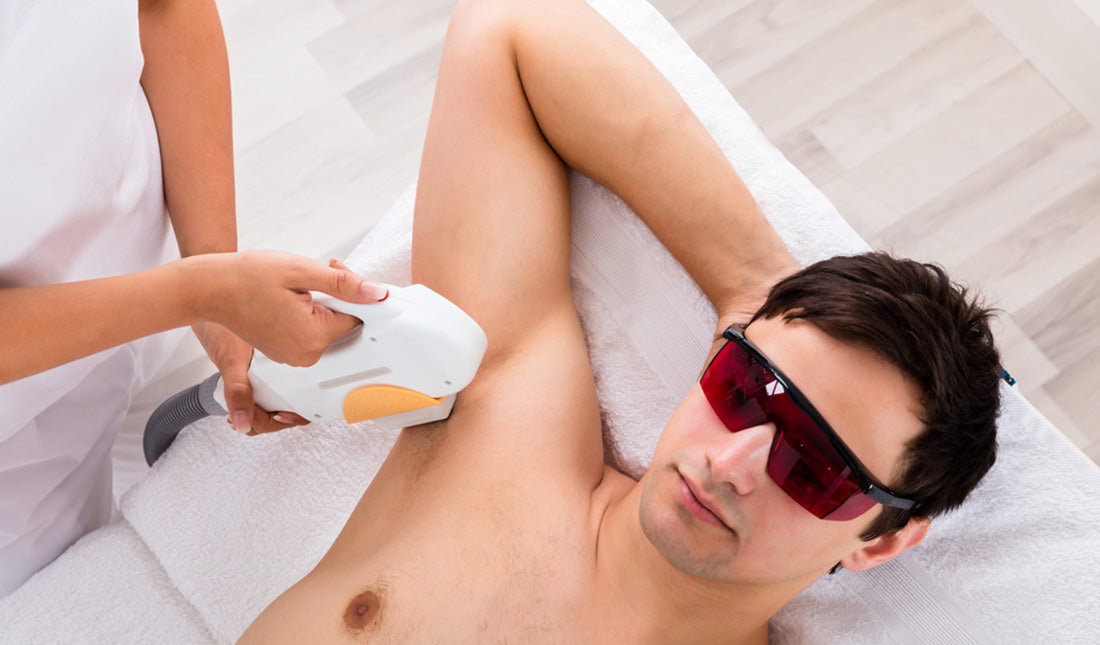 If you're tired of your back or chest hair, we've got good news to share. Laser hair removal for men is a simple way to finally get rid of your unwanted body hair for good.
Think about it: No waxing, tweezing or shaving ever again. No dealing with painful ingrown hairs or skin irritation.
Sounds amazing, doesn't it? But while there are some serious benefits to laser hair removal for men, there are also a few things you'll want to consider as well.
Here's what you should know about laser hair removal for men:
Laser hair removal treatments are best suited for dark hair and light skin
The most effective hair removal laser for darker skin is the Nd:YAG laser
Taking good care of your skin pre- and post-treatment is key
When performed by an experienced doctor, laser hair removal for men is safe and effective. Even so, here are six facts you should know before booking your first appointment.
TRY MEN'S SKIN CARE
1. Laser Hair Removal Works Best on Dark Hair and Light Skin
If you have light skin and dark hair, then you're in luck. Most lasers are well-equipped to remove unwanted body hair and keep it off with minimal side effects.
This is due to how traditional hair removal lasers work. Most lasers emit a beam of light that is absorbed by the pigment in the hair follicle.
Blonde, grey and red hair don't have the same success rate for laser hair removal treatments because they don't have the same types of pigment that brown and black hair have. While there is still a small chance that certain laser hair removal methods will work on your hair, be very skeptical about any business that says it can remove your hair with certainty.
2. There Are Several Types of Lasers
Laser hair removal is often discussed as though there is a single type of laser. In fact, there are several types of lasers that can be used to remove unwanted hair.
Here is a brief explanation of the four most popular types:
Diode: This type of laser is especially effective at removing coarse hair. It's also fast, making it the optimal choice if you need to treat large areas of the body.
Ruby: Safe and effective for fair-skinned individuals with dark hair. It's the oldest type of laser hair removal on the market and has slow repetitions.
Alexandrite: Though not the most effective for dark-skinned individuals, long-pulsed alexandrite may be used on olive skin tones. It's particularly effective at reducing ingrown hairs, known medically as pseudofolliculitis barbae.
NdYAG: A long-pulsed laser that can be used safely for a variety of skin types.
3. Your Choice of Laser Matters
If you're seriously considering laser hair removal for men, it's important that you weigh your options carefully. This is especially true if you have a darker skin tone.
Darker skin types have a higher risk of experiencing unwanted side effects such as scarring, burning and hyperpigmentation. To reduce your risk of side effects, it's important that you choose the right laser and an experienced doctor who knows how to treat dark skin.
Generally speaking, a Nd:YAG laser could be your best bet for removing unwanted body hair safely. A 2008 study published in the Journal of Cutaneous and Aesthetic Surgery found that using a long-pulsed 1064 nm Nd:YAG laser was effective at removing hair in dark skin types with minimal side effects (see claim: "…long-pulsed, 1064 nm Nd:YAG laser with contact cooling were found to be safe and effective for hair reduction in Indian patients…")
4. Laser Hair Removal Treatments Can Be Pricey
The cost of laser hair removal will vary based on where you live, the expertise of the doctor and your choice of treatment. However, you're still looking at anywhere from $50 to $300 per treatment.
According to 2018 statistics from the American Society of Plastic Surgeons, the average cost for laser hair removal is $285. If you're not willing to shell out that much for a hairless bod, you can always try an at-home hair removal method using intense pulsed light (IPL).
Though not technically a laser, IPL uses light energy to remove hair from the body. According to a 2009 study published in Dermatologic Surgery, IPL devices have been found safe and effective for at-home hair removal for Fitzpatrick skin types 1-4 (see claim: "Low-energy pulsed light can be applied safely and effectively for at-home hair removal in a variety of nonfacial locations and skin phototypes I-IV.")
Take the skin care quiz
5. You'll Need Multiple Treatments
Laser hair removal treatments aren't a one-and-done situation. Unfortunately, you'll need to make multiple appointments and be patient about your results.
You probably won't see results until six or eight treatments. This is because laser hair removal machines only work when the hair is actively growing.
6. Taking Good Care of Your Skin Pre- and Post-Treatment Is Critical
A good doctor should explain how to prep for your treatments and take care of your skin afterwards. In case they don't, here are a few guidelines to follow:
Shave the Night Before: Shave the area the night before to make any potential discomfort more manageable.
Avoid Scrubs and Retinol Post-Treatment: Avoid body scrubs and retinol creams for two or three days post-treatment. It's okay to use your men's facial scrub and your daily retinol for men, so long as you didn't remove any hair on your face.
Stay Out of the Sun: Avoid the sun a week before and after your treatment. Use sunscreen to protect your skin and wear SPF clothing.
Final Thoughts
If you're set on going through with laser hair removal for men, the best thing you can do is to find an experienced doctor. While more experience might come with a higher price tag, it's well worth it to find a doctor who knows what they're doing.

References
Mittal, Rachna, et al. "Evaluation of Long-Pulsed 1064 Nm Nd:YAG Laser-Assisted Hair Removal vs Multiple Treatment Sessions and Different Hair Types in Indian Patients." Journal of Cutaneous and Aesthetic Surgery, vol. 1, no. 2, 2008, pp. 75–79. PubMed Central, doi:10.4103/0974-2077.44163.
Alster, Tina S., and Elizabeth L. Tanzi. "Effect of a Novel Low-Energy Pulsed-Light Device for Home-Use Hair Removal." Dermatologic Surgery: Official Publication for American Society for Dermatologic Surgery [et Al.], vol. 35, no. 3, Mar. 2009, pp. 483–89. PubMed, doi:10.1111/j.1524-4725.2009.01089.x.
---
// © Copyright 2023 Tiege Hanley