Subscription
Shipping Address
Order Date

This subscription's skin care system will get replaced.

${ address.name }




${ address.products }

${ displaySubscriptionName(address) }




${ displayProducts(address) }

${ displayAddress(address) }
${ formatDate(address.scheduleDate) }

${ address.name ? address.name : displaySubscriptionName(address)}
${ address.products }
${ displayProducts(address) }
Shipping Address
${ displayAddress(address) }
Delivery Date
${ formatDate(address.scheduleDate) }
This subscription's skin care system will get replaced.
Men's Face Care Products: The 4 Essentials Every Guy Should Have
Ready to up your skincare game? These four types of men's face care products are essential for achieving vibrant, healthy skin.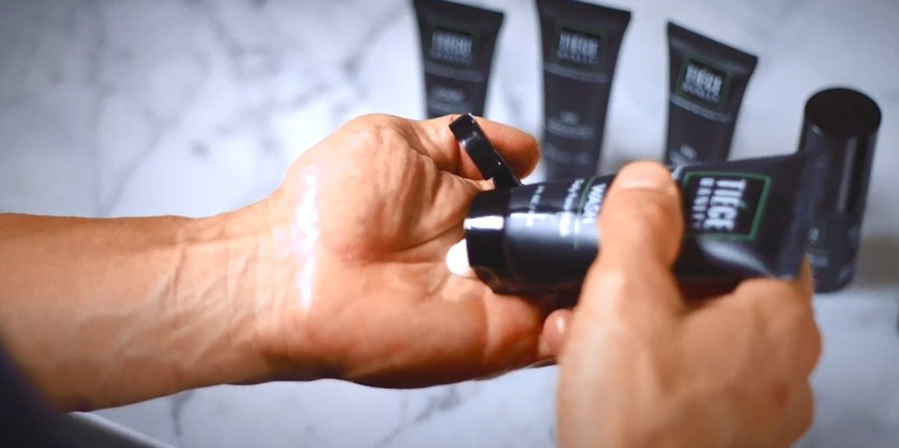 If you have both the time and patience to apply 10 different skin care products, then more power to you. For most guys, a simple skin care solution is necessary if they have any hope of sticking to it.
There is little doubt that most guys want to achieve better-looking skin. They just don't want to sacrifice their precious time to reap the benefits. Who can blame them? You don't need to make your skin care routine overly complicated to keep your face clear and vibrant. With these four essential men's face care products, you can start maximizing your handsome potential immediately.
It's important for men to learn proper face care early if they want to achieve a clearer, brighter appearance.
The foundation to amazing skin includes just four simple products: face wash, face scrub, AM moisturizer and PM moisturizer.
By using the right products at the right time, you can keep your skincare regimen simple and effective.
Daily Face Wash
Gentlemen, it's time to stop using a bar of soap on your face and finally pick up a men's face wash. Not only is your bar of soap not formulated for your face, it's also drying out your skin which can lead to breakouts.
A daily face wash for men will gently remove the oil, dirt and grime from your face and hydrate your skin. And gentlemen—don't even think about reaching for your girlfriend's face wash! Our skin is tougher and produces more oil than a woman's skin. A face wash for men is designed to penetrate the surface of the skin and clean your face without over-drying it.
TRY MEN'S SKIN CARE
Face Scrub
Exfoliation is a key step in every man's skin care routine. Dead skin cells can build up on the surface of the skin, clogging your pores and causing acne.
A face scrub for men should be gentle enough to avoid damaging the skin, but tough enough to wipe away dead skin cells effectively. Once the old layer of skin is gone, you can reveal the new skin cells underneath for an instantly brighter appearance.
When choosing a men's exfoliating scrub, look for a product that contains hydrating ingredients and skip those with synthetic fragrances or dyes. Our Tiege Hanley face scrub is fragrance-free, safe on sensitive skin and packed with good ingredients such as Cucumber Extract to soothe inflamed skin.
Although scrubbing your ruggedly handsome face feels good, be sure to avoid overdoing it. Stick to exfoliating twice per week for healthy skin.
AM Moisturizer
Dry skin is the enemy to a man's youthful appearance. After washing and scrubbing your face, you need a hydrating superstar to restore moisture to your skin.
With our daytime moisturizer, your skin will soak up all the premium ingredients we've packed into it and look instantly brighter. Additionally, any decent men's moisturizer should include SPF (ours has SPF 20) to protect the skin from sun damage.
In case you're wondering—yes, oily skin types also need to moisturize daily. A moisturizer can help prevent this kind of skin from producing excessive oil.
In other words, a morning moisturizer with SPF can fight acne by keeping your skin hydrated and healthy. The best men's moisturizers are designed to keep your skin soft and supple without making it feel greasy.
Take the skin care quiz
PM Moisturizer
Wait a minute—we just recommended a daily morning moisturizer. Why do you need a bedtime moisturizer, too?
If you want clearer, younger-looking skin, a bedtime moisturizer is essential. A bedtime moisturizer for men works differently because your skin has different needs at night than it does during the day.
Our morning moisturizer contains SPF—something that you absolutely need during the day, but not at night. A PM moisturizer is made to aid your skin as it repairs and replenishes overnight.
Look for ingredients such as vitamin B3 (aka Niacinamide) which improves hyperpigmentation and red, blotchy skin. And just like your morning moisturizer, be sure that your bedtime moisturizer is fragrance-free!
Men's Face Care Made Simple
As you can see, a man's skin care routine doesn't need to be complicated. Although you can level up your skin care with a night cream and firming serum, the basics are a great start to achieving better-looking skin.
Remember to give your new skin care regimen a couple of months to see results. Moisturizers and creams can smooth the appearance of fine lines quickly but achieving clearer skin can take longer. Good things come to those who wait!
---
// © Copyright 2023 Tiege Hanley