Subscription
Shipping Address
Order Date

This subscription's skin care system will get replaced.

${ address.name }




${ address.products }

${ displaySubscriptionName(address) }




${ displayProducts(address) }

${ displayAddress(address) }
${ formatDate(address.scheduleDate) }

${ address.name ? address.name : displaySubscriptionName(address)}
${ address.products }
${ displayProducts(address) }
Shipping Address
${ displayAddress(address) }
Delivery Date
${ formatDate(address.scheduleDate) }
This subscription's skin care system will get replaced.
Men's Facial Products Made Uncomplicated (Updated March 2020)
Men's facial products represent an overwhelming number of choices and might be even more confusing than you think.  Guys like the world to be simple, predictable, utilitarian and effective, so Tiege Hanley provides a system that requires little effort, but delivers major results.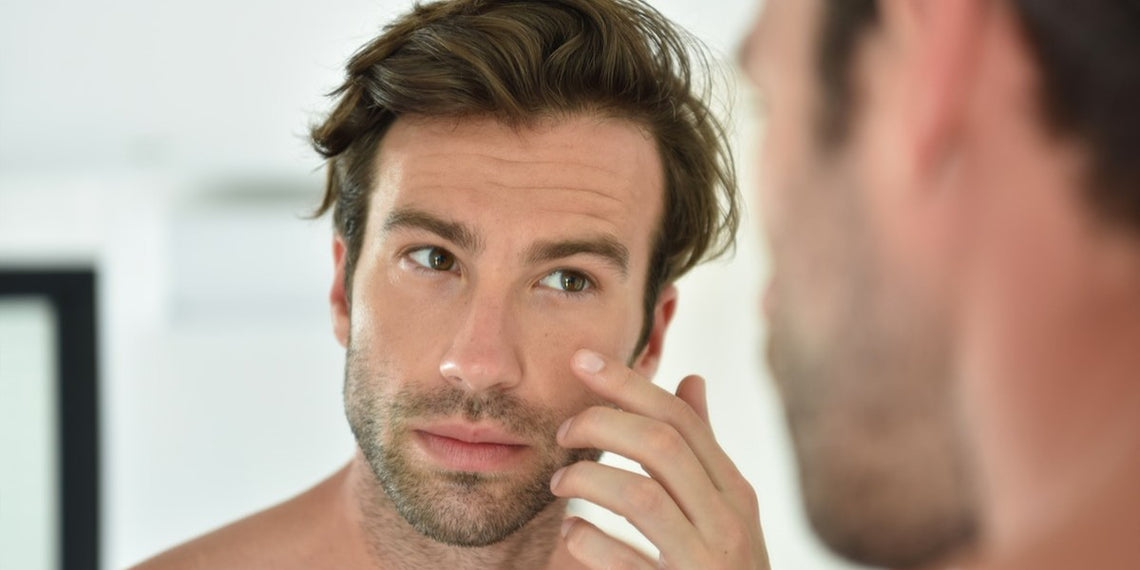 Men's facial products represent an overwhelming number of choices and might be even more confusing than you think. 
Gentlemen, many of us aren't sure where to start with skin care and end up nabbing the nearest face wash we can find.
It could be our girlfriend's or sister's or mom's, none of which are specially formulated for a man's complexion.
Extra scents, additives and harsh chemicals can make your issues worse in many cases.  
And even if you do know where to find men's skin care products, you then have to put together a whole routine yourself.
On your own, how do you pull together face wash, exfoliant, moisturizers, sunscreens, eye products and wrinkle treatments? (Hint: Anybody's guess.)
How can you be sure they won't react with one another? (Hint: You can't.) How can you live your life with so much uncertainty? (Hint: Anxiously.) 
Especially if you suffer from acne, scarring, overly oily skin or dry, red patches, then you need a men's facial skin care approach that works.
Guys like the world to be simple, predictable, utilitarian and effective, right?
You need a system that requires little effort, but delivers major results.
Here's how to create that system and a few good skin care product recommendations for men, so you can stop endlessly searching and get back to real life.
TRY MEN'S SKIN CARE
Men's Facial Care 
Facial care for men isn't as easy as popping open a bottle of scrub and going at it once a day.
Many such products will actually have the opposite effect on your skin. Why?
To understand that, it's important to first understand how skin works. 
The skin is an organ, responsible for filtering out chemicals and pollutants from the air.
It's also intended to protect your body from the sun's damaging UVA and UVB rays, which can cause mutations and cancer.
As you can imagine, this is all pretty rough on your skin's delicate structures and cells.
Ultraviolet rays can cause discoloration and patchiness, while chemicals, pollutants and simple grime can clog pores, cause pimples and up the irritation factor. 
Your skin tries to help itself by producing its own oil, called sebum. This creates a barrier, helping to keep irritants and carcinogens away.
However, those particles still adhere to your skin, helped along by the sebum.
The combination of dirt, impurities and oil can get stuck in follicles, creating inflammation and infection.
This makes shaving difficult and can also contribute to aging. 
The solution? 
Facial products must respect this natural balance, or else they throw it out of whack.
Instead of helping you to reduce oil and acne and soften skin, the products you're using may actually increase the incidence of such unwelcome issues.
Thanks, but no thanks. That's why men need facial products that work with your body rather than against it. 
Facial Lotion for Dry Skin 
Face lotion for dry skin is first on our list of creating a balanced system. Dry skin can result from a number of different factors:  
Heritage 
Age 
Work environment 
Climate 
Current products 
Amount of sleep 
Diet 
Water intake 
Alcohol, tobacco and other "vices" 
Stress 
Given the huge number of factors, it's often difficult to pinpoint the exact cause of dry skin.
Sometimes even a dermatologist can't tell you after rounds of tests.
The best answer is not to try every product on the market and undergo a battery of exams, but rather to use a proven system made of the ingredients your skin craves.
How to Balance Dry Skin 
For instance, you need a daily moisturizer specifically formulated for guys.
A morning moisturizer should contain sunscreen to ward off the damaging rays coming at you all day long—yes, even when it's cloudy.
Choose a quality product that includes ingredients such as Lavandula Oil to stimulate skin, relax it, fight off microbes that want to give you acne, and reduce redness.
Plus, your lotion should hydrate your skin to smooth and soften it, all while keeping it younger-looking for longer. 
Dry skin also tends to build up, causing a flaky or scaly look.
That makes a good exfoliant important. Scrubs should contain anti-itch products, such as Menthyl Lactate, to combat the discomfort that comes with facial hair. 
Allantoin is another great ingredient, increasing water content in cells to combat dryness from within. 
Facial Products for Oily Skin  
Facial products for oily skin are, believe it or not, very similar to those geared toward dry skin. Why?
Because at the crux of both oiliness and dryness are issues of inflammation, low immune function, free radical toxicity and under-hydration.
All of these issues can manifest in oily as well as dry skin, or more frequently, in combination skin—both greasy and dry. 
Many people respond to oily skin by scrubbing, scrubbing and more scrubbing, but that's not the right response.
All this does is wipe out natural oils, causing your skin to produce more in a desperate struggle to keep that barrier in place.
This is definitely not the correct facial treatment strategy.  
Reducing Oils: Just as Important as Managing Dryness 
Instead, you need a balancing face wash that removes dirt, oil and impurities without stripping skin and causing overproduction of sebum. 
Choose one that contains natural antiseptics to fight off infection as well as anti-inflammatories to reduce inflammation from pollution, chemicals and dietary allergies.
Then go against your instinct and apply a nighttime lotion. This keeps skin happy and hydrated, again without having to overproduce its own oils. 
Unfortunately, even knowing all this, many guys don't know where to turn.
They end up combining different products from different manufacturers into a confusing patchwork.
Not only does that make skin care complicated, it makes it downright discouraging.
And we men like things uncomplicated, and wherever possible, cheerful.
Life is short, after all. Who wants to muck it up? 
No matter who you are—teen or young professional, Asian or Hispanic, Black or Caucasian, oily or dry—we can help you with an uncomplicated skin care system that respects your complexion and your wallet at the same time.  
Take the skin care quiz
The Uncomplicated Men's Face Care Line You Need 
Products designed for the female complexion simply aren't ideal.
They contain the wrong ingredients and are designed to combat the wrong issues.
Ladies don't deal with facial hair, for instance, or the irritation that can result from it.
According to the International Dermal Institute, women typically have thinner skin and less natural sebum, which can create an imbalance.
Also, since they sweat more, their skin may appear more hydrated, while lacking the actual moisture needed to keep skin cells plump and healthy. 
That's why you need uncomplicated skin care products formulated just for dudes. 
Tiege Hanley is here for you. Our goal? Plain and simple: to help men look amazing.
We ourselves got fed up with sorting through the vast array of choices on the market, both men's and women's.
Nor did we like paying out the nose (or out the pores?) for "top-notch" products that still didn't meet our needs. 
Today, we offer a complete line of men's skin care products that are already designed to work together.
Whether your skin is dry or oily doesn't matter, because these are all about balance.
We will help you reduce dryness and combat oiliness all at once, creating a fresh, crisp and healthy glow through ingredients such as stimulating eucalyptus oil, anti-inflammatory calendula extract and elasticity-enhancing Vitamin B3.
Our products come in three levels, so you can go for the basics of wash, exfoliator, and moisturizer or add in eye cream and age-defying serum for that extra boost. 
Easy Peasy Skin Care on Your Doorstep 
Plus, we make it easy for you. You get all the products you need straight to your door every 30 days.
However, you are free to adjust the schedule of delivery as you wish and cancel any time.
Our goal is not to lock you into a skin care dungeon from where you'll never return, but rather to provide you with the help and all-natural ingredients you need to feel your best.
Now you don't have to go to the store to enhance your handsome; all you have to do is open the door. 
Gentlemen, you can have it all here at Tiege Hanley—just order now and get ready for the skin you've always wanted.
Actual Tiege Hanley customer testimonial:

"Over a 3 year period, I probably spent over two grand in skin care and still had acne. I decided to reach out and request to be a part of the

 

Tiege Hanley Acne trial

 

and I have been blown away. After two weeks, my skin was clear. It's not the acne cream alone that cleared it up, but how all of the products work together as a whole." Kyle B., NJ.
---