Subscription
Shipping Address
Order Date

This subscription's skin care system will get replaced.

${ address.name }




${ address.products }

${ displaySubscriptionName(address) }




${ displayProducts(address) }

${ displayAddress(address) }
${ formatDate(address.scheduleDate) }

${ address.name ? address.name : displaySubscriptionName(address)}
${ address.products }
${ displayProducts(address) }
Shipping Address
${ displayAddress(address) }
Delivery Date
${ formatDate(address.scheduleDate) }
This subscription's skin care system will get replaced.
Pomade vs. Gel vs. Wax – Which Is the Right Product for Your Hair?
Ready to take your hair styling game to the next level? Learn about the differences between pomade vs. gel vs. wax and how to choose the right product for you.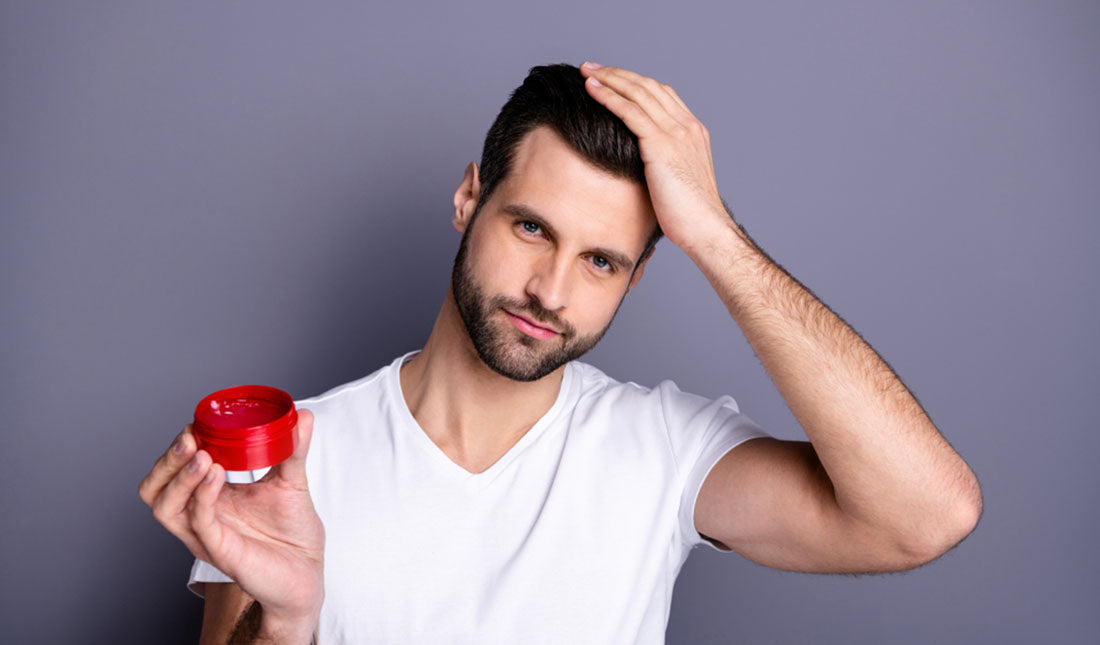 Let's cut to the chase—you're here because you know that the right hair product is key to unlocking your best hair ever.
And lucky for you, the hair care market for men has never been bigger!
The bad news is that you now have to wade through all the pomades, gels, waxes and so forth to find the single best product for your hair.
It's enough to make any guy want to forget the entire thing and rock a buzzcut for life.
Don't worry–help is on the way.
In this post, we'll explain the differences between pomade vs. gel vs. wax and help you choose the best product for your hair.
Before we dive in, here are three things you should know about pomade, hair gel and hair wax:
Some greasier hair products can be difficult to wash out and may cause acne.
Pomade, gel and wax are best used with a pre-styler, such as sea salt spray.
To keep your skin and hair healthy, rinse out your hair product before you go to bed.
TRY MEN'S SKIN CARE
A Quick Note About Hold vs. Shine
The easiest way to compare pomade vs. gel vs. wax is by considering how much hold and shine they each provide.
In case you weren't already aware, here's what those two terms mean:
Hold: Hold refers to how well the hair product will hold your style. Products with a strong/firm hold will stay in place, while products with a light hold allow for more movement within the hair.
Shine: Shine simply refers to how glossy the product looks in your hair. High-shine products often give hair a classic, refined look, while low-shine or matte products (aka, no shine) look more laid-back.
Pomade
Much like the resurgence of the old-fashioned straight razor, pomade is an older grooming product that has recently come back into style.
Its original heyday was in the 1930s through the 1960s, a time when guys often sported their hair in shorter styles and needed something to lock their 'dos in place.
The original pomade was a petroleum-based product with tons of hold and shine.
Today, pomade comes in two varieties: water and oil-based.
Who It's for
Modern pomades come in a variety of holds and shines, making this product ideal for just about every hair type and style.
However, most guys will want to stick with a water-based pomade.
Water-based pomades are much easier to wash out of your hair.
They're also less likely to cause the dreaded pomade acne, a type of acne that is triggered by the heavy oils in your hair product.
But if you really want that greaser-esque hairstyle, an oil-based pomade can help you achieve the look.
Just make sure that your skin care routine is rock solid.
If you start breaking out all of a sudden, lay off the product for a while and be patient with your skin.
According to the American Academy of Dermatology, it can take up to six weeks for pomade acne to completely clear.
Gel
Hands down, the comeback of the decade goes to the humble hair gel.
Following the 2000s, styling gel was the source of much derision and laughter.
These days, guys can't get enough of all that slick, strong-hold goodness.
Are you now wondering what the difference is between pomade vs. gel?
It's simple: Gel is an ideal choice for the slick-back hairstyle.
The slick-back hairstyle has been rocked by many of Hollywood's leading men in recent years, from Jake Gyllenhaal to Brad Pitt.
If you want to get in on the action, hair gel may be your best option.
Who It's for
Gel has a tendency to clump hair together, so it's best for guys with thick or normal hair.
But perhaps more to the point, it's for guys who want to make a serious style statement.
Gel offers maximum shine and maximum hold, making it perfect for fancy occasions.
TAKE THE SKIN CARE QUIZ
Wax
Hair wax is similar to pomade in that it offers high hold and medium shine.
But unlike pomade or hair gel, wax is slightly less greasy and provides more movement in your hair.
Wax is commonly used to achieve that messy, bedhead style that the ladies seem to go bananas for (think: Eddie Redmayne and Robert Pattinson).
Another bonus of wax: It's generally more pliable than pomade or gel, which means you can change your style up midday if it's not to your liking.
Who It's for
Like pomade, hair wax is a versatile styling product that is suitable for a wide range of hair types and styles.
However, it's best for straight and wavy hair types.
For guys with short hair, wax can act as a texturizer and volume-enhancer.
In longer hairstyles, wax can be used to help tame frizz and keep flyaways under control.
Final Tips
After an entire day of rocking your sexy hairstyle, don't forget to wash out the product before you go to bed.
When you leave product in your hair, it can build up on the scalp and cause stubborn dandruff.
Rinse it out before you go to bed and try to switch up your hair products to give your hair the occasional break from the high hold stuff.
---
// © Copyright 2023 Tiege Hanley