Subscription
Shipping Address
Order Date

This subscription's skin care system will get replaced.

${ address.name }




${ address.products }

${ displaySubscriptionName(address) }




${ displayProducts(address) }

${ displayAddress(address) }
${ formatDate(address.scheduleDate) }

${ address.name ? address.name : displaySubscriptionName(address)}
${ address.products }
${ displayProducts(address) }
Shipping Address
${ displayAddress(address) }
Delivery Date
${ formatDate(address.scheduleDate) }
This subscription's skin care system will get replaced.
Should You Be Using a Charcoal Face Mask for Men?
Curious about face masks? Learn about the benefits of face masks for men, how to use them and what to look for in a charcoal face mask.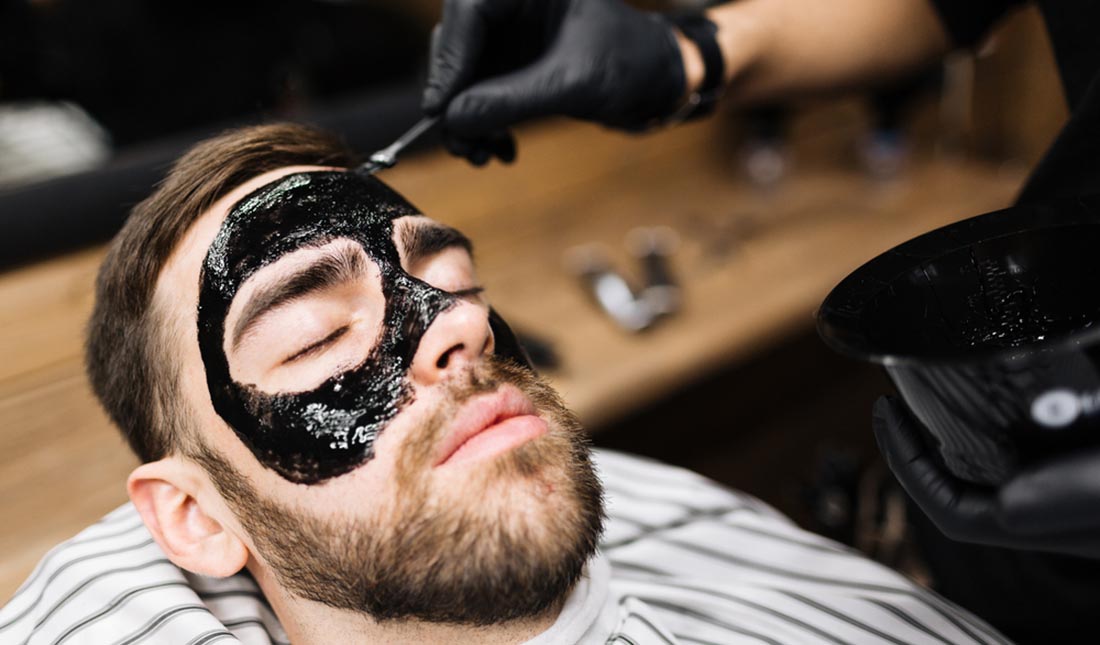 When most guys talk about charcoal, it usually has something to do with their summer BBQ. But lately, activated charcoal has become a huge wellness trend that has now found its way into our foods, teeth whitening products and, yes, even our skin care products.
Activated charcoal is an absorbing agent that—in theory—works by drawing out dirt, oil and grime from the pores of the skin, helping you achieve a blemish-free appearance.
Are charcoal face masks the answer to your acne woes? We're going to break down your most pressing questions about charcoal face masks for men.
Before we dive in, here are three things all guys need to know about charcoal face masks:
Although there isn't any strong evidence to support the use of charcoal face masks, some guys swear by their ability to remove stubborn blackheads.
The key to finding the best charcoal face mask for men is to search for a mask specifically formulated to penetrate a man's thick skin.
Leaving your face mask on for too long or overusing your face mask can result in dry, damaged skin.
Can Guys Use Face Masks?
Yes, guys can take advantage of charcoal face masks—or any other type of mask, for that matter—so long as it's formulated for their skin. There is a good reason that your charcoal face mask (and any skin care products you use) needs to be formulated specifically for guys.
According to a 2003 study published in Acta Dermato-Venereologica, men were found to have thicker epidermis layers compared to women (see claim: "Thickness of the cellular epidermis correlated positively to blood content (P = 0.028) and was greater in males than in females (P < 0.0001).")
Guys also tend to have oilier skin, which makes it even more difficult for certain ingredients to penetrate deep enough into the skin. To reap the full benefits of a face mask, it's important to look for one that is specifically formulated for a man's skin.
TRY MEN'S SKIN CARE
What Are the Benefits of Face Masks for Men?
Just like women, guys have their fair share of skin problems that they'd like to fix. From acne blemishes to dry skin, face masks can be used to treat a variety of common skin problems.
Moisturization is perhaps one of the most common benefits of face masks for men. In a 2014 study published in the International Journal of Cosmetic Science, researchers found that the short-term use of facial masks produced significant moisturizing effects compared to light moisturizing creams (see claim: "…peel-off facial masks (short-term study) showed that the masks promoted moisturizing effect of the stratum corneum more effectively than the oil-in-water emulsions.")
Charcoal face masks in particular are helpful to many guys who are prone to blackheads because they can draw oil, dirt and dead skin cells out from the pores. The key is to find a charcoal face mask that's suited for your skin.
Which Charcoal Face Mask Is Best for Men?
Along with being formulated for a guy's skin, the best charcoal face mask for men should have charcoal powder (activated charcoal) listed as one of its main ingredients. Another key ingredient that you'll want to look for is Salicylic Acid, which maximizes the absorbing powers of charcoal by exfoliating dead skin cells and oil from the pores of the skin.
Here are our top picks for the best charcoal face masks for men:
Beau Brummel for Men Charcoal Facial Mask—This kaolin-rich clay and charcoal mask removes impurities while softening the skin with soothing ingredients such as Rosemary Leaf Oil and Lavender Oil.
Freeman Feeling Legendary Peel-Off Gel Mask—Containing volcanic ash and charcoal, this easy peel-off mask is formulated for all skin types and won't over-dry your face. It contains hydrating ingredients such as glycerin, along with powerful antioxidants from a variety of fruit extracts.
Yes To Natural Men Charcoal Detox Mask—Formulated without parabens or silicones, this charcoal mask for men by Yes To is designed to deep clean the skin and contains soothing witch hazel to help prevent ingrown hairs and razor burn.
Take the skin care quiz
Should You Shave Before or After a Face Mask?
Although some face masks are applied around the facial hair, it's best to shave before you apply any type of face mask. Think of your shaving routine as prepping your skin to soak up all the beneficial ingredients in your mask.
If you're rocking the 5 o'clock shadow style and don't want to shave it off for your face mask, you can simply apply the mask over your stubble. While you may not get as much benefit from your face mask as you would being clean-shaven, you'll still likely see and feel a noticeable difference in your skin.
Can a Woman Use a Men's Face Mask?
For reasons we've already mentioned, it's generally not recommended that women use a men's face mask. Charcoal face masks for men are often formulated with powerful ingredients that can effectively penetrate deep into a man's thick skin. Thus, these products are usually too harsh for a woman's skin and may result in excessive dryness and/or irritation.
How Long Should I Wear a Face Mask?
It's important that you leave your face mask on for the correct length of time. Leaving it on for too long will cause the mask to dry completely and make it incredibly difficult to peel off.
Follow the directions on your charcoal face mask product. If there are no directions, the general rule of thumb is to leave your mask on for 15-20 minutes.
How Many Times a Week Should I Use a Face Mask?
Stick to using your charcoal face mask no more than once or twice a week. Using a face mask daily can strip away the natural oils from your skin and dry out your face, resulting in severe acne breakouts.
It should also be noted that some guys are better off leaving it to a professional. If you have sensitive skin or an inflammatory skin disorder such as rosacea, over-the-counter face masks can result in redness, irritation and inflammation.
The Final Verdict
To sum it all up, using a charcoal face mask on top of your existing skin care routine can provide a slew of benefits for your skin. But as is the case with any skin care product, charcoal masks may contain ingredients that are irritating to the skin.
Talk to your dermatologist before buying any over-the-counter face masks. They can tell you which ingredients to steer clear of and recommend the best face mask treatment for your skin.
---
// © Copyright 2023 Tiege Hanley