Subscription
Shipping Address
Order Date

This subscription's skin care system will get replaced.

${ address.name }




${ address.products }

${ displaySubscriptionName(address) }




${ displayProducts(address) }

${ displayAddress(address) }
${ formatDate(address.scheduleDate) }

${ address.name ? address.name : displaySubscriptionName(address)}
${ address.products }
${ displayProducts(address) }
Shipping Address
${ displayAddress(address) }
Delivery Date
${ formatDate(address.scheduleDate) }
This subscription's skin care system will get replaced.
Skin Care for Black Men
Black men require a unique approach to skin care. Get back on the road to clear skin with this foolproof skin care routine for black men.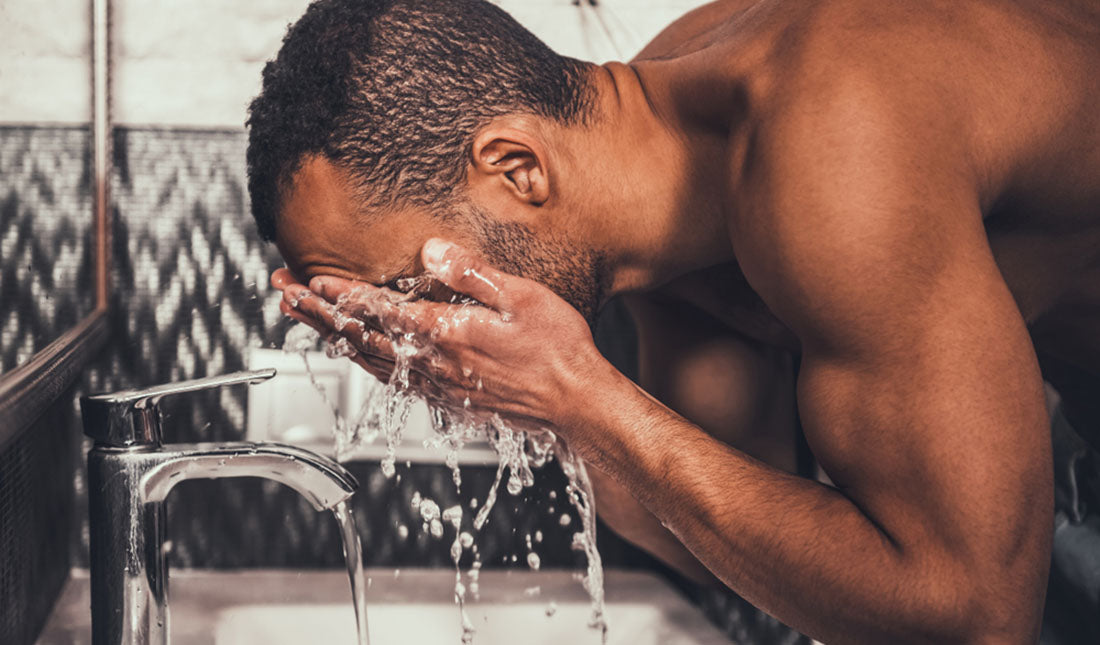 Every guy can benefit from a tailored approach to skin care, and black guys are no exception.
Sure, your melanin-rich skin may be low-maintenance in some respects, but it's also prone to a variety of skin care conditions such as acne, ingrown hairs and discoloration.
That being said, black men skin care doesn't need to be overly-complicated.
Many of the same skin care basics apply to all guys, regardless of how much melanin they produce.
But if you want to look good and feel good, a personalized approach to skin care is a must.
That's why we've broken down the best skin care routine for black men that will help you to put your best face forward.
Here are three things you should know about black men skin care:
Black skin is prone to several different skin conditions, including acne and razor bumps.
Black men should be extra cautious when choosing an exfoliator for their skin.
The best way to reduce acne-related dark spots is by preventing breakouts.
Keep Your Face Clean: Wash Twice Daily
Our first piece of advice: Stop washing your face with bar soap.
A lot of guys make this skin care mistake (nearly one-third of men, to be precise) and it's not doing your skin any favors.
The harsh surfactants in bar soap can strip away the skin's natural oils, causing it to overcompensate by producing more oil.
Increased oil production can lead to acne breakouts, a common skin problem that affects guys of all ethnicities.
A mild facial cleaner for men is a far superior alternative to cleansing your skin.
Using a men's facial cleanser twice daily will help remove dirt, oil and grime from your face without drying out your skin.
TRY MEN'S SKIN CARE
Eliminate Excess Oil: Exfoliate Twice a Week
Exfoliation for black skin can be tricky business.
On the one hand, using a face scrub can help remove dead skin cells and oil that contribute to acne breakouts.
On the other hand, it's vital that black men use a gentle face scrub that won't irritate their skin and lead to pesky dark spots.
Look for a face scrub with tiny particles (read: not huge shards) that will remove buildup without damaging your skin.
Limit your exfoliation to once or twice a week at the most.
Use your hands to massage the product on your skin–washcloths and scrubbing pads are too rough!
Protect and Restore: Moisturize Your Skin
After you wash and scrub your face, the next step is to follow up with a soothing moisturizer.
We recommend using a daily moisturizer with SPF in the morning.
Yes, you read that correctly: You need SPF.
It's a common misconception that black guys don't need to use sunscreen.
According to a 2017 study published in the journal Medicine, black people are more likely to be diagnosed with late-stage melanoma (see claim: "AA patients are far more likely to present with advanced disease and deeper tumors than Caucasians.")
Black people are also more likely to die from melanoma (see claim: "…AA melanoma patients experience lower mean survival times…")
Protecting your skin with a daily moisturizer with SPF can help lower your risk of skin cancer while keeping your skin healthy, happy and hydrated.
For bedtime, you obviously don't need SPF.
Instead, we recommend using a bedtime moisturizer with nourishing ingredients such as Green Tea and Aloe Vera.
Combat Ingrown Hairs: Shave with the Grain
Every guy struggles with razor bumps (ingrown hairs) on occasion.
But according to a 2019 study published in Clinical, Cosmetic and Investigational Dermatology, black men are particularly prone to razor bumps due to the curly nature of their hair (see claim: "It occurs more frequently in those with tight curly hair, especially in men of African and, to a lesser extent, those of Asian descent.")
To reduce the incidence of ingrown hairs, we recommend shaving with the grain.
Shaving against the grain can create jagged edges that are more likely to grow sideways or backwards.
Another shaving tip for black men: Prep the skin before you shave.
Take a warm shower to soften the hairs, clean your skin and apply shave cream.
Don't forget to follow up with a soothing aftershave.
TAKE THE SKIN CARE QUIZ
Reduce Acne Scarring: Use Salicylic Acid
Acne scarring is a common complaint among people of color.
Your melanin-rich skin contains more reactive melanocytes (the skin cells that make pigment), which can be triggered by irritation and cause dark spots to appear on the skin.
The best way to prevent acne scarring is by stopping breakouts in their tracks.
To get a handle on your breakouts, look for acne products containing Salicylic Acid.
Salicylic Acid is a beta-hydroxy acid that helps remove excess oil from the pores to prevent additional breakouts.
Unlike other acne-fighting ingredients, Salicylic Acid is gentle on the skin and won't cause discoloration.
Black Men Skin Care Made Simple
The best skin care routine for black skin is one that you'll actually follow.
By choosing the right products and being consistent with your routine, you can put together an amazing regimen that keeps skin healthy and happy for the long haul.

References
Mahendraraj, Krishnaraj, et al. "Malignant Melanoma in African–Americans: A Population-Based Clinical Outcomes Study Involving 1106 African–American Patients from the Surveillance, Epidemiology, and End Result (SEER) Database (1988–2011)." Medicine, vol. 96, no. 15, Apr. 2017, p. e6258.
Ogunbiyi, Adebola. "Pseudofolliculitis barbae; current treatment options." Clinical, cosmetic and investigational dermatology vol. 12 241-247. 16 Apr. 2019.
---