Subscription
Shipping Address
Order Date

This subscription's skin care system will get replaced.

${ address.name }




${ address.products }

${ displaySubscriptionName(address) }




${ displayProducts(address) }

${ displayAddress(address) }
${ formatDate(address.scheduleDate) }

${ address.name ? address.name : displaySubscriptionName(address)}
${ address.products }
${ displayProducts(address) }
Shipping Address
${ displayAddress(address) }
Delivery Date
${ formatDate(address.scheduleDate) }
This subscription's skin care system will get replaced.
Skin Care for Men: How the Beauty Industry Is Changing
As our ideas of masculinity and beauty change, men are ushering in a new era that embraces self-care and healthy skin. Discover how the beauty industry is changing for men and which men's skin care products are on the rise.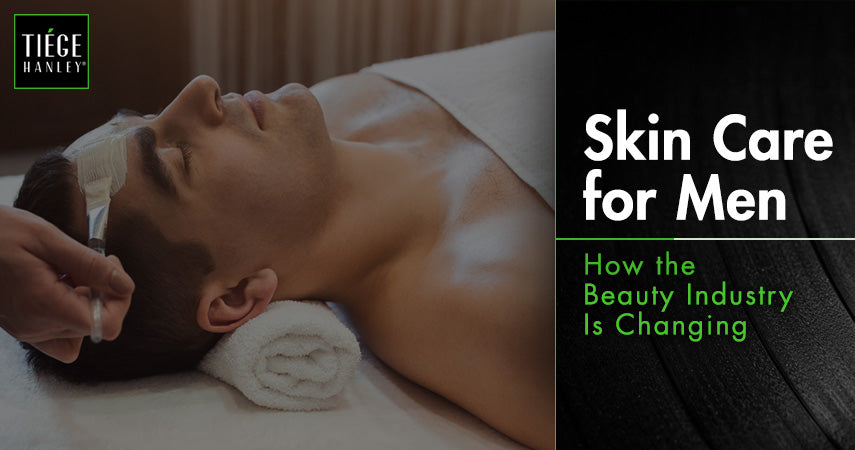 Anyone who has had their finger on the pulse of the beauty industry knows that it's undergone some big changes in the last few years, especially with men's skin care. In the last few years, demand for men's moisturizers, cleansers and anti-aging skin creams has skyrocketed, making formerly all-women skin care companies open their own skin care lines geared specifically for men. With men fueling the explosive growth in the beauty industry, we're seeing some interesting developments in the latest skin care products for men.
Here are several things you need to know about the beauty industry and its impact on men's skin care products:
Changing ideas of masculinity and South Korean influences have significantly impacted the beauty industry.

Acne creams, anti-aging serums and body washes made just for men are in high demand as men grow increasingly interested in their skin care regimens.

Finding the right balance between skin health and pressure to look a certain way will be critical for men going forward.
How Men Are Revolutionizing the Beauty Industry
Men have been turning the beauty industry on its head in recent years. According to Allied Market Research, the men's personal care market is expected to reach $166 billion globally by 2022.
What's behind the men's skin care revolution? Here are a few factors to consider:
1. Changing Definitions of Masculinity
Although it may seem as though concepts of masculinity only began changing in the last few years, it's been a slow process spanning decades, perhaps centuries.
Just in the last decade, moisturizing went from taboo to entirely acceptable in American culture. Our changing definitions of masculinity have sped up considerably, in part due to digital media and social networks making us reconsider traditional gender concepts.
2. Wider Knowledge of Skin Care
The digital age has been great for skin health. Today, men no longer need to seek a professional to get their skin care questions answered.
The Internet has made it easier to not only find the right products for our skin, but also to hold skin care companies accountable. In a digital age, there is nothing more crucial than transparency.
TRY MEN'S SKIN CARE
3. Influence from Korean Beauty Industry
The beauty industry in the West has been given a considerable boost from the Korean beauty industry. In South Korea, beauty brands have no problem wooing men who embrace skin care far more than the average American male.
Considered by many to be the most progressive beauty industry in the world, South Korea is beginning to rub off on the United States. Many skin care companies in the U.S. use cutting-edge ingredients from Korea in their products because they know that it's the beauty capital of the world.
Most notably, men in South Korea regularly wear makeup and have no shame in getting their hands on the latest beauty trends. Although America has come a long way, makeup for men is still generally considered taboo and skin care regimens leave a lot to be desired.
10 Men's Skin Care Products on the Rise
From acne solutions to anti-aging creams, men are snatching these skin care products off the shelves:
1. Men's Facial Cleanser
In the past, a guy's skin care regimen was more likely to involve using bar soap or splashing some water on his face, and nothing else. A savvier guy might steal his girlfriend's facial cleanser, not knowing that it was designed for a woman's unique skin care needs rather than a man's.
Today, we're glad to say that men's facial cleansers have gotten a serious upgrade. No longer must men choose between a bar of soap or their girlfriend's facial cleanser. They now have their choice of men's facial cleansers which are formulated specifically for a guy's skin.
2. Men's Exfoliating Scrub
Face scrubs for men aren't a common staple in most men's cabinets. Despite changing beauty standards, men still get flack for wanting smooth skin.
However, face scrubs are becoming more popular today as guys realize the vast benefits of regular exfoliation. Exfoliating twice per week helps slough off dead skin cells which can clog pores and cause acne breakouts.
Moreover, it's not always about achieving super smooth skin. Men who rock bushy beards also need to exfoliate regularly, or risk getting beard dandruff.
3. Men's Daily Moisturizer with SPF
Other than a facial cleanser, a daily moisturizer is perhaps one of the most common skin care products for men. With new reports indicating that men are at a higher risk of skin cancer, it makes sense that more guys are turning to moisturizers with SPF in them.
According to research presented at the 2018 NCRI Cancer Conference, melanoma rates in men are on the rise. It's not only pale-skinned men who are at risk, either. According to a 2017 study published in Medicine, African-Americans with melanoma statistically have a worse prognosis because they wait too long to see a doctor for suspicious moles (see claim: "Although melanoma is rare in African-Americans (AA), it is associated with a worse prognosis than in Caucasians.)
Today, men are learning from the mistakes of their fathers and grandfathers. In addition to being proactive about sun protection, they are stepping up their game when it comes to preventing premature wrinkles with a hydrating moisturizer with SPF.
4. Men's Nighttime Moisturizer
Gone are the days when guys would throw themselves into bed without first taking care of their skin. Today, smart men care far too much about their skin health to not take advantage of their nighttime skin care routine.
One of the rising trends we're seeing is men beginning to make smart use of their skin's nighttime repairing and rejuvenation process. A simple yet effective way they're doing this is by using a bedtime moisturizer formulated to maximize the skin's ability to heal and replenish itself.
Unlike daytime moisturizers, nighttime moisturizers contain potent, anti-aging ingredients such as Niacinamide (vitamin B3) and peptides. Niacinamide, also known as nicotinamide, is especially trendy in the skin care world for its proven skin health benefits.
According to a 2000 study published in the British Journal of Dermatology, Niacinamide was found to increase the biosynthesis of ceramides, which are key to keeping skin smooth, soft and hydrated (see claim: "Nicotinamide improved the permeability barrier by stimulating de novo synthesis of ceramides…")
Take the skin care quiz
5. Men's Body Wash/Body Scrub
Step aside, girly-scented body washes, there is a new body wash in town that's made just for men. You may be wondering, why are more men ditching their trusted bar of soap for a body wash?
First, it's time to admit that bar soaps can be extremely drying and irritating. Most bar soaps are designed to remove dirt and grime, which is why they often contain harsh ingredients such as sulfates, parabens and other bad chemicals.
Not to mention the artificial fragrances which are known to irritate the skin. Unlike bar soaps, body washes for men are designed with careful thought to the ingredients and can be formulated for all skin types.
To put it simply, body washes for men are less irritating, less messy in the shower and are more likely to protect your skin. The beauty industry has evolved from simple bar soaps to offering men body washes formulated just for their skin.
6. Men's Eye Cream
Women aren't the only ones who wake up with puffy, tired eyes and dark circles. For decades, men have struggled to conceal their baggy eyes while women applied eye creams and makeup to hide their tired appearances.
Jump to today and eye creams for men are now flying off the shelves. It's not surprising, given the enormous pressure and stress that a lot of men feel in their careers. If there are two things that are terrible for your skin, it's a consistent lack of sleep and stress.
Men's eye creams are designed to combat bags under the eyes, dark circles and wrinkles by boosting microcirculation around the eyes and tightening the skin to reduce the appearance of crow's feet. Some of the most ground-breaking ingredients in today's eye creams for men include Vitamin B3, Glycerin and Acetyl Hexapeptide-8, all of which can help tighten the skin and help offset the effects of your late nights.
7. Men's Acne Cream
There is a good reason why more men are reaching for acne creams to prevent breakouts. Numerous studies have indicated that acne is on the rise in both teenagers and adults, possibly due to the increasing levels of stress.
In a 2016 study published in Adolescent Health, Medicine and Therapeutics, researchers concede that the rising incidence of acne in teens could be due to a wide variety of factors, and not just one certain trigger (see claim: "…it is unknown whether this increase is a result of higher prevalence of the Western diet, earlier onset of puberty, genetic drift, or a byproduct of unknown environmental factors.")
Out of all the acne-fighting ingredients found in acne creams today, perhaps none is more commonly used than Salicylic Acid. A powerful, beta-hydroxy acid (BHA), Salicylic Acid is especially popular in men's acne creams because it's oil-soluble and can penetrate the thick layer of their skin.
8. Men's Firming Serum
While women have long been thought to be the ones to care most about their age and youthfulness, men are clearly feeling the pressure to appear ageless as well. Men want to appear young and full of vitality not only for their careers, but also for themselves.
Facial firming serums for men are growing in popularity due to their ability to blast a high concentration of potent anti-aging ingredients right where you need them most. For many guys, these trouble areas include wrinkles around the eyes and deep wrinkles in the forehead.
One of the most highly praised anti-aging ingredients in facial firming serums is Retinol, or Vitamin A. According to a 2007 study published in the Archives of Dermatology, topical Retinol (Vitamin A) effectively reduced wrinkles and fine lines by increasing collagen production (see claim: "…retinol treatment significantly increased glycosaminoglycan expression (P = .02 [n = 6]) and procollagen I immunostaining (P = .049 [n = 4]) compared with vehicle.")
9. Men's Lip Balm with SPF
With skin cancer a growing concern for men, lip balms with SPF are also in high demand. The skin on the lips is thinner compared to other parts of the body and can be sunburned just as easily, if not more so.
The bottom lip is most concerning because it sticks out farther than the top lip. According to a 2011 study published in Acta Otorhinolaryngolica Italica, lip cancer was most common in the lower lip and squamous cell carcinoma was the most frequent tumor related to the lips (see claim: "The most frequent tumor related to the lips is squamous cell carcinoma, with the lower lip more commonly involved than the upper lip.")
10. Men's Sunscreen Stick
Men are beginning to take sun protection more seriously, which is driving demand for men's sunscreen sticks. Considering the statistics about men's risk of skin cancer, this trend is definitely one to embrace.
Sunscreen sticks for men are one of many sun protection products that men are scooping up these days. Convenient, affordable and easy to apply, sunscreen sticks can deliver sun protection for days when avoiding the sun is impossible.
Whether you use a sunscreen stick, cream or lotion isn't nearly as important as your SPF, which should be at least 20 and applied every two hours. For the best protection, find a sunscreen stick that is water-resistant and offers broad-spectrum protection from UVA and UVB rays.
Final Thoughts
Men are spending more time and money on their daily grooming routines, not out of vanity but often out of necessity. Men today are often expected to be blemish-free as an adult, appear ageless for their careers and have radiant skin to resemble the men in magazines.
Needless to say, this is a lot of pressure. Fortunately, you don't need to see a pricey surgeon or dermatologist to achieve healthy, glowing skin.
In the last decade, the beauty industry has rapidly evolved to include skin care products for men. While companies such as Lancôme, Clinique, Kiehl's and L'Oreal have each come out with men's skin care lines, Tiege Hanley remains the industry leader in men's skin care by making high-quality skin care products affordable and accessible to everyday guys.
---
// © Copyright 2023 Tiege Hanley
Take The First Step To Start Looking & Feeling Better