Subscription
Shipping Address
Order Date

This subscription's skin care system will get replaced.

${ address.name }




${ address.products }

${ displaySubscriptionName(address) }




${ displayProducts(address) }

${ displayAddress(address) }
${ formatDate(address.scheduleDate) }

${ address.name ? address.name : displaySubscriptionName(address)}
${ address.products }
${ displayProducts(address) }
Shipping Address
${ displayAddress(address) }
Delivery Date
${ formatDate(address.scheduleDate) }
This subscription's skin care system will get replaced.
5 Reasons Why Your Sweat Might Smell Bad All of a Sudden
What's causing your sudden body odor? Discover five common reasons why your sweat suddenly smells bad and what you can do to combat it.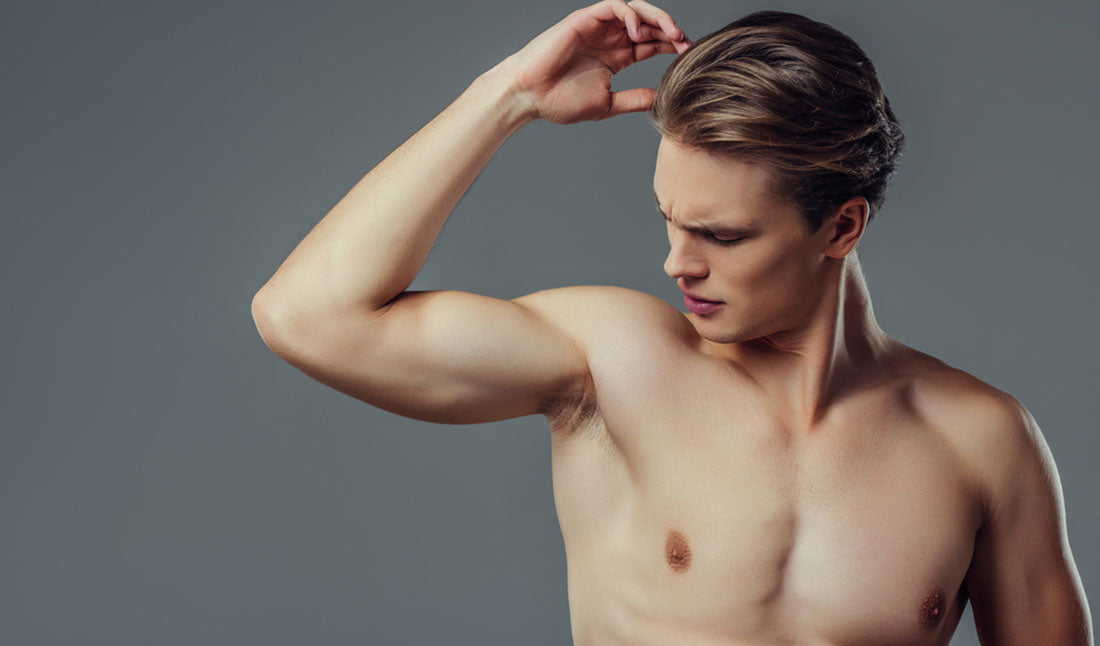 When you experience a sudden change in body odor (BO), it's easy to put all the blame on your sweat. However, sweat itself is odorless.
The unpleasant smell actually comes from bacteria breaking down proteins in your sweat. If you have an abundance of "bad bacteria" living on your skin, this can cause you to smell bad.
The real question, then, is this: Why do you suddenly have large colonies of bad bacteria feasting upon your sweat? Though it could be that you're simply sweating more from exercise, there are other sneaky causes of bad BO to consider.
Here are three things worth knowing about your sweat:
Eating spicy foods and red meat can change how you smell, and not for the better.
Sudden changes in body odor can also be caused by underlying medical conditions.
Stopping the use of antiperspirants can increase "bad bacteria" in your armpit microbiome.
What might be causing your awful BO? Below, we'll cover a few sneaky reasons why your sweat smells bad.
1. Diet
Changes in diet are often the cause of sudden changes in body odor. If you've been consuming more alcohol than normal or indulging in your favorite Thai restaurant lately, it's likely to blame for your bad BO.
Spicy foods and alcohol are notorious for changing the scent of body odor. Even your juicy steak can have an interesting effect on body odor.
In a study published in Chemical Senses, researchers separated guys into two groups: One that consumed red meat and another that ate a non-meat diet. After two weeks, women judged their body odor and found that the non-meat group smelled more pleasant and attractive than the red meat group (see claim: "…the odors of donors when on the non-meat diet was judged as significantly more attractive, more pleasant, and less intense.")
Bottom line: Everything in moderation, including your beloved red meat.
TRY MEN'S SKIN CARE
2. Stress
From getting a poor night's sleep to breaking out in stress pimples, stress can have all sorts of unfortunate effects on the body. If you've been under a lot of pressure at work or school lately, stress can influence how you smell—and not for the better.
Your body has two main types of sweat glands: apocrine and eccrine glands. When you feel stressed or anxious, your body activates the apocrine glands, which produces the more odorous sweat.
Though we know that trying to feel calm and relaxed is easier said than done, it may be key to smelling pleasant once again. Try doing stress-relieving activities such as taking a walk through nature or treating yourself to a men's facial.
3. Medical Conditions
A sudden change in body odor may be caused by certain medical conditions. For instance, hyperhidrosis is the medical term for excessive sweating and happens to be a very common (and frustrating) disorder.
Sudden BO can also be an indication of a serious, underlying medical condition. People with diabetes may notice that they smell worse, while bad BO can also point to liver and kidney problems.
After ruling out every other source of the stink, consider seeing your primary care physician. If you haven't yet scheduled your annual physical, this is a good opportunity to bring it up to your doctor.
4. Clothing
Did you recently get a new wardrobe? If your new clothes are tight-fitting or made from non-breathable fabrics, it could be trapping your sweat and making you smell worse.
While it may not be cheap, buying new clothes of the breathable variety can go a long way in improving your natural scent. The next time you go shopping, be sure to check your clothing tag and look for fabrics such as cotton, linen and merino wool.
Take the skin care quiz
5. Antiperspirant
If you went on a trip and forgot your antiperspirant at home, don't be surprised if your armpits smell unusually bad. There is a growing body of research to suggest that stopping the use of antiperspirants after using them consistently for years may lead to worse body odor.
In a 2016 study published in PeerJ, researchers noted that ceasing use of antiperspirants resulted in an increase of "smelly bacteria" in the human armpit microbiome, more so than deodorant (see claim: "long-term antiperspirant users tended to have more bacterial OTUs in their armpits […multiple days after ceasing product use] than did long-term deodorant users [after disuse of product].")
If you're worried about antiperspirants making you smell worse, you can try switching to a men's deodorant to help you combat the stink. Although deodorants and antiperspirants have both received a decent amount of criticism in recent years, research has shown that both are safe to use long-term.
Final Thoughts
Maintaining good hygiene and a good skin care routine is crucial for all guys. Even the most diligent of men deal with unpleasant body odor at some point in their lives, though.  If you've tried everything you can think of to deal with the bad smell, don't hesitate to see a doctor. They can walk you through available treatments to help you combat the stink.
---