Subscription
Shipping Address
Order Date

This subscription's skin care system will get replaced.

${ address.name }




${ address.products }

${ displaySubscriptionName(address) }




${ displayProducts(address) }

${ displayAddress(address) }
${ formatDate(address.scheduleDate) }

${ address.name ? address.name : displaySubscriptionName(address)}
${ address.products }
${ displayProducts(address) }
Shipping Address
${ displayAddress(address) }
Delivery Date
${ formatDate(address.scheduleDate) }
This subscription's skin care system will get replaced.
What Ingredients Should You Look For in a Face Wash for Men?
Looking for the best facial cleanser for men? This brief guide will help you to determine what ingredients to look for and which ones are best to avoid.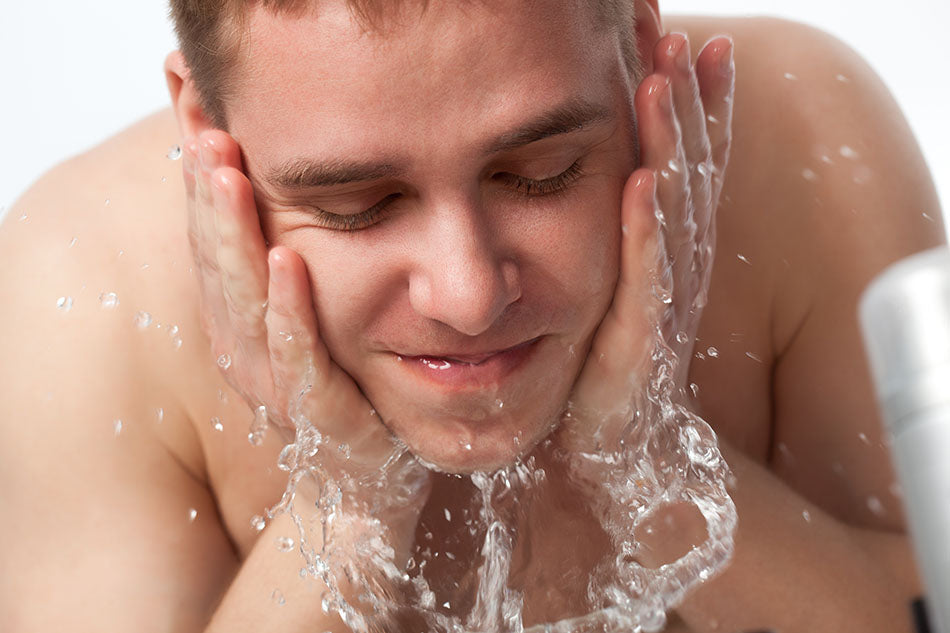 You won't need to check with a dermatologist or a chemist to know what ingredients are right for you in a men's facial cleanser. Being aware of your skin type will help you to know what you should be looking for in the best facial cleanser for guys. Overall, however, it's safe to conclude you'll be better off if your face wash is free of harsh chemicals or artificial fragrances.
Matching the Best Product Ingredients to Your Skin Type
A man's skin is different from a woman's. It's about 25 percent thicker and has larger pores. Your ability to grow a beard is also an obvious distinction. Forget about borrowing a facial cleanser from your girlfriend or wife. It could do more harm than good. Stick with products that are specially formulated for a guy's skin, and look for ingredients that are right for your skin type.
Your facial skin is different from your body skin. Your face contains a greater number of blood vessels and there are fewer sweat glands than found on other parts of your body. Your facial skin is also thinner and more delicate, so it requires a much less aggressive approach to cleaning.
Body washes and bar soaps clean differently, and more aggressively, than facial cleansers do. The detergents in body soaps can be harsh on facial skin and cause harm. Stick with products that are designed for the specific needs of a guy's facial skin.
The Basic Skin Types
Your facial skin can fall into one of the five following skin types, each with its own needs and characteristics:
Dry skin—can itch and feel rough and flakey
Oily skin—can feel greasy and appear shiny
Combination skin—can be oily in some spots and dry in others
Sensitive skin—can burn or sting when using harsh skin care products
Normal skin—appears clear and isn't overly sensitive
The best thing you can do for your specific type of facial skin is to give it what it needs to be healthy and look good.
Ingredients That Are Best for Dry and Flaky Skin
Dry skin can result from a wide range of causes, including heritage, climate, work and diet. It can be irritating and uncomfortable with the itchiness and flaking that usually comes with it, not to mention how it can seriously cut down your touchable factor. Dry skin is trying to get your attention, letting you know it needs moisture
If you have dry, itchy and flaky facial skin, the moisturizer you need should be specially formulated for a guy's facial skin. One of the ingredients to look for is Lavandula Oil, which comes from the lavender plant. Known for its healing effects, this ingredient does much more for dry facial skin than just hydrating it and reducing redness. Lavandula Oil also helps relax and stimulate your skin while it fights off Cutibacterium acnes, the bacteria strain that causes acne and pimples.
TRY MEN'S SKIN CARE
Exfoliant and Emollient Ingredients Can Help Combat the Scaly Look of Dry Skin
Dry skin can also benefit from a product containing a gentle and effective exfoliant, such as Calendula Oil. The flakiness that comes with dry skin builds up and can cause your skin to look scaly, which doesn't do much to help you look your best. An exfoliant helps remove built-up dead skin cells and lets fresh new cells come up to take their place.
You can help combat dry facial skin from within by increasing the water content of your skin cells. The ingredient that will come to the rescue is Allantoin, which acts as an emollient: a fancy term for a moisturizer. Extracted from the comfrey plant, Allantoin increases the moisture content inside your skin cells and speeds up the rate at which you produce new fresh and healthy cells. Allantoin goes to work on your skin cells' extracellular matrix (ECM), another fancy term that in this case describes the surrounding network of molecules that provides your cells with biochemical and structural support.
Get Rid of the Itch-Factor
You'll appreciate an anti-itch ingredient if you have dry skin. If your aim is to combat discomfort, be on the look-out for Menthyl Lactate in your facial cleanser. Known for its cooling and soothing properties, Menthyl Lactate can help provide relief from the irritation and itching that comes with dry skin, but you should be sure that your skin care product isn't overloaded with it.
The Game Plan When Oily Skin or Combination Skin Is the Issue
The causes of oily and greasy skin are not far removed from those that cause dry skin. You can, in fact, have both oily and dry skin issues at the same time (combination skin). Inflammation and lack of hydration contribute to both skin problems. Because the causes are related, the best approach is a well-balanced one. You'll do well to remove the oil and dirt from your skin, but without taking away what your skin needs or causing it to produce too much oil.  
When looking for a balanced product for your facial skin, check for those ingredients that will combat oiliness and dryness at the same time. Some of the best ingredients are Vitamin B3 (Niacinamide) for improving skin elasticity, Eucalyptus Oil for a fresh and healthy appearance, and Calendula Oil for its anti-inflammatory properties.
Acne Can Develop With Either Oily or Dry Skin Conditions
Acne affects close to 90 percent of adolescents and young adults. It can also continue into an individual's 30s and 40s. It won't kill anybody, but acne can lower your self-confidence and put a serious dent in your social life. If you have dry, oily or combination skin, it can be in your best interests to be sure your facial cleanser contains an anti-acne ingredient such as Lavandula Oil—especially if you're under the age of 20.
Take the skin care quiz
Be Good to Your Sensitive Skin
Sensitive facial skin doesn't appreciate harsh detergents, bar soaps or body washes. Stick to products with natural ingredients and no artificial fragrances. If your skin is sensitive, Salicylic Acid in a 1.6 percent concentration will act as an effective exfoliant and remove dry dead skin cells while also helping to prevent pimples from forming if you have oily skin.
Normal Skin Needs a Boost Also
Just because you may have normal facial skin doesn't mean you can attack it with bar soap or body wash detergents every day. Your face suffers enough abuse from shaving, facial hair and the normal dirt and grime that you can run into each day. Always stick to a product with ingredients designed for a guy's facial skin.  
The Best Overall Approach
No matter what your skin type is, moisture loss will take its toll. Look for a men's facial cleanser that's been specially formulated to cover all types of skin types. A well-balanced product is key to maintaining healthy skin and looking your best.
We make it easy for you. You can't go wrong when you select a men's facial product that's designed for all skin types, ages and ethnicities. Our WASH facial cleanser contains no harsh chemicals or artificial fragrances, but it does contain all the right stuff for keeping your face clean, healthy and vibrant. You'll find Lavandula Oil, Willow Bark Extract, Cucumber Extract and Glycerin among the ingredients, and you'll appreciate how uncomplicated using the best facial cleanser for men can be.  
---
// © Copyright 2023 Tiege Hanley