Subscription
Shipping Address
Order Date

This subscription's skin care system will get replaced.

${ address.name }




${ address.products }

${ displaySubscriptionName(address) }




${ displayProducts(address) }

${ displayAddress(address) }
${ formatDate(address.scheduleDate) }

${ address.name ? address.name : displaySubscriptionName(address)}
${ address.products }
${ displayProducts(address) }
Shipping Address
${ displayAddress(address) }
Delivery Date
${ formatDate(address.scheduleDate) }
This subscription's skin care system will get replaced.
What Makes Our Cleanser for Men #1
Want to enhance your handsome? Tiege Hanley explains why our daily facial cleanser for men is the top choice for modern men everywhere.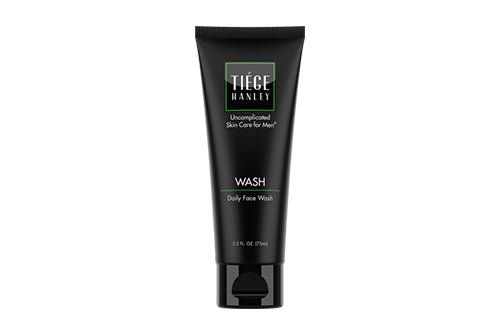 When it comes to shopping for a men's facial cleanser, men have a wide variety of choices. But then comes the hard part: choosing the right facial cleanser for their skin.
While we can't make you choose our facial cleanser, we can list a few reasons why it's the ultimate cleanser for modern men everywhere.
What makes our cleanser so unique? Here are three of the things you need to know:
The Tiege Hanley WASH Facial Cleanser is formulated for men of all skin types and ethnicities.
Our proprietary blend is designed to remove impurities while simultaneously reducing redness and inflammation. We use NO artificial fragrances or other harsh chemicals.
Our cleanser is simple to use and works into your existing skin care routine.
TRY MEN'S SKIN CARE
Powerful, Cutting Edge Ingredients
Not all skin care ingredients are made equally. While other companies may use harsh cosmetic chemicals in their facial cleansers, Tiege Hanley's daily facial wash uses scientifically-proven ingredients that are safe for your skin.
Our daily face wash includes potent ingredients that work overtime to keep skin healthy and vibrant. Here are just a few of our top-notch skin care ingredients that boost your handsome:
Willow (White Willow) Bark Extract: Willow Bark Extract is widely known for its ability to treat inflammation and redness. Salicin, the main component in willow bark extract, is also known for its powerful anti-aging properties (see claim: "…it can be concluded that salicin has the ability to reduce the visible signs of skin aging when applied topically.")
Cucumber Extract: Tiege Hanley's facial cleanser contains Cucumber Extract which can soothe dehydrated skin and help control sebum (oil) production.
Glycerin: Moisture loss is the enemy of every man's skin, even those with oily skin types. Glycerin is a powerful humectant which effectively traps in moisture to restore and protect the skin's surface barrier (see claim: "…Ten days treatment of normal skin with 20% glycerin significantly increased skin corneometer values, indicating an increased hydration.")
Lavandula Oil: Widely known for its antioxidant properties, Lavandula Oil promotes wound healing and antimicrobial activities, which makes it an extremely beneficial ingredient for acne sufferers (see claim: "…many therapeutic properties and biological activities, such as anticonvulsant, anxiolytic, antioxidant, anti-inflammatory, and antimicrobial activities.")
Made for All Skin Types
One of the biggest skin care challenges for men today is finding products that work for their skin type. With our specially formulated facial cleanser, we've taken all the guesswork out of it by designing it for every skin type.
How did we do it? Our superstar chemist carefully chose skin care ingredients based on the latest research and cutting-edge technologies.
The result is a men's daily face wash that is safe and effective for everyone, whether they have oily, normal, dry, sensitive or a combination skin type.
Take the skin care quiz
Simple to Use
It's safe to say that most men don't want to spend hours thinking about their skin care routine. Tiege Hanley's facial cleanser is ridiculously uncomplicated and can fit into your existing regimen, including your shaving routine.
All it takes is a daily wash twice per day to remove the dirt and grime from your face. Our face wash contains no strange scents, which allows you to easily add colognes and aftershave without combining scents.
Running Low? Tiege Has You Covered
We know how much guys don't like shopping for skin care products. Wandering down the beauty products aisle after a long day of work is the last thing most of us want to be doing.
That's why we've made it super simple to replenish your face wash when you're running low. In fact, we even allow you to customize your subscription because we know that men use our products at their own unique pace.
Customizing your subscription is easy and you aren't bound by any contract. Unlike other skin care companies, we don't believe in trapping you into a subscription you don't want!
Experience Tiege Hanley for Yourself!
A daily facial wash is the cornerstone of every man's skin care routine. Why settle for a generic cleanser when you could use one specifically formulated for your skin?
Tiege Hanley's daily facial wash for men is loaded with nourishing antioxidants and vitamins to cleanse and refresh your face. Best of all, it's designed to penetrate a man's skin to deliver the best results possible.
Ready to take your skin to the next level? Make Tiege Hanley part of your daily routine and see the difference for yourself!
---
// © Copyright 2023 Tiege Hanley