Subscription
Shipping Address
Order Date

This subscription's skin care system will get replaced.

${ address.name }




${ address.products }

${ displaySubscriptionName(address) }




${ displayProducts(address) }

${ displayAddress(address) }
${ formatDate(address.scheduleDate) }

${ address.name ? address.name : displaySubscriptionName(address)}
${ address.products }
${ displayProducts(address) }
Shipping Address
${ displayAddress(address) }
Delivery Date
${ formatDate(address.scheduleDate) }
This subscription's skin care system will get replaced.
Best Groomsmen Gift Ideas of 2019
Need an epic gift idea that each of your groomsmen will love? Stop by for some of the best groomsmen gift ideas of 2019.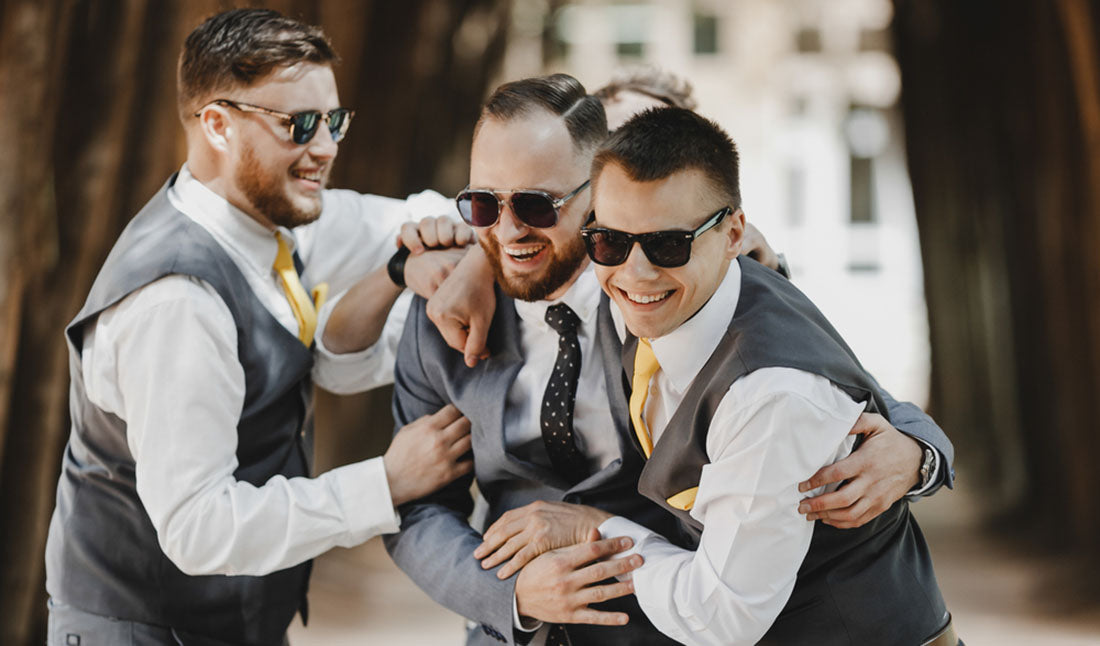 Choosing an epic gift for your groomsmen can be surprisingly difficult. As much as you'd like to get each of your groomsmen a thoughtful and personalized gift, this is no easy task when you're in the midst of planning a wedding.
The last thing you want to do is give your crew a stereotypical gift that will sit untouched in their closet. Remember, these are the guys who have been with you through thick and thin. They deserve so much more than a generic flask or a boring tie.
If you're stumped for groomsmen gift ideas for your upcoming nuptials, you've come to the right place. We've done all the research for you and come up with the best groomsmen gift ideas for 2019 and beyond.
1. Personalized Whiskey Stone Box
If your guys have been in several weddings before, we can almost guarantee that they've been given a flask as a groomsman gift. Skip the stereotypical flask and consider giving them an engraved whiskey stone set instead.
There is something about getting an engraved wooden box with cool items inside that appeals to guys everywhere. It's like opening up the toy wooden box you had as a kid, only this box is much fancier and has "adult" things in it.
Look for a whiskey kit that comes with whiskey stones, glasses and a taster or two. This way, your guys have everything they need to toast to life-long friendship and good company.
GOT WRINKLES?
2. A Cool Pair of Sunnies
Having an outdoor wedding? Get your guys a cool pair of sunglasses that they can wear to your nuptials for a cohesive, wedding party look.
If you're having trouble choosing the perfect style, consider opting for a classic pair of wayfarers. Stylish and universally flattering for every face shape, your guys will look incredible in them and will get plenty of use out of their sunglasses after you say, "I do."
3. Skin Care Subscription
If your groomsmen are like most guys, they could probably benefit from a little more self-care in their lives. Why not give them the gift of better-looking skin?
We're not talking about pushing them into a beauty salon for a men's facial (unless, of course, you think they'd be into that). Rather, we're talking about a simple yet effective skin care subscription.
Think about it–a men's skin care subscription is the gift that keeps on giving. Each month, your crew will get the basic skin care products they need to achieve healthy, handsome skin. Not only will your groomsmen get a confidence boost, they'll also look fantastic on the day of your wedding—a win-win for everyone.
4. Statement-Making Bowtie
Want to make your groomsmen stand out at your wedding? Skip the boring tie for your groomsmen and get them a handcrafted bowtie instead.
These stylish, feather bowties by Brackish Bowties are guaranteed to make a statement on your big day and will have everyone asking where you got them. Just remember to keep the rest of your groomsmen's look on the simple side to avoid overwhelming their attire with too many accessories.
Take the skin care quiz
5. A Professional Shave
If your crew favors experiences over tangible gifts, consider treating them all to a professional shave. A time-honored and luxurious ritual, professional shaves are something that every guy should experience at least once in their lifetime.
Getting a straight razor shave by a professional barber can be a relaxing experience. Just make sure that you do your research in advance to find a reputable establishment with an experienced barber.
Also, be sure to avoid scheduling your shave too close to your wedding. There is always a chance that your skin will react poorly and break out in razor bumps.
6. Weekend Dopp Kit
If you're planning a bachelor party, get your guys ready to celebrate with a personalized leather Dopp kit complete with pre- and post-party essentials. For instance, you can include must-have grooming items such as a face wash, exfoliating scrub, SPF moisturizer and even a few beard care items for the bearded guys in your party.
Dopp kits are perfect for any budget and are super easy to personalize. On top of engraving your Dopp kit with your groomsmen's initials, you can also throw in a pair of personalized socks that suit their unique personality.
Wrapping Up
Remember: The best groomsman gift is one that is just as thoughtful as it is useful. With these practical and stylish groomsmen gift ideas, you're sure to impress your entire crew without going broke in the process.
---
// © Copyright 2023 Tiege Hanley