Subscription
Shipping Address
Order Date

This subscription's skin care system will get replaced.

${ address.name }




${ address.products }

${ displaySubscriptionName(address) }




${ displayProducts(address) }

${ displayAddress(address) }
${ formatDate(address.scheduleDate) }

${ address.name ? address.name : displaySubscriptionName(address)}
${ address.products }
${ displayProducts(address) }
Shipping Address
${ displayAddress(address) }
Delivery Date
${ formatDate(address.scheduleDate) }
This subscription's skin care system will get replaced.
How to Prevent Acne: Simple Steps Anyone Can Follow
While there may not be a cure for acne, there are plenty of science-backed ways to prevent acne breakouts. Let us walk you through these simple steps.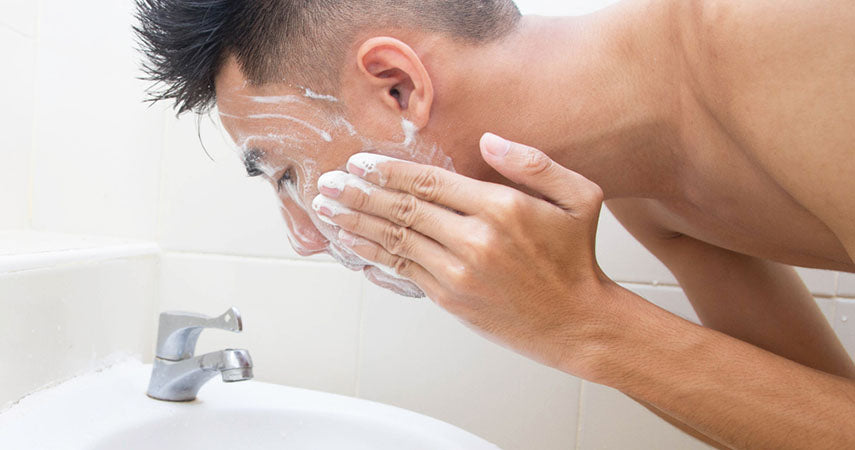 Struggling with acne blemishes can take a huge toll on your self-esteem. Wouldn't it be nice if there was a simple, effective way to eliminate your acne?
Unfortunately, banishing acne isn't always so simple. We each have different skin types and physiological differences that can influence how often we break out.
While there isn't one foolproof way to get rid acne, there are steps you can take to help prevent breakouts.
To put the brakes on pimples, here are several things you need to know:
A regular skin care system is essential for maintaining healthy, blemish-free skin.
Following an appropriate diet and getting enough sleep can help prevent breakouts.
A powerful acne treatment system formulated for your skin can diminish breakouts quickly.
Step #1: Wash and Moisturize Your Face Twice Daily
Contrary to popular belief, acne isn't directly caused by being dirty. However, pimples can appear when you neglect washing and moisturizing your face.
Use a facial cleanser for men to wash your face twice a day—once in the morning and once at night. This will remove impurities from the skin and prevent acne-causing bacteria from accumulating.
After each wash, follow up with a moisturizer. While this might seem counterintuitive to fighting acne, hydrating your skin can actually help keep pimples at bay.
When your skin becomes too dry, your skin's oil glands can kick into overdrive and overcompensate for the loss of oil. Too much oil can plug the pores of your skin, resulting in a breakout.
GOT ACNE?
Step #2: Exfoliate Twice a Week
Twice weekly, use a gentle face scrub to exfoliate your skin. Regular exfoliation removes the dead skin cells from the topmost layer of the skin, allowing your skin care ingredients to penetrate deeper into your skin.
Due to the differences in men's and woman's skin, exfoliation is especially important for men. According to a 2018 study published in the International Journal of Women's Dermatology, men have a thicker epidermis than women and thus require a different approach to their skin care (see claim: "The studies show that the skin parameters of…thickness are generally higher in men.")
Just remember to avoid overdoing it on the face scrub. Be careful not to scrub too hard or too often. Otherwise, you risk irritating the skin and causing additional acne breakouts.
Step #3: Use an Acne Cream with Salicylic Acid
When it comes to stopping breakouts in their tracks, few ingredients are more effective than Salicylic Acid. Produced from the bark of a willow tree, Salicylic Acid is a natural exfoliant that helps prevent pimples.
According to a 1992 study published in Clinical Therapeutics, Salicylic Acid is far gentler on skin compared to Benzoyl Peroxide while being just as effective (see claim: "Comparative studies of salicylic acid have shown it to be superior to benzoyl peroxide in reducing the total number of acne lesions.")
The best way to utilize Salicylic Acid is with an acne cream containing the acne-fighting ingredient. Unlike acne cleansers, acne creams containing Salicylic Acid keep the active ingredient on your face long enough for it to work.
Step #4: Improve Your Sleeping Habits
One of the best things you can do to keep your skin blemish-free is getting enough sleep. Although scientists aren't certain why, there is evidence that links acne to lack of sleep.
Put away all digital screens at night well before you go to bed. According to a 2015 study published in Proceedings of the National Academy of Sciences of the United States of America, artificial light exposure was found to suppress melatonin and alter circadian phases which control sleep (see claim: "…evening exposure to an LE-eBook phase-delays the circadian clock, acutely suppresses melatonin…")
Take the skin care quiz
Eat a Healthy Diet
Diet has been linked to skin health numerous times, although the scientific community is still divided on the matter. Currently, there is substantial evidence to suggest that eating a low-glycemic diet can benefit acne patients.
According to a 2018 study published in the Journal of the Academy of Nutrition and Dietetics, researchers found that a low-glycemic index (GI) and low-glycemic load (GL) diet resulted in decreased insulin-like growth factor, a known factor in acne pathogenesis (see claim: "…a low GI and GL diet decreased IGF-1 concentrations, a well-established factor in acne pathogenesis.")
Following a specific acne diet featuring foods with low-glycemic loads can potentially improve your acne blemishes. However, diet isn't always a cure-all, so you may want to combine your efforts with an acne treatment system.
A Simple Way to Fight Acne
While there is no known cure for acne, there are plenty of science-backed solutions that have been shown to help prevent and treat acne. Just keep in mind that we all have different skin types and unique skin care needs, which can make finding the perfect acne solution a challenge.
If you're searching for a new acne treatment system, give Tiege Hanley a try and let us know what you think!
---