Subscription
Shipping Address
Order Date

This subscription's skin care system will get replaced.

${ address.name }




${ address.products }

${ displaySubscriptionName(address) }




${ displayProducts(address) }

${ displayAddress(address) }
${ formatDate(address.scheduleDate) }

${ address.name ? address.name : displaySubscriptionName(address)}
${ address.products }
${ displayProducts(address) }
Shipping Address
${ displayAddress(address) }
Delivery Date
${ formatDate(address.scheduleDate) }
This subscription's skin care system will get replaced.
How to Prevent Razor Burn
Tired of redness and burning after you shave? Learn how to prevent razor burn with this foolproof shave routine.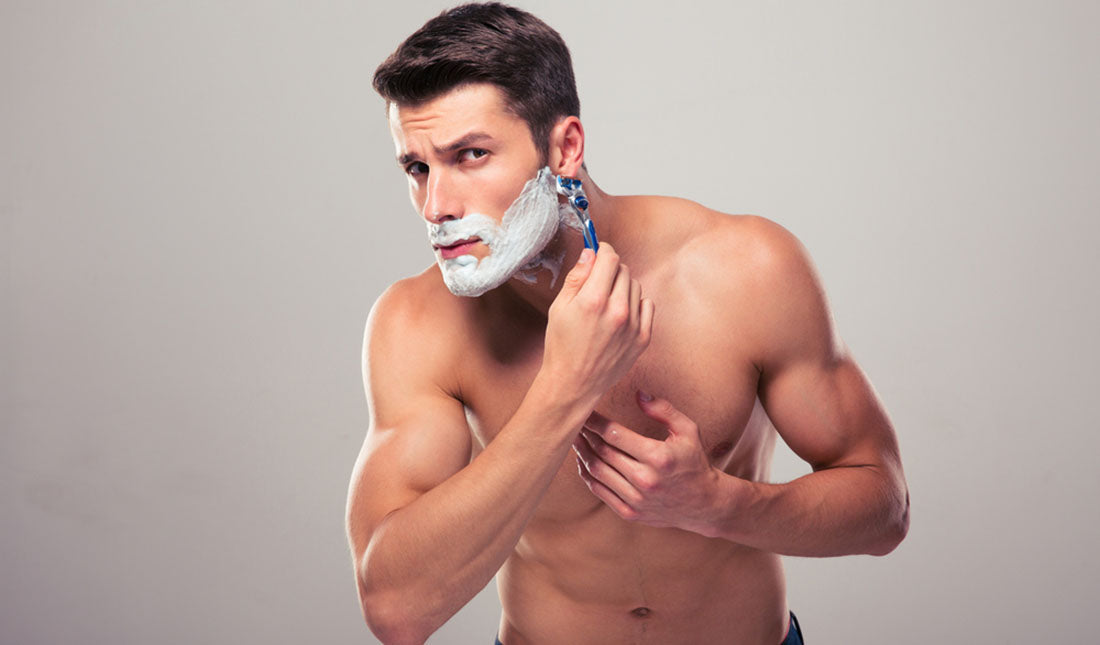 We've all been there before.
You're going through your normal shave routine.
You think you're doing a stellar job of it, until you start to feel it: the telltale burning and stinging of razor burn.
Hello, redness my old friend…
Razor burn is the worst, but the good news is that you don't need to live with it.
With the right products and a few changes to your routine, you can get that clear, baby-smooth shave you've always wanted.
Here are three things you should know about to prevent razor burn:
Prepping your skin properly is critical to achieving a pain-free shave.
Swapping a multiblade razor for a double-edge safety razor can help reduce skin irritation.
Finishing your shave routine with aftershave and moisturizer will soothe irritated skin.
If you're tired of the red bumps and painful burning, this guide is for you.
Here's how to prevent razor burn every time.
1. Start with a Warm Shower
If you've ever treated yourself to a professional shave, then you know that hot towels are part of the package.
Why do barbers use them?
In addition to helping you relax (jumpy people are generally less fun to shave), hot towels are used to soften the facial hair.
This allows the razor to glide more easily across the skin.
While you could give yourself a hot towel treatment at home, most guys find it easier to take a warm shower.
The steam from your shower will help soften your facial hair and achieve the same result.
2. Add a Face Scrub to Your Routine
If you're not already using a face scrub twice weekly, go ahead and add it to your skin care regimen ASAP.
Exfoliating your skin will help remove dirt, excess oil and dead skin cells that can clog your razor and create friction.
The dead skin on your face can also dull your complexion.
By using a face scrub twice weekly, you can reduce shave irritation and get clearer, brighter skin.
TRY MEN'S SKIN CARE
Exfoliating before shaving is especially important for people of color.
According to a 2010 study published in Actas Dermosifiliograficas, pseudofolliculitis barbae (razor bumps) is more common in African American men (see claim: "…affects up to 1 of every 5 caucasian individuals and that it is much more common in black persons.")
Just be careful to avoid over-scrubbing your skin or you could end up with dry, flaky skin on your face.
3. Apply Pre-Shave Oil
Once you're out of the shower, pat your skin dry and apply a pre-shave oil while your pores are still open.
Pre-shave oil will keep your hair soft while nourishing your skin and preparing it for the blade.
Pre-shave oils often contain castor oil, a plant-based oil that is rich in monosaturated fatty acids.
This type of fat can help your skin retain moisture and promote hydration.
But perhaps more importantly, pre-shave oil acts as a lubricant to help your blade glide across your skin.
You can use pre-shave on its own or apply a quality shave cream over your pre-shave oil for a more comfortable shave.
4. Rethink Your Blade
More blades aren't necessarily better, regardless of what multiblade razor companies may tell you.
If you're struggling with shave irritation, switch your blade for a double-edged (DE) safety razor.
With its metal handle and simple, two-sided blade, the DE safety razor looks old school—because it is old school.
But the vintage, two-sided blade is your ultimate secret to achieving a smooth, pain-free shave.
There are now plenty of forums dedicated to using a DE safety razor.
One of the most important rules of using a DE safety razor: don't apply pressure.
According to a 2016 study published in the International Journal of Cosmetic Science, increased blade pressure can increase the likelihood of shaving-induced irritation (see claim: "…increased pressure and multiple stroke shaving, which increase the probability and extent of shaving-induced skin irritation.")
Instead, you should allow the blade to glide across the skin.
Remember to keep your blade sharp!
TAKE THE SKIN CARE QUIZ
5. Shave with the Grain
More often than not, guys who swear they've tried everything to prevent razor burn are shaving against the grain—not with it.
It's true that shaving against the natural direction of your hair growth can result in a smoother shave.
But usually, this smooth result is at the cost of red, irritated skin.
If you're still at a loss for how to prevent razor burn, try shaving with the grain instead.
It will be much less painful and irritating to your skin.
6. Calm Your Skin
After you finish shaving, rinse off with cold water.
Cold water is soothing to the skin and will help calm inflammation.
Then, finish up by applying a soothing aftershave to your face.
Aftershave is particularly beneficial for guys with sensitive skin because it can help reduce shave irritation.
Give your aftershave a few minutes to sink into your skin before applying your daily moisturizer.
Goodbye, Razor Burn
And that's how to prevent razor burn and achieve a smooth, pain-free shave.
Remember to keep your blades clean and sharp.
Stick with your new routine, and better shaves will be yours.

References
Ribera, M et al. "Pseudofoliculitis de la barba" [Pseudofolliculitis barbae]. Actas dermo-sifiliograficas vol. 101,9 (2010): 749-57.
Maurer, M et al. "The male beard hair and facial skin - challenges for shaving." International journal of cosmetic science vol. 38 Suppl 1 (2016): 3-9.
---