Subscription
Shipping Address
Order Date

This subscription's skin care system will get replaced.

${ address.name }




${ address.products }

${ displaySubscriptionName(address) }




${ displayProducts(address) }

${ displayAddress(address) }
${ formatDate(address.scheduleDate) }

${ address.name ? address.name : displaySubscriptionName(address)}
${ address.products }
${ displayProducts(address) }
Shipping Address
${ displayAddress(address) }
Delivery Date
${ formatDate(address.scheduleDate) }
This subscription's skin care system will get replaced.
How to Unclog Pores: An Easy-to-Follow Guide
Can't figure out how to unclog your pesky pores? Find out how to unclog pores and prevent breakouts before they happen.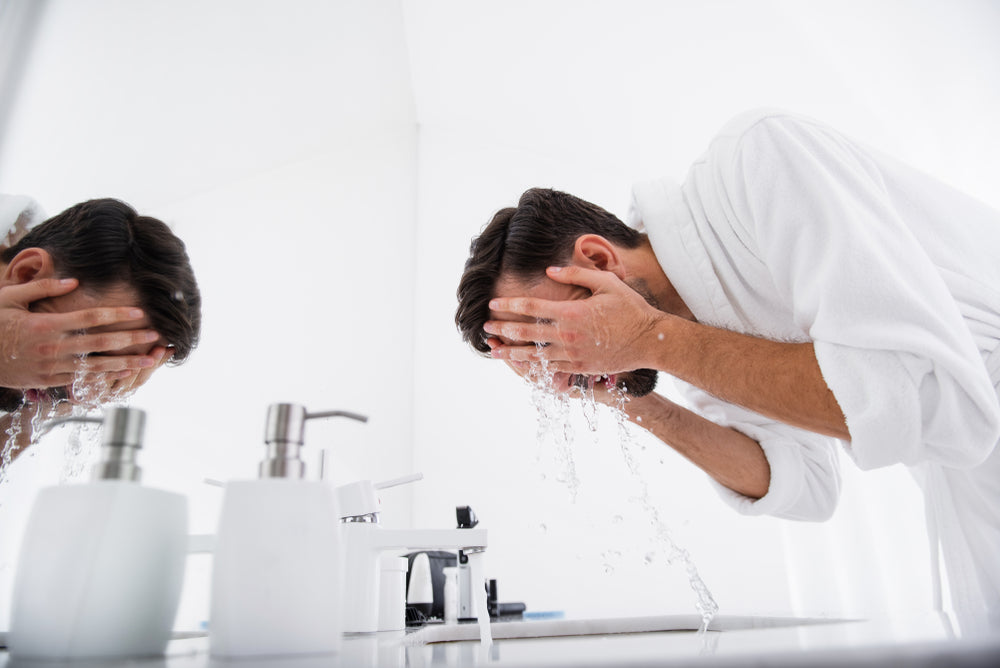 It's not just women who care about the size of their pores. Guys generally have bigger pores than women do and can feel self-conscious about them as well.
Enlarged pores are especially common in guys because they have oilier skin compared to women. While this may sound frustrating, it does come with a few perks—namely, keeping our skin lubricated, healthy and youthful well into our old age.
The problem is when pores become enlarged and clogged with oil and dead skin cells. This not only increases their appearance, it can also lead to acne breakouts. So, how can you fix this all-too common problem?
Here are several things to know about how to unclog your pores for amazing skin:
You don't need to spend a fortune to unclog pores and achieve a blemish-free complexion.
The best skin care ingredients to unclog your pores are beta-hydroxy acids such as Salicylic Acid.
By following a regular skin care regimen, you can unclog pores and prevent future breakouts.
CONTROL EYE BAGS
Step #1: Wash Your Face Twice Daily
First, get on a regular skin care routine that involves washing your face twice daily—once in the morning and once at night. Each time you wash, be sure to use warm water! Using warm water will open your pores without drying out your skin.
Also, make sure that you're using a gentle facial cleanser to cleanse your skin of oil, dirt and debris. Bar soap is too harsh on your skin and can strip the skin's natural moisture.
Step #2: Exfoliate Regularly
Exfoliation is an essential step in every guy's skin care routine. Physical exfoliators like the Tiege Hanley Exfoliating Scrub work by removing dead skin cells from the outermost layer of the skin, revealing healthy skin underneath.
Using a facial scrub twice per week can help reduce the visibility of your pores by decreasing the buildup of oil and dead skin cells that get trapped in the pores of the skin. However, keep in mind that some exfoliating scrubs can cause skin irritation if they're used too often.
This is why it's incredibly important for guys with sensitive skin to find an exfoliating scrub that contains no harsh ingredients (e.g., fragrances or dyes). Instead, look for soothing ingredients such as Cucumber Extract. According to a 2013 study published in Fitoterapia, the phytochemicals in cucumber can reduce redness and swelling to help soothe irritated skin (see claim: "…gives a soothing effect against skin irritations and reduces swelling.")
Step #3: Use Salicylic Acid
When it comes to unclogging your pores, beta-hydroxy acids (BHAs) are your secret acne-fighting weapon. Salicylic Acid, a powerful BHA, has shown to be a powerful exfoliator that can unclog pores and promote cell turnover for glowing and revitalized skin.
According to an early study published in The British Journal of Dermatology, Salicylic Acid was noted for its ability to penetrate deep into the outermost layer of the skin and increase the shedding of dead skin cells (see claim: "…demonstrating that salicylic acid enhances the shedding of corneocytes…")
One of the key secrets to Salicylic Acid's impressive acne-fighting properties is that it's oil-soluble. This means that Salicylic Acid can penetrate through the skin's oily surface to clean out pores and promote cell regeneration.
When using Salicylic Acid, look for it in a high-quality acne cream, not a facial cleanser! Salicylic Acid in a facial cleanser isn't as effective because you're washing off the active ingredient.
Take the skin care quiz
Step #4: Incorporate Retinol into Your Routine
Retinol, or Vitamin A, is a well-known ingredient in many anti-aging products. While it's mostly known for putting the kibosh on wrinkles and fine lines, it's also gaining steam as an effective acne treatment.
According to a 2008 review published in the American Journal of Clinical Dermatology, some topical retinoids have anti-inflammatory effects and can reduce enlarged pores (see claim: "Topical retinoids…reduce microcomedone formation and exert anti-inflammatory effects.") Furthermore, they're considered a safe and effective treatment for mild to moderate acne, causing only mild skin irritation in those with sensitive skin.
If you're worried about the side effects, stick to an over-the-counter retinol product formulated for sensitive skin. In addition to unclogging your pores, a retinol product can also provide beneficial antioxidants that will make your skin radiant and youthful.
Diminishing Pores One Step at a Time
Some people will spend a fortune on special skin treatments designed to unclog their pores. The truth is that most guys don't need such expensive treatments to achieve amazing skin.
All you need is a bit of skin care knowledge about which ingredients are best for unclogging your pores. With the right skin care products and a regular routine, you can just as easily achieve amazing skin at a fraction of the cost.
---
// © Copyright 2023 Tiege Hanley