Subscription
Shipping Address
Order Date

This subscription's skin care system will get replaced.

${ address.name }




${ address.products }

${ displaySubscriptionName(address) }




${ displayProducts(address) }

${ displayAddress(address) }
${ formatDate(address.scheduleDate) }

${ address.name ? address.name : displaySubscriptionName(address)}
${ address.products }
${ displayProducts(address) }
Shipping Address
${ displayAddress(address) }
Delivery Date
${ formatDate(address.scheduleDate) }
This subscription's skin care system will get replaced.
Signs of Lip Cancer—Four Symptoms to Know and How to Lower Risk
The lips are an often-overlooked site for cancer. Find out what the signs of lip cancer are and how you can lower your risk.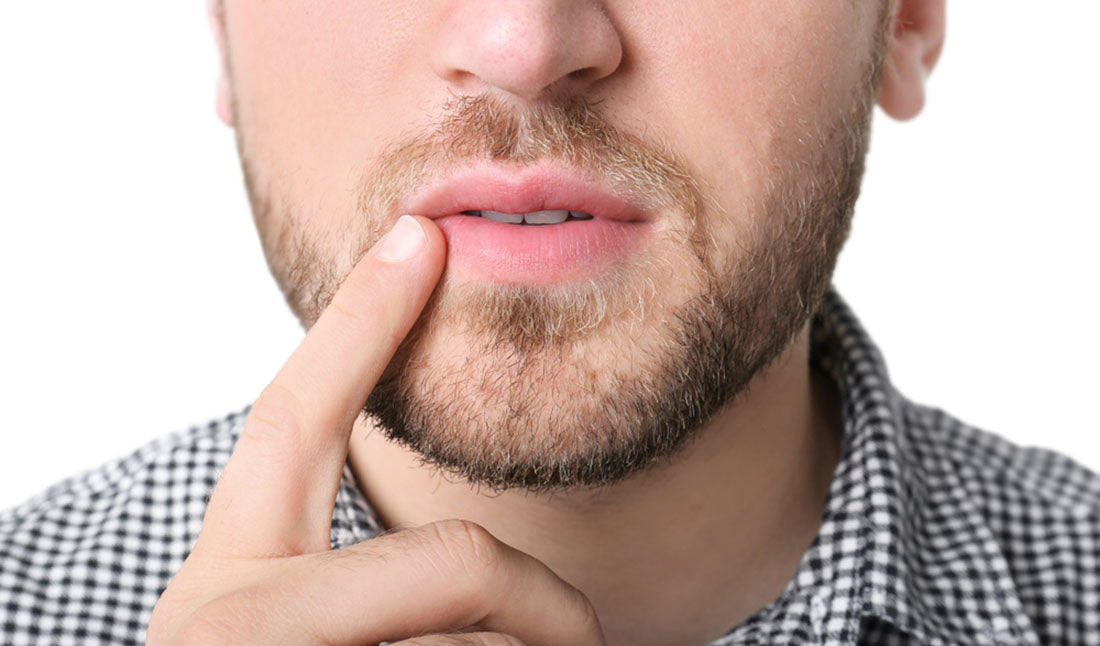 Quick quiz: What do you know about lip cancer? If you weren't even aware that lip cancer was a thing, you're far from the only one.
Though it's not uncommon, lip cancer is a condition that is often overlooked. In fact, dentists are usually the first to identify the signs of lip cancer during routine dental checkups.
The good news is that lip cancer is highly treatable when it's caught early. Knowing the signs of lip cancer can make all the difference in your diagnosis and is especially important if you're at a higher risk than most.
Here are three things that you should know about lip cancer:
Signs of lip cancer include persistent sores on the lip, a swollen jaw and unexplained bleeding on the lips.
Men over the age of 45 are at an increased risk of lip cancer.
Practicing sun safety and ditching bad habits can help lower the risk of lip cancer.
TRY MEN'S SKIN CARE
What Are the Signs of Lip Cancer?
Due to their position inside the mouth, some types of oral cancers can be difficult to detect. Fortunately, lip cancer is one of the more easily detected oral cancers because it's highly visible.
Even so, it can be easy to mistake the symptoms of lip cancer as something more common, such as a cold sore. To increase the likelihood of catching it early, here are the early warning signs of lip cancer that you should know.
Sign #1: Sores on the Lips
A persistent sore or lump on the inside or outside of the lips may be a sign of lip cancer. These are sometimes mistaken for cold sores, which can last up to two weeks.
They can also appear as a red or white patch. If the sore on your lips won't go away, it's worth getting checked out by a doctor.
Sign #2: Numb or Painful Lips
Lips that are numb or painful are another sign of lip cancer. Before you panic, you may want to rule out the possibility of sunburned lips, which can also result in painful or tingly lips.
Sign #3: Swollen Jaw
A jaw that feels tender or swollen can be many things, one of which is lip cancer. It's also a sign of general mouth cancer, which may occur inside the mouth as opposed to on the lips.
Sign #4: Unexplained Bleeding on the Lips
Bleeding on the lips is not uncommon when you suffer from chapped lips. If the bleeding is unexplained, this may be a sign of lip cancer.
Risk Factors for Lip Cancer
Certain lifestyle behaviors can put you at a higher risk of lip cancer. According to a 2017 study published in the journal APMIS, lip cancer is associated with several high-risk lifestyle factors including chronic sun exposure, alcohol consumption and tobacco use (see claim: "LSCC and lower lip cancer were highly associated with HRLFs.")
Additionally, guys over the age of 45 appear to be at a higher risk of lip cancer. A 2012 study published in Anticancer Research analyzed 540 cases of lip cancer and noted that the majority of lip cancers were found in men aged above 45 years (see claim: "Of 540 cases, most were found among men (82%), and those aged over 45 years (84.8%).")
In the same study, researchers found that most cases of lip cancer occurred on the bottom lip. This is likely due to the fact that the lower lip is more exposed to ultraviolet rays.
Take the skin care quiz
How to Reduce Your Risk
It's important to point out that having risk factors for a disease doesn't necessarily mean that you'll get it. Even so, it doesn't hurt to lower your risk of lip cancer by taking the following precautions.
Avoid Excessive UV Exposure
If possible, try to limit your time in the sun. Ultraviolet rays are strongly linked to skin cancer and lip cancer.
Along with lowering your risk of cancer, avoiding excessive sun exposure is critical if you don't want to be battling wrinkles at an early age. If you're determined to sunbathe to get more vitamin D, make sure that you do it safely by spending no more than 10 minutes at a time in the sun.
Wear Lip Balm with SPF
You'd never dream of going out in the sun without your daily moisturizer with SPF, right? Unless you're also slathering your moisturizer on your lips (which we generally don't recommend), your lips need similar protection from the sun's UV rays.
Wearing a daily lip balm with SPF will give your lips the protection they need while sealing in moisture. In addition to reducing your risk of skin cancer, a lip balm will also help prevent the dreaded dry lips.
Ditch Bad Habits
If you binge drink often or use tobacco frequently, consider cutting back on both. These bad habits are both linked to an increased likelihood of lip cancer, among other serious diseases.
Although making a habit stick can be difficult, the benefit to your body and overall health is well worth the effort. Try finding a support group to help you stop these habits or enlist a friend to hold you accountable.
Taking Lip Cancer Seriously
While lip cancer isn't in the news as often as skin cancer or prostate cancer, it's important for guys to take it seriously. Knowing the signs of lip cancer and taking steps to lower your risk can make a huge difference in the outcome.
---
// © Copyright 2023 Tiege Hanley