Subscription
Shipping Address
Order Date

This subscription's skin care system will get replaced.

${ address.name }




${ address.products }

${ displaySubscriptionName(address) }




${ displayProducts(address) }

${ displayAddress(address) }
${ formatDate(address.scheduleDate) }

${ address.name ? address.name : displaySubscriptionName(address)}
${ address.products }
${ displayProducts(address) }
Shipping Address
${ displayAddress(address) }
Delivery Date
${ formatDate(address.scheduleDate) }
This subscription's skin care system will get replaced.
Vitamins for Hair Loss – Do They Really Work?
Do vitamins for hair loss work or is it just wishful thinking? Find out the answer as we investigate the research and reveal the truth about hair loss vitamins.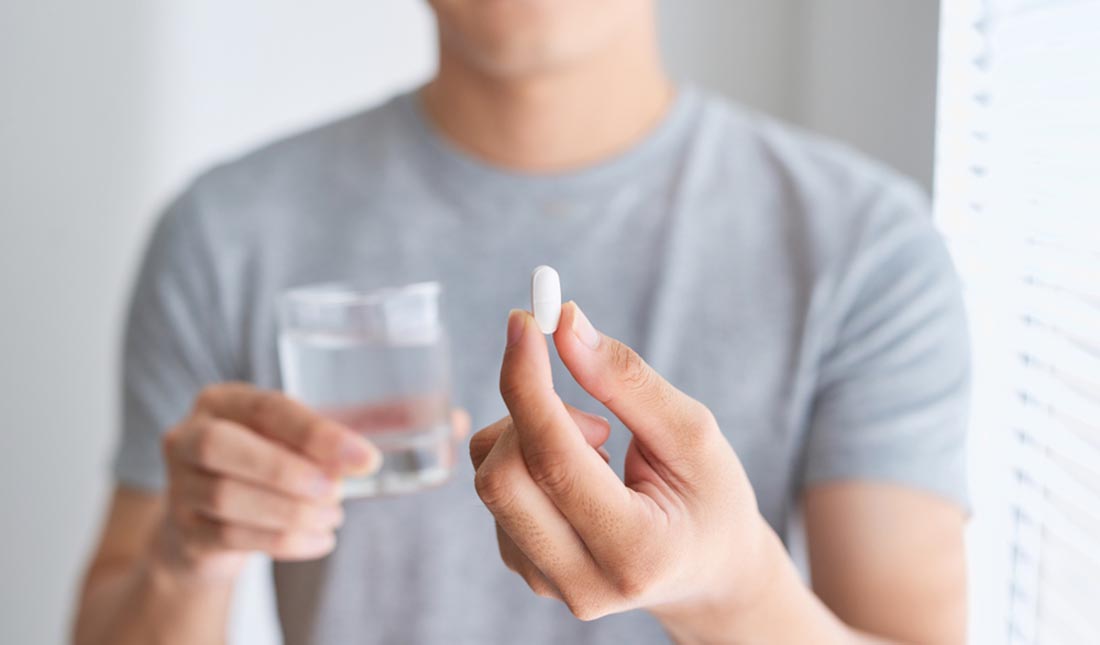 It's not difficult to see the allure of vitamins for hair loss.
They're a seemingly simple solution to what many people consider to be an extremely embarrassing problem.
And, unlike Rogaine or other hair loss treatments, vitamins are a relatively affordable treatment option for hair loss.
But the question remains:
Do hair loss vitamins actually work?
Or are they nothing but a waste of time and money?
Before we answer, here are three things you need to know about vitamins for hair loss:
There is little evidence to support taking hair loss vitamins in otherwise healthy individuals
If you lack certain nutrients, taking vitamins for hair loss may promote hair growth
Unless you have an underlying condition or nutrient deficiency, hair loss vitamins probably won't do your diminishing hairline any good
Vitamins for Hair Loss Explained
Hair supplements often contain antioxidants like vitamins A, C, D and E, as well as biotin and folic acid.
They're supposed to work by providing hair with the essential nutrients it needs to grow healthy and strong.
But here's the thing: Vitamins and supplements aren't considered drugs, which means they aren't regulated by the Food and Drug Administration (FDA).
In other words, there is no guarantee of their effectiveness or—more importantly—their safety.
Additionally, vitamins and supplements shouldn't be considered a primary treatment for your hair loss.
Hair loss can be the result of hypothyroidism, hormonal changes, stressful events and certain hairstyles.
Thus, it makes far more sense for you to schedule an appointment with your doctor to rule out underlying health conditions before turning to hair loss vitamins and supplements.
Do Vitamins for Hair Loss Work?
OK, but does taking vitamins for hair loss have any benefit?
The unsatisfactory answer is that it's complicated.
Most people get enough key nutrients through their diet alone, and taking more won't do you any good.
GOT WRINKLES?
On the contrary, consuming excessive nutrients such as biotin can lead to unwanted side effects such as red, itchy skin and upset stomach.
The research on vitamin supplementation for hair loss has also been somewhat conflicted.
According to a 2019 review published in Dermatology and Therapy, scientists suggest that vitamins and minerals do play an important role in hair health, but conclude that this role is still not well understood (see claim: "Micronutrients, such as vitamins and minerals, play an important, but not entirely clear role in normal hair follicle development and immune cell function.")
Best Vitamins for Hair Loss
Unfortunately, you'll probably never get a straight answer on whether or not hair loss vitamins actually work.
There are simply too many variables at play to say with absolute certainty that vitamins for hair loss will work for everyone.
However, there is some evidence to suggest that taking vitamins and supplements may help support hair growth in people who lack certain micronutrients in their diet.
We'll list the ones that show the most promise for hair growth below.
Be sure to seek medical advice before you take any of these supplements.
Biotin
Biotin (also known as vitamin B7) is perhaps one of the more popular supplements for hair.
This water-soluble vitamin plays a key role in helping your body convert nutrients into energy and is important for healthy hair, skin and nails.
A lack of biotin can result in alopecia or hair loss, but deficiencies in this vitamin are considered rare.
If you don't suspect a biotin deficiency, you may want to skip the expensive supplements and try eating more biotin-rich foods instead, like walnuts, egg yolks, dark leafy greens, milk and whole grain cereals.
Fish Oil
Rich in omega-3 fatty acids, fish oils are commonly consumed for their many purported health benefits.
These benefits include better brain function, improved cardiovascular health and lower risk of cancer.
TAKE THE SKIN CARE QUIZ
Another benefit? Better hair growth, potentially.
In a 2018 study published in the International Journal of Molecular Sciences, researchers found that consuming mackerel-derived fermented fish oil could promote hair growth by boosting docosahexaenoic acid (DHA), which is an omega-3 fatty acid (see claim: "These results show that FFO extract and DHA promote hair growth through the anagen-activating pathways in DPC.")
The only downside of taking fish oil supplements are the side effects.
If your breath or sweat smells bad all of a sudden, you can probably blame it on the fish oil.
Vitamin D
Unlike biotin, vitamin D deficiencies aren't rare.
In fact, the opposite is true.
Vitamin D deficiencies are extremely common and have been linked to alopecia.
Although the role of vitamin D in hair growth isn't well understood, it may not hurt to talk with your doctor about vitamin D supplements.
Otherwise, load up your plate with fatty fish, mushrooms, egg yolks and fortified cereals. 
You can also get vitamin D through sun exposure.
Just don't forget to use your daily moisturizer with SPF to protect your skin from UV rays.
Other Essential Vitamins
Again, there isn't much scientific evidence to support taking vitamins B and D for hair in otherwise healthy individuals.
There is even less evidence for other essential vitamins like vitamin A or K.
That said, vitamins A and K are also believed to play a role in hair regrowth.
Vitamins A and K support skin health, which includes your scalp—and a happier scalp can lead to happier hair.
The Takeaway
There is currently no evidence to support the idea that hair loss vitamins work for people with age-related hair loss or hereditary hair loss.
However, there is some evidence to show that certain vitamins can help hair loss in people who aren't getting enough from their diet alone.
If you're serious about stopping your hair loss, consider scheduling an appointment with your doctor.
They can discuss potential treatment options with you and maybe get to the bottom of your hair loss.
References
Almohanna, Hind M et al. "The Role of Vitamins and Minerals in Hair Loss: A Review." Dermatology and therapy vol. 9,1 (2019): 51-70.
Kang, Jung-Il et al. "Mackerel-Derived Fermented Fish Oil Promotes Hair Growth by Anagen-Stimulating Pathways." International journal of molecular sciences vol. 19,9 2770. 14 Sep. 2018.
Kim, Dong Ha et al. "Successful treatment of alopecia areata with topical calcipotriol." Annals of dermatology vol. 24,3 (2012): 341-4.
---
// © Copyright 2023 Tiege Hanley