Subscription
Shipping Address
Order Date

This subscription's skin care system will get replaced.

${ address.name }




${ address.products }

${ displaySubscriptionName(address) }




${ displayProducts(address) }

${ displayAddress(address) }
${ formatDate(address.scheduleDate) }

${ address.name ? address.name : displaySubscriptionName(address)}
${ address.products }
${ displayProducts(address) }
Shipping Address
${ displayAddress(address) }
Delivery Date
${ formatDate(address.scheduleDate) }
This subscription's skin care system will get replaced.
Smooth Moves: 4 Steps to Get a Smoother Face
Gentlemen, it's time to say goodbye to dry, flaky skin. We show you how to get a smooth, handsome face in just four steps.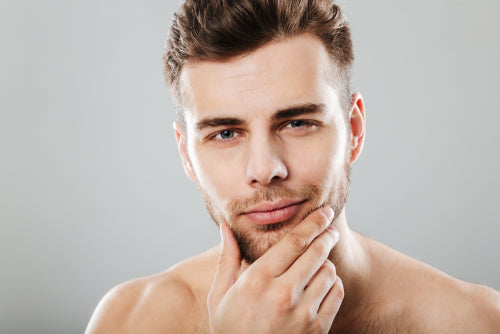 Dry, flaky skin isn't a good look for guys, nor is it healthy. In addition to the irritating redness and itchiness, dry skin can also cause premature aging in men.
If you're struggling to achieve a smoother face, there is good news, gentlemen. It only takes four simple steps to keep your handsome mug looking its best.
Here are three of the things you should know:
Restoring your skin's moisture is key to achieving a smooth face.
Exfoliating twice per week can reveal youthful, vibrant-looking skin.
Maintaining healthy, smooth skin is easier than you might think. Tiege Hanley's skin care products for men make it incredibly simple for busy guys to achieve amazing-looking skin.
GOT WRINKLES?
Step 1. Daily Cleanser
Dirt, grime and excess oil are a regular part of every man's life. Washing your face in the morning and before bed will remove all the buildup and debris to give your skin a brighter, smoother complexion.
It's crucial that you use a facial cleanser formulated for men. Most bar soaps aren't good for your body, let alone your face.
It's important to note that our facial cleanser for men doesn't produce much in the way of foam or bubbles. This is because we use a small amount of Ammonium Lauryl Sulphate, as opposed to the more irritating Sodium Lauryl Sulphate that is often found in many facial cleansers. If you have sensitive skin, Tiege Hanley has you covered.
Step 2. Exfoliating Scrub
Once your face is clean, it's time to exfoliate. Exfoliation is an essential part of any man's skin care regimen, but it is often one of the most abused steps.
Exfoliating helps remove dead skin cells on the surface of the skin to reveal the healthy skin cells underneath. The result is a smooth, glowing complexion that looks as good as it feels.
But gentlemen, it's critical that you use an exfoliating scrub no more than twice per week. Too much scrubbing can lead to dry, itchy skin and breakouts. By gently exfoliating twice per week with a men's face scrub, you can remove the dead skin cells that can clog pores and reveal a brighter complexion.
Step 3. Firming Serum
Yep, we know what you're thinking—do guys really need a firming serum? If you want a smooth, ageless face, the answer is yes.
Our daily firming serum formulated for men does more than simply hold off the effects of time. Firming serums have a concentrated formula of powerful anti-aging ingredients (such as Retinyl Palmitate) to nourish the skin, helping you smooth lines and achieve a youthful appearance.
It doesn't matter whether you're in your 20s or 40s, a firming serum can do wonders for your skin and give you a more balanced complexion. It only takes a few seconds to apply and we can make it even easier for you by sending it straight to your doorstep.
Take the skin care quiz
Step 4. Moisturizer
The last step is arguably the most important of any man's skin care routine. Moisturizing is key to keeping your face smooth for years to come and skipping this step could lead to deeper wrinkles later in life.
The main cause of wrinkles and deep lines is sun damage, which is why a moisturizer with SPF is essential to keeping skin smooth and protected. Our Morning Facial Moisturizer with SPF 20 is packed with vitamins and antioxidants, which studies show can help treat sun-damaged skin.
Moisturizing at night is also essential for achieving a smoother face. Our Bedtime Facial Moisturizer is formulated with Vitamin B3, which improves skin elasticity and contributes to an even complexion.
We've also added Acetyl Hexapeptide-8 (aka Argireline) to our bedtime moisturizer formula, which reduces the appearance of wrinkles by relaxing facial muscles. Acetyl Hexapeptide-8 has a similar effect as Botox, but it's safe for your skin and non-invasive.
Smooth Sailing
A smooth face is a sign of healthy, well-hydrated skin. If your skin is itchy, dull and red, it may be time to adopt a better skin care regimen.
Fortunately, it only takes four uncomplicated steps to start achieving smooth, healthy-looking skin. However, the real secret to a smooth face is all in the products.
Tiege Hanley's high-quality skin care products are formulated to penetrate a man's skin for maximum effectiveness. Our products are also fragrance-free, which means they won't cause additional irritation. Check out our men's skin care system and feel free to contact us with any questions!
---
// © Copyright 2023 Tiege Hanley