Subscription
Shipping Address
Order Date

This subscription's skin care system will get replaced.

${ address.name }




${ address.products }

${ displaySubscriptionName(address) }




${ displayProducts(address) }

${ displayAddress(address) }
${ formatDate(address.scheduleDate) }

${ address.name ? address.name : displaySubscriptionName(address)}
${ address.products }
${ displayProducts(address) }
Shipping Address
${ displayAddress(address) }
Delivery Date
${ formatDate(address.scheduleDate) }
This subscription's skin care system will get replaced.
Skin Care and Grooming Glossary for Men – Everything You Need to Know
Find out everything you need to know about male grooming and skin care with our comprehensive glossary! From skin care ingredients to shave products, we're breaking it all down in easy-to-understand terms.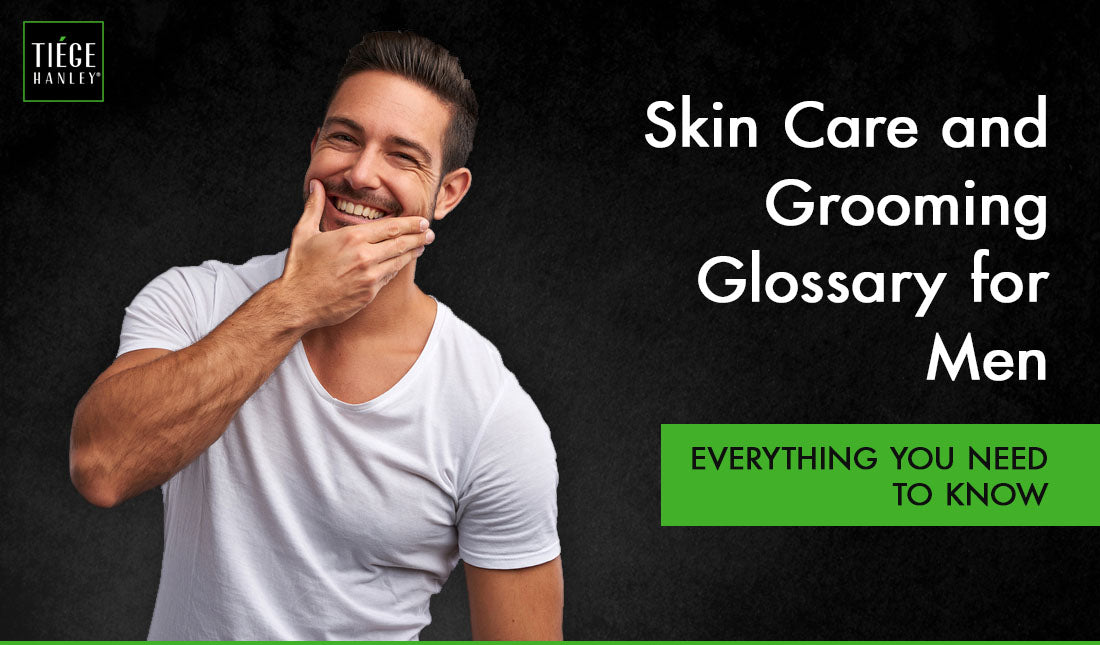 When it comes to your daily skin care routine, knowledge is power. The more you know about your personal care products and their ingredients, the better choices you can make for your skin.
If the thought of becoming educated in skin care sounds daunting to you, don't sweat it. We're not asking you to become an expert in all things skin care—that's our job.
Instead, we've gone ahead and rounded up a list of skin care/grooming terms and their definitions that we think all guys should know. Be sure to bookmark this page and circle back to it when you're stumped on a certain ingredient or skin care product. 
What is Acne?
Acne is a common skin condition that develops when pores of the skin become clogged with dead skin cells, oil and dirt. This creates an ideal environment for p. acnes, the acne-causing bacteria that lives on everyone's skin. As bacteria multiplies, the pore becomes inflamed and can result in various types of acne.
What is Acne Cream?
Acne cream is a skin care product that is specifically designed for the treatment of stubborn blemishes. This product is meant to be left on the face, which is why some of the best acne creams for men contain gentle—yet powerful—acne-fighting ingredients such as Salicylic Acid.
What is Acne Mechanica?
Acne mechanica is a type of acne that occurs from a combination of heat, pressure and friction. It's especially common in male athletes who work out in tight-fitting athletic gear, and in students who wear backpacks. For more info, check out this post on acne mechanica and how to treat it properly.
GOT ACNE?
What is Activated Charcoal?
Activated charcoal is an ingredient used in cleansers and face masks for its alleged ability to draw dirt, oil and bacteria from the pores of the skin. Though there currently aren't many studies specifically on activated charcoal in skin care products, activated charcoal face masks for men are growing in popularity. 
What is Aftershave?
Aftershave is a men's grooming product which is applied to the skin after shaving. Its purpose is to reduce post-shave irritation and redness. Aftershaves often include astringent properties and moisturizing agents to soothe skin while eliminating acne-causing bacteria.
What are Alpha-Hydroxy Acids (AHAs)?
Alpha-hydroxy acids are a group of water-soluble skin care ingredients that exfoliate the top layers of the skin, revealing smoother and younger-looking skin underneath. Common forms of AHAs include glycolic acid and lactic acid.
What is Antiperspirant?
Antiperspirants are sprayed on sweat glands (most commonly, the armpits) to temporarily block them from producing sweat. Unlike deodorants, antiperspirants do not mask body odor.
What is Avobenzone?
Avobenzone is a UVA chemical filter and one of the most common sunscreen ingredients in chemical sunscreens. It works by absorbing sunlight and converting it into forms of energy that are less harmful to the skin. Though the FDA has cleared avobenzone for use, its potential to cause toxicity has caused an outcry for more studies to determine its safety.
What is Beard Acne?
Beard acne is a type of acne which occurs underneath your beard. It's often the result of improper beard care, which you can learn more about in this post regarding beard acne treatment and prevention.
What is Beard Balm?
Beard balm is a beard styling product that contains beeswax to give it a slight hold. Unlike beard wax, which also uses beeswax, beard balm contains more oil which provides greater moisturization for a healthy, natural-looking beard.
What is Beard Dandruff?
Much like regular dandruff, beard dandruff occurs when the skin underneath your facial hair becomes clogged with dead skin cells. The problem can usually be resolved with a basic beard care routine involving regular washing, scrubbing and moisturization.
What is Beard Oil?
Beard oil is a must-have beard care ingredient that moisturizes the skin underneath your beard. On top of making your facial hair appear healthier, it's also instrumental in preventing common beard problems such as beard dandruff and beard acne. 
What is Beard Wash?
While some guys use their regular shampoo to wash their beards, others prefer to use a wash specifically formulated for facial hair. Beard wash often contains ingredients that are less harsh on the skin and hair compared to traditional shampoos.
What are Beta-Hydroxy Acids (BHAs)?
Beta-hydroxy acids are oil-soluble ingredients that are able to effectively penetrate through the natural oils of the skin. This unique ability makes them well-suited for men's skin care products because guys have oilier and thicker skin than women. 
What is a Blackhead?
Blackheads are tiny, dark lesions on the skin that occur when the hair follicle becomes clogged with oil and dead skin cells. Their dark color is the result of this material being oxidized by air.
What is Body Scrub?
A body scrub is an exfoliating skin care product meant to be used on the body only. They work similarly to face scrubs in that they remove dead skin cells from the body, resulting in smoother and healthier-looking skin.
What is Body Wash?
Body washes for men cleanse the skin by removing dirt and grime from the surface of the skin. This grooming product is designed to replace traditional bar soaps, which typically have high pH ranges that disrupt the natural balance of the skin.
What are CBD Products for Topical Skin Application?
CBD, or cannabidiol, is the non-psychotropic component derived from marijuana or hemp. Recently, it's gained widespread popularity in the skin care industry for its potential to reduce inflammation and, thus, improve many inflammatory skin diseases. CBD products also have antioxidants which may reduce wrinkles and combat skin dullness.
What are Ceramides?
Ceramides are a type of fatty acids found in the skin which play a critical role in maintaining skin barrier function. They can also be used in moisturizing products to help restore the skin's natural lipid balance and combat dry skin.
What is a Classic Shave?
A classic shave refers to an old-school wet shave technique which involved using high-quality shave ingredients, a badger shaving brush and a safety razor. This type of timeless shave can be achieved through professional services or by using an at-home shaving kit. 
What is Combination Skin?
Combination skin refers to skin that has more than one skin type. For example, you can have both dry skin and oily skin, where some parts of your face are dry and others are oily. You can learn more about combination skin here and find out whether or not you have it. 
What is Comedogenic?
The term "comedogenic" is used to described skin care ingredients which are more likely to clog pores. Examples of comedogenic skin care ingredients include coconut oil, lanolin oil and shea butter.
What is a Comedone?
Comedones (singular, comedo) refer to skin-colored bumps that are common in those with acne. Comedones that are exposed to the air turn black (blackheads), while closed comedones are white (whiteheads).
What is Cystic Acne?
Cystic acne is a severe form of acne that develops when the hair follicle is clogged deep within the skin. Though it isn't as common as other types of acne, cystic acne can be incredibly difficult to treat and result in a significant loss of confidence in those affected.
What is Deodorant?
Unlike antiperspirant, deodorant does not block sweat glands, but rather masks unpleasant odor caused by bacteria breaking down sweat.
What is Dermabrasion?
Dermabrasion is a powerful exfoliation technique that uses a special, rotating instrument to "sand" off the uppermost layer of the skin. Though it's effective for treating stubborn acne scars, sun spots and other skin blemishes, it's generally not recommended for darker skin types due to its potential to cause discoloration or scarring.
What is Dimethicone?
Dimethicone is a form of silicone which gives skin care products a smooth finish. It's commonly found in oil-free moisturizers due to its impressive hydrating abilities.
What is 1,4-Dioxane?
1,4-Dioxane is a colorless liquid with a faint, sweet-smelling odor. It's used as a solvent to manufacture other chemicals and is often found in small traces in cosmetics and shampoos. Although 1,4-Dioxane is suspected of being a human carcinogen, its effects are still largely unknown.
What is Eczema?
Also known as atopic dermatitis, eczema is a chronic skin condition which results in red, itchy skin. Individuals with eczema tend to experience flare-ups in their condition, particularly in the winter.
What is the Epidermis?
The outermost layer of human skin is known as the epidermis. It's a thin layer of skin which acts as a barrier against water, UV exposure and infection. 
What are Ethically-Sourced Raw Materials?
Ethically-sourced raw materials are raw materials (see definition of raw materials below) which have been acquired in a conflict-free manner and shows respect to the people who produce them. 
What are Ethoxylated Compounds?
Ethoxylated compounds are chemicals which have been derived from ethylene oxide, a colorless gas with a slightly sweet odor. Because ethylene oxide is a known carcinogen, ethoxylated compounds are a highly controversial ingredient in skin care products. Ethoxylated compounds can potentially contain traces of 1,4-Dioxane, a solvent that is also suspected of being a human carcinogen. 
What is Exfoliation?
Exfoliation is a skin rejuvenating technique which accelerates the body's natural shedding process. When used properly, this technique can even skin tone, reduce acne breakouts and reinvigorate dull skin.
What is Eye Cream?
Eye creams are skin care products formulated to treat the delicate skin around the eyes. Using a powerful eye cream for men can reduce the appearance of stubborn bags under the eyes and make wrinkles in this area less prominent.
What is a Face Scrub?
Men's face scrubs are a type of exfoliation product which removes the buildup of dead skin cells and oil from the face. They typically contain gentler ingredients compared to body scrubs to account for the key differences between skin on the face and skin on the body.
What is Face Serum?
A face serum is a type of skin care product that contains a concentrated amount of ingredients designed to penetrate deeper into the skin. The result is a firmer, smoother texture that can turn back the clock on your face. You can find out more about facial firming serums for men by checking out our blog post, "What is Face Serum?" 
What is a Facial Cleanser?
Also known as face wash, a facial cleanser is formulated to clean dirt, grime and oil from your face without disrupting your skin's natural pH balance. Many bar soaps have high pH levels that throw off the skin's natural oils and cause irritation.
What are Fragrances?
Fragrance is an umbrella term used to describe aromatic products with varying concentrations of water and oil. For example, perfume has a higher concentration of water, alcohol and oil compared to cologne. Fragrances can be irritating to the skin, which is why many skin care companies offer fragrance-free products.
What is Glycerin?
Glycerin (aka, Glycerol) is a naturally-occurring alcohol compound that is commonly used in moisturizers for its ability to draw moisture to the skin. According to a 2008 study published in the British Journal of Dermatology, skin care products containing glycerin are especially effective for the treatment of dry skin and eczema (see claim: "Topical application of glycerol‐containing products improves skin properties in diseases characterized by xerosis and impaired epidermal barrier function, such as atopic dermatitis.")
What is the Grain?
In male grooming, the grain refers to the natural direction that your hair grows. Generally, shaving with the grain is recommended to reduce razor burn and post-shave irritation.
What is the Gut Microbiome?
The gut microbiome refers to the diverse range of bacterial species that is present in the gut in every human. It is the main regulator of the gut-skin axis (described below) and is believed to play and important role in modulating our skin health via communication with the brain.
What is the Gut-Skin Axis?
The gut-skin axis is a theory posed by the scientific community which suggests that there is a strong relationship between our gut health and our skin health. You can read more about this topic in this 2018 review published in Frontiers in Microbiology.
What are Heavy Metals?
Heavy metals in cosmetics may include lead, cadmium, zinc, mercury, aluminum, chromium and iron. According to a 2015 study published in the Journal of Applied Toxicology, heavy metals in excessive amounts may be absorbed into the blood, where they can have negative effects on the internal organs (see claim: "Metals occurring in cosmetics may undergo retention and act directly in the skin or be absorbed through the skin into the blood, accumulate in the body and exert toxic effects in various organs.")
What is Homosalate?
Homosalate is a chemical filter used in some sunscreens to absorb UV rays. It's an organic compound and an ester of Salicylic Acid. Like many chemical sunscreens, it has recently come under fire for being a potential endocrine disrupter.
What is a Humectant?
A humectant is a type of skin care ingredient used in moisturizers because they attract and retain moisture. Glycerin is a good example of a humectant because it helps bind water molecules to the skin.
What is Hyaluronic Acid?
Hyaluronic acid (HA) is a key molecule involved in retaining water in the skin. Due to the strong link between water loss and aging skin, many anti-aging products contain HA to delay wrinkle formation.
What is Hyperhidrosis?
The medical term for excessive sweating, hyperhidrosis is an unfortunate condition that affects an estimated two to three percent of Americans. If the condition is in a specific area (i.e., the groin or armpits), it's called focal hyperhidrosis.
What is an Ingrown Hair?
Ingrown hairs occur when the hair curves back into the skin instead of upwards, resulting in a painful and inflamed bump. This condition is often the result of improper shaving techniques.
What is Jojoba Oil?
Often found in beard balms and moisturizers, Jojoba Oil is a moisturizing liquid found in the seed of the Simmondsia chinensis plant. In addition to its hydrating abilities, Jojoba Oil is also well-known for its antioxidant and antibacterial properties.
What is Keratin?
Keratin is a fibrous protein found in hair, nails and the outer layer of the skin. Its main role is to bind cells to each other to form a protective barrier.
What are Keratolytic Agents?
Keratolytic agents are skin care ingredients which help soften and accelerate the shedding of the horny outer layer of the skin. Examples include: Salicylic Acid, Benzoyl Peroxide and Sulfur.
What is Keratosis Pilaris?
Keratosis pilaris (KP) is a skin condition which is caused by a buildup of keratin in the hair follicle. The tiny bumps that develop may closely resemble acne, although the two are completely different.
What is Lactic Acid?
Lactic acid is a powerful alpha-hydroxy acid that is well-known for its skin rejuvenating abilities. Though it's not as common as glycolic acid (another AHA), this potent exfoliator is frequently found in skin care products for sensitive skin types.
What is Lanolin?
Lanolin is wax produced from the sebaceous glands of domestic sheep. Though it's a common moisturizing ingredient in many hair care products, it can clog pores and should be avoided if you have acne-prone skin. 
What is Lip Balm?
Lip balm is a moisturizing product formulated specifically for the lips. The best lip balms for men also contain SPF for protection against UV rays.
What are Lipids?
Lipids are the skin's natural fats which play an essential role in maintaining the skin's protective barrier. Cholesterol, ceramides and fatty acids make up the three main types of lipids.
What are Melanocytes?
Melanocytes are pigment-producing cells located in the bottom layer of the epidermis. They produce melanin, the dark pigment that is primarily responsible for the color of our skin.
What is Melanoma?
Melanoma is an aggressive form of skin cancer that occurs when melanocytes become cancerous. You can learn more about melanoma in this post and why men need to take additional sun safety precautions.
What is Mineral Sun Protection?
Mineral sun protection refers to sunscreens containing mineral ingredients, such as zinc and titanium dioxide. Unlike chemical sunscreens which absorb UV light, mineral sunscreens block UV light. Not only are mineral sunscreens just as effective as their chemical counterparts, they also happen to be much less irritating to the skin.
What is Minoxidil?
Known commercially as Rogaine, Minoxidil is a hair regrowth product primarily targeted to treat male pattern baldness. 
What is Moisturizer?
Moisturizer is a type of lotion that is specifically formulated to be applied to your face. Unlike body lotions, moisturizers for men are formulated to hydrate the skin without causing acne breakouts.
What are Nanoparticles?
Nanoparticles in cosmetics refer to the process of breaking down active ingredients to nano-size. This is usually done to enhance the protective abilities of the active ingredient. However, their usage in sunscreen has become controversial due to their potential to penetrate the skin.
TRY MEN'S SKIN CARE
What are Natural Skin Care Ingredients?
Natural skin care ingredients refer to skin care ingredients that are derived from plant substances (i.e., aloe vera, shea butter, etc.).  Unlike "organic" skin care, there is no regulation around this term.
What Does it Mean When Products Say 'Non-Animal'?
When skin care products use non-animal alternatives, it refers to using ingredients that are not derived from animals, nor tested on them.
What are 'Non-Toxic' Skin Care Ingredients?
Non-toxic ingredients in skin care refer to ingredients that have not been linked to toxic reactions in humans. Some studies have shown that certain skin care ingredients (such as phthalates, see definition below) may have endocrine-disrupting effects and other adverse effects on humans.
What are Occlusives?
Occlusives are substances which provide an additional layer of protection against water loss from the skin. Popular occlusives include lanolin, beeswax and petrolatum.
What is Octinoxate?
Octinoxate is an ester produced from methoxycinnamic acid and 2-ethylhexanol. It's a chemical filter found in many chemical sunscreens and is primarily used to absorb UVB rays. Octinoxate is commonly combined with titanium oxide and oxybenzone for maximum UV protection.
What is Octisalate?
Octisalate, also known as octyl salicylate, is an organic compound and chemical filter used in chemical sunscreens. It's often used to help stabilize avobenzone for enhanced sun protection.  
What is Octocrylene?
Octocrylene is a chemical filter that is commonly used in sunscreens. However, its popularity has waned in recent years due to its potential to cause adverse skin reactions in those with sensitive skin. Specifically, a 2010 study published in JAMA Dermatology found that octocrylene was a strong allergen in children and adults (see claim: "Octocrylene appears to be a strong allergen leading to contact dermatitis in children and mostly photoallergic contact dermatitis in adults…") 
What are Organic Materials?
Organic materials in skin care are those that are prepared and grown without the use of pesticides, herbicides, fertilizers, growth hormones or antibiotics. Unlike the term "natural," organic skin care is subject to laws and regulations enforced by both the USDA and the FDA.
What is Oxybenzone?
Oxybenzone, also known as benzophenone-3, is a common chemical filter used in chemical sunscreens. It comes from a chemical found in several flowering plants and has a faint, yellow tint.
What are Parabens?
Parabens are a type of preservative used to combat bacteria and fungus in hair care products. Considered somewhat controversial, parabens are suspected of being hormone disruptors—however, the FDA has deemed them safe for use at low levels.
What is PEG-Free?
Polyethylene Glycol (PEG) are byproducts of condensed ethylene oxide and water. They are often used in personal care products as emulsifiers, surfactants, cleansing agents and skin conditioners. While certain PEGs have been well-studied and have been deemed safe for use, many others have yet to have their safety and risks assessed.
What are Peptides?
Peptides consist of short-chain amino acids that link together to form tiny proteins. They're the anti-aging heroes of the skin care world for their ability to promote collagen growth and firm stubborn wrinkles.
What are Petrochemicals?
Petrochemicals are chemicals derived from petroleum, which, in turn, is a byproduct of the oil industry. Though they're controversial in the skin care industry, petrochemicals such as petrolatum remain a common ingredient in many lotions, shampoos and conditioners.
What is Petrolatum?
Petrolatum, better known as petroleum jelly, is a byproduct of petroleum and used as a moisturizing agent in cosmetics. However, petrolatum has a risk of contamination with toxic chemicals—specifically, polycyclic aromatic hydrocarbons (PAHs). According to a 2015 study published in Toxicological Sciences, PAHs are a known carcinogen and have been linked to an increased risk of lung cancer (see claim: Excessive exposure to polycyclic aromatic hydrocarbons (PAHs) often results in lung cancer.")
What is Phenoxyethanol?
Phenoxyethanol is a preservative and a stabilizer found in many beauty products such as fragrances and body lotions. Commonly listed on skin care labels as phenoxyethanol, phenoxyethyl alcohol and 2-Phenoxyethanol, the ingredient is restricted in Japan for its potential to cause toxic reactions in humans. However, the FDA has deemed it safe in low concentrations.
What is Skin pH?
On the epidermis, there is a thin, protective layer known as the acid mantle. The acid mantle produces oil which combines with lactic acid and amino acids to create your skin's pH. On average, human skin pH is just below 5.
What are Phthalates?
Phthalates (sometimes called plasticizers) are a group of chemicals that are added to plastics to increase their flexibility and durability. In cosmetics, phthalates are added to skin care products to help moisturize and soften the skin. However, research has indicated that phthalates may have adverse effects on the reproductive system. 
What is Polyacrylamide?
Polyacrylamide (PAM) is a synthetic polymer derived from acrylamide monomers. It's typically used as a thickening agent in cosmetics to increase the viscosity of products. Given that acrylamide is a known neurotoxin, many have called the safety of polyacrylamide into question.
What are Polymer Related Compounds?
Polymer related compounds refer to a diverse group of natural and synthetic polymers (small molecules packed together to form larger molecules). They are added to skin care products to act as emulsifiers, moisturizers, thickeners and protective barriers.
What is Polytetrafluorethylene (PTFE)?
Commonly known by its brand name, Teflon, PTFE is a man-made chemical that's part of a larger group of fluorinated chemicals known as per- and polyfluoroalkyl substances (PFASs). It's sometimes used in cosmetics to improve texture and increase stain-resistance. Although Teflon itself is not harmful to humans, the primary concern with PFASs is their ability to remain in the environment and the human body for long periods of time. PFASs have also been linked to several adverse human health effects, such as reproductive and developmental problems. 
What is Pomade?
Pomade is a type of hair styling product for men. It has a waxy texture and may trigger acne breakouts on the forehead in guys with acne-prone skin. 
What are Probiotics?
Probiotics are the good types of bacteria and yeasts that live in our digestive system. They are strongly believed to improve our gut microbiome, which in turn improves skin health. According to a 2019 study published in the British Journal of Dermatology, probiotic supplements have shown promise in the treatment of inflammatory skin diseases and may play a crucial role in wound healing and cancer (see claim: "Probiotics…appear to be effective for the treatment of certain inflammatory skin diseases and demonstrate a promising role in wound healing and skin cancer.") Read this post for further discussion on probiotics for acne.
What are Raw Materials?
The basic, unprocessed materials used to manufacture cosmetic products are called raw materials. These include vitamins, silicones, extracts and other substances in their unmanufactured state.
What are Razor Bumps?
Razor bumps are basically ingrown hairs caused by shaving. Improper shaving techniques can increase the likelihood of the hair growing into the skin, resulting in painful, red bumps that resemble acne.
What is Razor Burn?
Razor burn can sometimes occur along with razor bumps, but they are two different things. Razor burn is a form of skin irritation caused by shaving. It typically appears in the form of a red, itchy rash and is more likely to occur in guys with sensitive skin.
What are Retinoids?
Retinoid is an umbrella term used to describe a class of chemical compounds derived from vitamin A. Retinoids (such as Retinyl Palmitate and Retinol for men) are used to treat a variety of common skin problems, including acne and wrinkles.
What is a Safety Razor?
A safety razor is a classic shaving device that's making a comeback in male grooming. Safety razors are sleeker than your typical cartridge razors, better for the environment and promise a closer shave. 
What is Salicylic Acid?
Salicylic Acid is a potent beta-hydroxy acid that naturally exfoliates the skin to reduce acne breakouts. Due to its ability to penetrate oily skin, it's commonly used in men's acne treatment products.
What is Shaving Cream?
Shaving cream is a foaming skin care product used to reduce skin irritation while shaving. They work by causing the keratin in the hair shaft to swell, making it easier for the blade to cut the hair cleanly.
What is Skin Cancer?
Skin cancer describes the unusual growth of abnormal skin cells. Skin cancer is broken down into two main types: Nonmelanoma skin cancers and melanoma skin cancers. Check out the Skin Cancer Foundation for more information regarding the different types of skin cancers.
What is SPF?
SPF is an acronym standing for Sun Protection Factor. It is used to indicate the sun protective abilities of a sunscreen product. You can learn more about SPF and how it works in sunscreen in this blog post.
What is a Straight Razor?
A straight razor is another old-school shaving device that looks like something your grandfather might have. It has a long, straight body with a wicked sharp razor attached to a handle that pivots. Though they take far more skill than your average razor device, they offer superior control and quality.
What is Styrene Acrylates Copolymer?
Styrene acrylates copolymer refers to a chain of polymers made up of styrene and acrylate. Though they are commonly used in the manufacturing of synthetic rubber, polyester and plastics, they function primarily as thickening agents and file formers in cosmetic products. The concern with this specific chain of polymers is its use of styrene, which is a known carcinogen.
What is Sun Poisoning?
Sun poisoning is a severe sunburn that can cause extreme reactions. On top of skin that is painful, red and blistering, you may also experience flu-like symptoms. For more on this topic, check out this blog post about sun poisoning.
What are Surfactants? 
Surfactants are oil-dissolving agents found in cleansing products. Gentle surfactants are beneficial to the skin, while sulfates and bar soaps are often too stripping and may disrupt your skin's pH balance.
What is Talc-Free?
When cosmetic products are labeled "talc-free," it means that the product doesn't contain talc or talcum powder. Talc is a mineral that—while not a carcinogen—has been studied for its potential to cause cancer. Though the research is mixed, it's worth keeping in mind when purchasing talc-containing products.
What is Titanium Dioxide (TiO2)?
Titanium dioxide is a naturally-occurring mineral sourced from the earth's crust. It's a key ingredient in many sunscreens for its ability to protect against UVA and UVB rays.
What is Triclosan?
Triclosan is an ingredient which is added to beauty products to reduce bacterial contamination. According to the FDA, high doses of triclosan have been associated with lower levels of thyroid hormones and, potentially, an increased risk of skin cancer. 
What are UV Rays?
Also known as ultraviolet radiation, UV rays describe a type of electromagnetic radiation that has a wavelength between 10 nm (nanometers) to 400 nm. UV radiation is a known carcinogen that is strongly associated with an increased risk of skin cancer.
What are UVA Rays?
Ultraviolet A (UVA) rays are a subtype of ultraviolet radiation with long-wave light. UVA rays damage skin cell DNA and are believed to contribute to premature skin aging.
GOT WRINKLES?
What are UVB Rays?
Ultraviolet B (UVB) rays have short and powerful wave-light that penetrates deep into the dermis layer of the skin. UVB rays are suspected to play the biggest role in skin cancer. 
What is Wax?
As it relates to hair, wax is a hair styling product that provides medium hold and medium shine. It's best for guys with straight hair (wax clumps easily in curly hair types) and those who have short to medium-length hair.
What is a Wet Shave?
A wet shave is a shaving technique that involves soaking the hair and skin in warm water prior to shaving. This technique allows you to get the closest shave possible.
What is a Whitehead?
A whitehead is a closed comedone that has not been exposed to air. They're usually treated easily with a regular acne treatment system for men.
What is Zinc Oxide (ZnO)?
Zinc oxide is a mineral which serves as the active ingredient in many of today's mineral sunscreens. It's also used to treat rash, acne and minor burns. 
---
// © Copyright 2023 Tiege Hanley